By
Athira S.

G. Rajiv Suresh Kumar

M. Rupa
Assistant Professor, Department of Computer Science Engineering, JCT College of Engineering and Technology, Coimbatore, Tamil Nadu, India
Professor, Department of Computer Science Engineering, JCT College of Engineering and Technology, Coimbatore, Tamil Nadu, India
Assistant Professor, Department of Computer Science Engineering, JCT College of Engineering and Technology, Coimbatore, Tamil Nadu, India
Abstract
A graphical password is a type of authentication that requires the user to choose from a set of images in a certain order. For most people, remembering a graphical password is easier than remembering a text-based password. Passwords with graphics may be more difficult to remember. offer better security than text-based passwords. Humans can remember pictures much better than the text. To create passwords more memorable and less vulnerable to security attacks. A text-based movable frame graphical password system is proposed. The system includes both the Graphical and Text- based images interface for identification. It displays a grid which is either graphical images, or alphabets or multiple/mixed alphabets. Traditional text- based password schemes are subjected to dictionary attacks. Graphic password systems, which use graphics instead of words as a password, are a promising alternative to text-based recognition schemes. These are again affected due to shoulder surfing and less effective due to large dictionary space. providing a solution based on text-based graphical password techniques. Our research has a main objective: To enhance the security. The graphical password system with multiple alphabet images is more recognizable. It has less cognitive load on user as compared to image based graphical password schemes.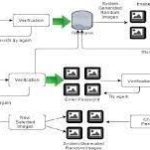 How to cite this article: Athira S., G. Rajiv Suresh Kumar, M. Rupa Text-based Graphical Password System to Enhance Security toeoc 2021; 11:8-14
---
Full Text
Browse Figures
References
1. Basak Bilgi, trBulent Tugrul," A Shoulder-Surfing Resistant Graphical Authentication Method" 2018 IEEE.
2. Bilal Eid Fayyadh, Khalid Mansour, Khaled W. Mahmoud," A New Password Authentication Mechanism Using 2D Shapes" 2018 8th International Conference on Computer Science and Information Technology (CSIT).
3. Chao Shen, Yufei Chen, Yao Liu and Xiaohong Guan," Adaptive Human–Machine Interactive Behavior Analysis With Wrist-Worn Devices for Password Inference"- IEEE Transactions On Neural Networks And Learning Systems.IEEE 2018.
4. Deepika Gupta,Dr. Vishal Goar, Akhand Pratap Singh,Shikha Mathur," Combination Of Textual And Graphical Based Authentication Scheme Through Virtual Environment"- 2017 IEEE.
5. K.Priya T.Venkaiah Naidu R.Vamsi Krishna ," An Advanced Information Security System Using Image Based Graphical Password Scheme"- 2nd International Conference on Trends in Electronics and Informatics (ICOEI 2018).
6. L.Gunaseeli, Dr.R.Aroul Canessane." GRAPHICAL PASSWORDS IMPLIES ON TOLERANCE PASSWORD, IMAGE CHOICE, AND PUZZLE LOGIN SECURITY"- international conference on information,communication & embedded systems (ICICES 2017).
7. Misbah Urrahman Siddiqui,Mohd. Sarosh Umar, Miftah Siddiqui," A Novel Shoulder-Surfing Resistant Graphical Authentication Scheme"- 2018 4th International Conference on Computing Communication and Automation (ICCCA), IEEE 2018.
8. Nida asmath," Conundrum – Pass: A New Graphical Password Approach. ""-International conference on communication. IEEE 2019.
9. Noor Ashitah Abu Othman, Anis Shobirin Abdullah Sani, Muhammad Akmal Abdul Rahman, Fakariah Hani Mohd Ali," Directional Based Graphical Authentication Method with Shoulder Surfing Resistant"- 2018 IEEE Conference on Systems, Process and Control (ICSPC 2018), 14–15 December 2018, Melaka, Malaysia.
10. P. A. Sosa-Valles, J. G. Villalobos-Serrano, P. Velarde- Alvarado, V. García, J. R. Parra-Michel, L. Mena, R. Martínez-Peláez," My Personal Images as My Graphical Password"- IEEE Latin America Transactions, VOL. 16, NO. 5, MAY 2018.
---
Regular Issue
Open Access
Article
| | |
| --- | --- |
| Volume | 11 |
| Issue | 3 |
| Received | November 23, 2023 |
| Accepted | December 21, 2021 |
| Published | December 23, 2021 |