By
Ajay Kumar Gautam

Pushpendra Singh

Abhijeet Singh

Pankaj Kumar Shrivastava
Student, Rajkiya Engineering College, Uttar Pradesh, India
Assistant Professor, Rajkiya Engineering College, Uttar Pradesh, India
Assistant Professor, Rajkiya Engineering College, Uttar Pradesh, India
Professor, AKS University, Madhya Pradesh, India
Abstract
This paper connected how to design and simulate of simple PMDC Motor usage ANSYS Maxwell Software. The demand for electrical energy in cars is ascent steady. Permanent Direct Current motor is used for the radiator fan, windshield wipers and washers and to drive blowers for heaters and air conditioners, etc., having brushes which have poor efficiency. It is based on ANSYS Maxwell software which is divided into circuit modeling and field, magnetic circuit calculation of basic dimensions and stator slot design winding design, performance and loss calculation and also using RMXPERT and 2D analysis.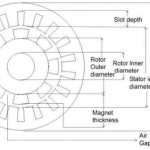 How to cite this article: Ajay Kumar Gautam, Pushpendra Singh, Abhijeet Singh, Pankaj Kumar Shrivastava Design and Performance Analysis of PMDC and BLDC Motor using ANSYS Software tee 2021; 11:12-19
---
Full Text
Browse Figures
References
1. Pawar, AJ; Patil, A. Design and development of 48V PMBLDC motor for radiator fan application by using ANSYS Maxwell software. IEEE 2017 Third International Conference on Sensing, Signal Processing and Security (ICSSS). 4-6, 2017.
2. Hendershot, JR; Miller, TJE. Design of Brushless Permanent Magnet Machines. Hillsboro, OH: Magna Physics Publishing; Oxford: Clarendon Press. 1994 (Book).
3. Carunaiselvane, C; Jeevananthan, S. Generalized procedure for BLDC motor design and substantiation in MagNet 7.1.1 software. IEEE 2012 International Conference on Computing, Electronics and Electrical Technologies (ICCEET). 1-6, 2012.
4. Miller, P: xEV Market Trend and Prospect. 2012 IEEE Vehicle Power and Propulsion Conference. 1-5, 2012.
5. Bimbhra, PS. Generalized Theory; Khanna publications 7thedition (Book).
6. Choi, JH; You, SH; Hur, J; Sung, HG. The Design and Fabrication of BLDC Motor and Drive for 42V Automotive Applications. 2007 IEEE International Symposium on Industrial Electronics. 1-6, 2007.
7. Cros, J; Kakhki, MT; Sincero, GCR; Martins, C. Design Methodology for Small Brush and Brushless DC Motors. Publisher: Academy Publish, Editors: Academy. 207-235, 2014 (Book).
8. Uygun, D; Solmaz, S. Design and dynamic study of a 6 kW external rotor permanent magnet Brushless DC motor for electric drive trains. 2015 IEEE 5th International Conference on Power Engineering, Energy and Electrical Drives (POWERENG). 1-5, 2015.
9. Shrivastava, N; Brahmin, A. Design of 3-Phase BLDC Motor for Electric Vehicle Application by Using Finite Element Simulation. International Journal of Emerging Technology and Advanced Engineering. 4(1), 140-145, 2014.
10. Ahmed, S; Zenan, AH, Rahman, M. A two-seater light-weight solar powered clean car: Preliminary design and economic analysis. IEEE 2014 3rd International Conference on the Developments in Renewable Energy Technology (ICDRET), 1-6, 2014.
11. Sameeullah, M; Chandel, S. Design and analysis of solar electric rickshaw: A green transport model. IEEE 2016 International Conference on Energy Efficient Technologies for Sustainability (ICEETS). 1-6, 2016.
---
Regular Issue
Open Access
Article
| | |
| --- | --- |
| Volume | 11 |
| Issue | 2 |
| Received | August 2, 2021 |
| Accepted | August 26, 2021 |
| Published | September 10, 2021 |