By
Asad Jamal Ansari
Abstract
(ADRs) Adverse Drug Reactions are constitute and mutual chief health problem. Throughout the last period liver toxicity has remained one of the most recurrent reasons for pharmacovigilance protection intelligences and the withdrawal from the marketplace of an accepted medicinal product. Liver is a main organ elaborate in the systemic deposition and decontamination of exogenous and endogenous ingredients. Liver disfunction challenges not only health care specialists but also the pharmaceutical manufacturing and drug controlling agencies. (DILI) Drug Induced Liver Injury also mentioned as drug induced hepatotoxicity, formulae a main clinical problematic, which has developed the foremost cause of transplantation and acute liver failure in Western countries. Drug induced hepatotoxicity is one of the chief reasons of chronic and acute liver disease. The Liver, a supreme organ is the Principal site for metabolism of nutrients and energy manufacture in the human body. It is also essential for elimination and metabolism of exogenous drugs and injurious materials via kidney. Hepatotoxicity produced by a diversity of environmental contaminants, viruses, pathogenic micro-organism chemical and drugs agents may account for Several types of drug induced liver diseases are acute-dose reliant acute fatty infiltration, liver damage, cholestatic jaundice, active chronic hepatitis, liver granulomas, liver tumors, liver cirrhosis, liver tumors etc. Furthermore, there is no precise management for hepatotoxicity, which is grounded on appending the assumed drug and treating symptoms. The most normally connected pharmacological groups are nonsteroidal anti-inflammatory analgesics (NSAIDs), antibiotics, anticonvulsants and antidepressants. Drug induced liver injury has remained an adverse occasion, tough to recognize, treat and prevent; thus, the pharmacist interference can subsidize to the decrease of the harmful belongings in patient health. So, in this review we highlighted the pathogenesis, diagnosis and management of drug induced hepatoxicity.
Keywords: Drug-Induced Hepatotoxicity, Diagnosis, Mechanisms of hepatotoxicity and Hepatoprotectives agents
[This article belongs to Trends in Drug Delivery(tdd)]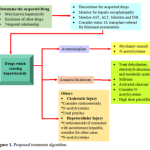 How to cite this article: Asad Jamal Ansari An Insight to Diagnosis and Management of Druginduced Hepatotoxicity: An Overview tdd 2021; 8:39-54
---
Full Text
Browse Figures
References
1. Su LJ, Ding GW, Yang ZL, Zhang SB, Yang YX, Xu CS. Expression patterns and action analysis of genes associated with hepatitis virus infection during rat liver regeneration. World Journal of Gastroenterology: WJG. 2006 Dec 21;12(47):7626.
2. Lu Y, Hu D, Ma S, Zhao X, Wang S, Wei G, Wang X, Wen A, Wang J. Protective effect of wedelolactone against CCl4-induced acute liver injury in mice. International immunopharmacology. 2016 May 1;34:44-52.
3. Woolbright BL, Jaeschke H. Mechanisms of inflammatory liver injury and drug-induced hepatotoxicity. Current pharmacology reports. 2018 Oct;4(5):346-57.
4. Masuda Y. Learning toxicology from carbon tetrachloride-induced hepatotoxicity. Yakugaku zasshi: Journal of the Pharmaceutical Society of Japan. 2006 Oct 1;126(10):885-99.
5. Singh D, Cho WC, Upadhyay G. Drug-induced liver toxicity and prevention by herbal antioxidants: an overview. Frontiers in physiology. 2016 Jan 26;6:363.
6. Lee WM. Drug-induced hepatotoxicity. New England journal of medicine. 2003 Jul 31;349(5):474- 85.
7. Ostapowicz G, Fontana RJ, Schiødt FV, Larson A, Davern TJ, Han SH, McCashland TM, Shakil AO, Hay JE, Hynan L, Crippin JS. Results of a prospective study of acute liver failure at 17 tertiary care centers in the United States. Annals of internal medicine. 2002 Dec 17;137(12):947-54.
8. Hernández N, Bessone F, Sánchez A, Di Pace M, Brahm J, Zapata R, Chirino RA, Dávalos M, Méndez-Sánchez N, Arrese M, Schinoni M. Profile of idiosyncratic drug induced liver injury in Latin America. An analysis of published reports. Annals of hepatology. 2014 Apr 21;13(2):231-9.
9. Kleiner DE, Chalasani NP, Lee WM, Fontana RJ, Bonkovsky HL, Watkins PB, Hayashi PH, Davern TJ, Navarro V, Reddy R, Talwalkar JA. Hepatic histological findings in suspected drug‐ induced liver injury: systematic evaluation and clinical associations. Hepatology. 2014 Feb;59(2):661-70.
---
Regular Issue
Open Access
Article
| | |
| --- | --- |
| Volume | 8 |
| Issue | 2 |
| Received | July 6, 2021 |
| Accepted | August 10, 2021 |
| Published | August 25, 2021 |