By
S. Tephillah Vasantham
Lecturer, Department of Business Administration, The American College, Madurai, Tamil Nadu, India
Abstract
Occupation advancement is one of the treasured objectives to accomplish singular execution. It is fundamental to see how work advancement is an important apparatus for overseeing and cultivating the fruitful representative exhibition. Advanced occupation comprises of different components like errand importance, task personality and ability assortment which improves the exhibition of workers and persuades them to perform energetically. This investigation expects to zero in on the connection between work improvement and individual execution. A quantitative exploration is utilized to investigate the components of occupation enhancement (Task Significance, Task Identity and Skill Variety) on singular execution in training establishment. Information was gathered from the resources in private college utilizing likelihood delineated irregular inspecting strategies to gauge the connection between the three variables towards singular execution. An observational proof from the exploratory examination is introduced which recognized that the subsequent factor contributes more on improving the exhibition of the people. Further exploration can be led on different components of occupation advancement and their effect on singular execution of the workers in instruction foundation.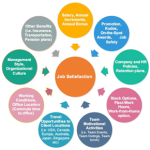 How to cite this article: S. Tephillah Vasantham A Study on the Factors Influencing Job Enrichment njpmrs 2021; 4:1-4
---
Full Text
Browse Figures
References
1. Bryan JF, Locke EA. Goal setting as a means of increasing motivation. J Appl Psychol. 1967;51(3):274–7.
doi: 10.1037/h0024566, PMID 6045632.
2. Collins DC, Raubolt RR. A study of employee resistance to job enrichment. Pers J (pre-1986), April 1975.1975;54(4):232–48.
3. Del Valle ID, Castillo MAS, Rodriguez-Duarte A. The effects of training on performance in service companies: A data panel study. Int J Manpow. 2009;30(4):393–407.
4. Hart DR, Willower DJ. Principals' Organizational Commitment and School Environmental Robustness. J Educ Res.1994;87(3):174–9. doi: 10.1080/00220671.1994.9941239.
5. Eisenberger R, Fasolo P, Davis-LaMastro V. Perceived organisational support and employee diligence, commitment, and innovation. J Appl Psychol. 1990;75(1):51–9. doi: 10.1037/0021–9010.75.1.51.
6. Hackman JR, Oldham GR. Development of the job diagnostic survey. J Appl Psychol. 1975;60(2):159–70. doi:10.1037/h0076546.
7. Folger RG, Cropanzano R. Organisational justice and human resource management. Beverly Hills, CA: SAGE; 1998.
8. Herzberg F. One more time: how do you motivate employees? Harv Bus Rev. 1968;46:53–62.
---
Regular Issue
Open Access
Article
| | |
| --- | --- |
| Volume | 4 |
| Issue | 1 |
| Received | May 19, 2021 |
| Accepted | May 26, 2021 |
| Published | June 6, 2021 |