By
K. Hareesh Kumar Reddy

M.S.R. Mariyappan
Scholar, Vel Tech Rangarajan Dr. Sagunthala R&D Institute of Science and Technology, Chennai, Tamil Nadu, India
Dean, Vel Tech Rangarajan Dr. Sagunthala R&D Institute of Science and Technology, Chennai, Tamil Nadu, India
Abstract
Organizational development is a systematic process of change that uses behavioral science techniques to improve an organization's health and effectiveness by influencing the ability to adapt to environmental conditions, improve internal relationships, and increase learning and problem-solving capabilities. The need for organizational development continues to increase as information technology, globalization, increased competition, increased diversity, and increased public consciousness continue to change the organizational landscape. Several organizational development topics have emerged in recent years. Emotional intelligence is one area of particular interest within organizational development theorists. This essay examines five research articles about emotional intelligence and its impact on multiple organizational development areas. This article presents the role of emotional intelligence in leading change in an organization. Specifically, the article highlights the different perspectives of emotional intelligence, and the related five components—self-awareness, self-regulation, self-motivation, empathy, and social skill—are discussed. In furtherance, I propose how emotional intelligence contributes to change leadership focusing on building a team to affect change, and overcoming resistance to change.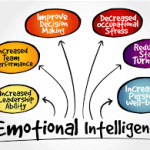 How to cite this article: K. Hareesh Kumar Reddy, M.S.R. Mariyappan Emotional Intelligence in Enhancing Organizational Effectiveness njobm 2021; 4:1-8
---
Full Text
Browse Figures
References
1. Mayer, Salovey, & Caruso (2002) Emotional Intelligence Test. Personal Summary Report. Toronto.
2. Kara L Wolfe, Bradley University & Hyun Jeong Jenny Kim, Washington State University, Jan- 2013, Emotional Intelligence, Job Satisfaction and Job Tenure among Hotel Managers in Journal of Human Resources in Hospitality & Tourism 12 (2): 175–191, DOI:10.1080/15332845.2013. 752710.
3. Mahfuz Judeh, Applied Science Private University Emotional Intelligence and Retention: 'The Moderating Role of Job Involvement' in an International Conference on Economics, Business and Marketing Management Madrid, Spain, March 2013.
4. Luft Joseph and Ingham Harry. The Johari Window model.
5. Freud's personality theory (1923) & Roles.
---
Regular Issue
Open Access
Article
| | |
| --- | --- |
| Volume | 4 |
| Issue | 2 |
| Received | August 13, 2021 |
| Accepted | October 20, 2021 |
| Published | November 25, 2021 |