By
Abhay Pratap Singh Chauhan

Abhay Kumar Sharma
Student, Poornima Institute of Engineering and Technology, Jaipur, Rajasthan, India
Student, Poornima Institute of Engineering and Technology, Jaipur, Rajasthan, India
Abstract
Nature always challenge human with its own creations forcing us to dwell "Where we lack?" This time nature comes with a deadly virus called "COVID-19" exposing our health care system's weakness. Highlighting the need of advancement of countries in the field of medical science. This virus is the good advertisement for hygiene promotion. The spread of this virus wants us to evaluate whether current hygiene practices are safe or not. In this research paper, we analyze different inventions and technology that help in future in order to approach a pandemic like this. We also analyze on how this situation can be handled better. We also discuss upon what can be done over grass roots level and how important is the cooperation of people.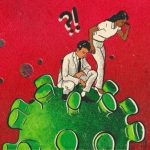 How to cite this article: Abhay Pratap Singh Chauhan, Abhay Kumar Sharma Assuring Livelihood in COVID-19: Present and Future Approach njmis 2021; 4:1-3
---
Full Text
Browse Figures
References
1. Mohamed Buheji, Dunya Ahmed, Foresight of Coronavirus (COVID-19) Opportunities for a Better World, American Journal of Economics, Vol. 10 No. 2, 2020, pp. 97–108. doi: 10.5923/j.economics.20201002.05.
2. van Doremalen N, Bushmaker T, Morris DH, et al. Aerosol and Surface Stability of SARS-CoV-2 as Compared with SARS-CoV-1. N Engl J Med. 2020;382(16):1564–1567. doi:10.1056/NEJMc2004973.
3. Ramakrishnan S, Nicolau DV, Langford B, Mahdi M, Jeffers H, Mwasuku C, Krassowska K, Fox R, Binnian I, Glover V, Bright S, Butler C, Cane JL, Halner A, Matthews PC, Donnelly LE, Simpson JL, Baker JR, Fadai NT, Peterson S, Bengtsson T, Barnes PJ, Russell REK, Bafadhel M. Inhaled budesonide in the treatment of early COVID-19 (STOIC): a phase 2, open-label, randomised controlled trial. Lancet Respir Med. 2021;9(7):763–72. doi: 10.1016/S2213– 2600(21)00160–0. Correction to Lancet Respir Med 2021; published online April 9. https://doi. org/10.1016/S2213–2600(21)00160–0. (2021). The Lancet Respiratory Medicine, [online] 9(6), p.e55.
4. Teixeira Marques NC, Gurgel CV, Fernandes AP, Lima MC, Machado MA, Soares S, Oliveira TM. Prosthetic rehabilitation in children: an alternative clinical technique. Case Rep Dent. 2013;2013:512951. doi: 10.1155/2013/512951, PMID 24175103.
5. Biswal J, Vijayalakshmy K, Rahman H. Impact of COVID-19 and associated lockdown on livestock and poultry sectors in India. Vet World. 2020;13(9):1928–33. doi: 10.14202/vetworld.2020.1928–1933, PMID 33132607.
---
Regular Issue
Open Access
Article
| | |
| --- | --- |
| Volume | 4 |
| Issue | 1 |
| Received | April 12, 2021 |
| Accepted | April 21, 2021 |
| Published | May 5, 2021 |