By
Arul Vendhan S

Jasline M
Associate Professor, Department of Nursing, Teerthanker Mahaveer College of Nursing, Moradabad, Uttar Pradesh, India
Vice Principal, Teerthanker Mahaveer College of Nursing, Moradabad, Uttar Pradesh, India
Abstract
To assess the level of awareness regarding immunization and to find out the association between the level of awareness regarding immunization among the mothers with the selected demographical variables. The target population for the study was the mothers in under the age group of 20–40 years. Total 100 samples were selected using the convenient sampling technique. Multiple-choice questions including socio-demographic performa was used to assess the level of awareness regarding immunization on the mothers attending visits at the TMU Hospitals, Moradabad. Majority of the mothers among immunization have moderate level of awareness (58%), and (23%) have low level of awareness and the remaining (19%) have high level of awareness regarding Immunization. There was a significant association between the level of awareness regarding Immunization among mothers and with their selected demographical variable was found (age, type of family and educational status) at 0.005 level of significant. This study concluded that mothers having moderate level of awareness on September 2019 in Teerthanker Mahaveer Hospital at Moradabad. Therefore, the study concluded that there is need to create awareness about Immunization among mothers.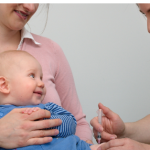 How to cite this article: Arul Vendhan S, Jasline M A Study to Assess the Awareness Regarding Immunization among Mothers Attending Visits at Teerthanker Mahaveer Hospital, Moradabad, U.P. ijmsn 2021; 4:1-5
---
Full Text
Browse Figures
References
1. Haneef SM, Maqbool S, Aric MA. Immunization general considerations. Textbook of Paediatrics, Pakistan Paediatric Association; International Book Bank. 2006.
2. Anjum Q, Omair A, et al. Improving vaccination status of children under five through health education. J Pak Med Assoc. 2004;54(1):610–613.
3. Sultana A, Jahan S, et al. Knowledge, Attitude and Practice of Immunization in an Urban Population. Pak Armed Forces Med J. 2001;51(1):177–181.
4. Deady J, Thornton L. Parents' knowledge of and attitude towards the primary childhood Immunizations. International Journal of Medicine. 2005; 98(1):7–8.
5. Tabassum MN, Gureja AW, et al. Knowledge, attitude, and practice of mothers regarding vaccination among the children under the age of five years. Pak J Med Health Science. 2017;11(2): 645–647.
6. Mahalingam S, Soori A, et al. Knowledge, attitude, and perceptions of mothers with children under five years of age about vaccination in Mangalore, India. Asian J Med Sci. 2014;5(4): 52–57.
7. Singh J, Deepti SS, et al. Assessment of Socio-demographic factors affecting Immunization status of children of age 0–2 years in Slums of Amritsar city. Internal Journal of Current Research in Med Sci. 2018; 4(3):17–25.
8. Singh MC, Badole CM, et al. Immunization coverage, knowledge and practice of mothers regarding immunization in rural India. Indian Journal of Public Health, 1994;38(1):103–127
9. Joseph LM. Inequity in childhood immunization in India: A systematic Review. Soc Sci Med. 2003;57(1);2075–2088.
10. Rachna K, Shettal. V. Awareness and knowledge of mothers of under five children regarding in Ahemadabad. Healthline. 2010;1(1):12–15.
11. World Health Organization. (2019) The state of the world's children. [Online] Available from: https://www.unicef.org/reports/state-of-worlds-children.
---
Regular Issue
Open Access
Article
| | |
| --- | --- |
| Volume | 4 |
| Issue | 1 |
| Received | January 18, 2021 |
| Accepted | March 16, 2021 |
| Published | April 30, 2021 |