By
Vijayalaxmi Singh

V.K. Pau

Sushil Kumar Solanki
Student, Department of Building Engineering Management, School of Planning and Architecture, New Delhi, India
Professor, Department of Building Engineering Management, School of Planning and Architecture, New Delhi, India
Abstract
The majority of structures are intended to meet the needs of current uses; they are rarely designed to accommodate future needs. Furthermore, the majority of the buildings that will be required in the next 25 years have already been built by this time. The question is whether they can be modified to accommodate changing needs. The expenses incurred while developing a new structure is high and it will be impossible that existing stock will be eradicated completely and replaced with new one. This signifies that a significant portion of the building demand must be satisfied by existing construction. One of the method of achieving this is adaptive reuse. It is also important to remember that not only does building service life expire with time, but functional service life does as well. The loss in functional service life resulted in changes in user expectations and demands. There has not been much research done on this aspect of building service life. As a result, a decision-making framework that links the functional service life of a building with its adaptive reuse is necessary. The methodology provided in this study will first assist the user in determining the building's functional service life and whether it is appropriate for adaptive reuse or not utilising the adaptive reuse checklist. The second stage would then describe the degree of intervention required to enhance the FSL, and finally, the effect and benefit of these interventions could be assessed using the multi criteria assessment model.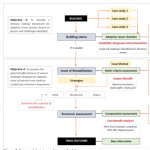 How to cite this article: Vijayalaxmi Singh, V.K. Pau, Sushil Kumar Solanki Feasibility Study of Adaptive Reuse of Old Buildings ijhhsp 2022; 8:10-31
---
Full Text
Browse Figures
References
1. Kamara, J. M., Heidrich, O., Tafaro, V. E., Maltese, S., Dejaco, M. C., & Re Cecconi, F. Change Factors and the Adaptability of Buildings. Sustainability. 2020; 12(16): 6585.
2. Pugh, C. The cost and benefits of rehabilitation and refurbishment. Property Management. 1991; 9(2): 143–156.
3. Kendall, D. S. (n.d.). An Open Building Strategy for Converting Obsolete Office Buildings to Residential Uses. [Online] Available from https://www.lifecyclebuilding.org/docs/Office%20Building%20Conversion.pdf
4. Kincaid, D. Adapting buildings for changing uses: Guidelines for change of use refurbishment. United Kingdom: Spon Press; 2002.
5. Li, Y., Zhao, L., Huang, J., & Law, A. Research frameworks, methodologies, and assessment methods concerning the adaptive reuse of architectural heritage: A review. Built Heritage. 2021; 5(1).
6. Bullen, P. A., & Love, P. E. D. Adaptive reuse of heritage buildings. Structural Survey. 2011; 29(5): 411–421.
7. Remøy, H. T., & Wilkinson, S. J. Office building conversion and sustainable adaptation: A comparative study. Property Management. 2012; 30(3): 218–231.
8. Shipley, R., Utz, S., & Parsons, M. Does Adaptive Reuse Pay? A Study of the Business of Building Renovation in Ontario, Canada. International Journal of Heritage Studies. 2006; 12(6): 505–520.
9. Paul, V. K. & Seth, V. Benchmarking and Objective Selection of Technologies for Housing in India Using Quality Function Deployment. Journal of Construction in Developing Countries. 2017; 22(1): 63-78.
10. Remøy, H., & van der Voordt, T. Adaptive reuse of office buildings into housing: Opportunities and risks. Building Research & Information. 2014; 42(3): 381–390.
11. Allehaux, D., & Tessier, P. Evaluation of the functional obsolescence of building services in European office buildings. Energy and Buildings. 2002; 34(2): 127-133.
12. Amoah, P., Kissi, E., & Oteng, D. (n.d.). Exploring the Drivers of Adaptation and Retrofitting of Existing Buildings in Ghana. Proceeding of the 34th Annual ARCOM Conference, 2018. Belfast, UK.
13. Cantell, S. F. (2005). The Adaptive Reuse of Historic Industrial Buildings: Regulation Barriers, Best Practices and Case Studies. [Online] Available from http://sig.urbanismosevilla.org/sevilla.art/sevlab/r001us2_files/r001_us_1.pdf
14. Hashim, A. E., Aksah, H., & Said, S. Y. Functional Assessment through Post Occupancy Review on Refurbished Historical Public Building in Kuala Lumpur. Procedia – Social and Behavioral Sciences. 2012; 68: 330–340.
15. Gann, D. M., & Barlow, J. Flexibility in building use: The technical feasibility of converting redundant offices into flats. Construction Management and Economics. 1996; 14(1): 55–66.
16. Seshadhri, G. & Paul, V. K. Validation and ranking of user requirement related building performance attributes and sub attributes for government residential buildings. Facilities. 2018; 36(13/14): 638-656.
17. Paul, V. K., Khursheed, S. & Singh, R. Comparative Study of Construction Technologies for Underground Metro Stations in India. International Journal of Research in Engineering and Technology. 2017; 6(3): 55-63.
18. Hein, M. F., & Houck, K. D. Construction Challenges of Adaptive Reuse of Historical Buildings in Europe. International Journal of Construction Education and Research. 2008; 4(2): 115–131.
19. Rastogi, A. & Paul, V. K. A Critical Review of the Potential for Fly Ash Utilisation in Construction-Specific Applications in India. Journal of Environmental Research, Engineering and Management. 2020; 76(2): 65-75.
20. Seshadhri, G. & Paul, V. K., 2017. Intervention Strategy for Enhanced User Satisfaction Based on User Requirement Related BPAs for Government Residential Buildings. New York, International Conference on Sustainable Infrastructure 2017.
21. Douglas, J. Building adaptation (2nd ed). United Kingdom: Butterworth-Heinemann; 2006.
22. Prieto, A. J., Vásquez, V., Silva, A., Horn, A., Alejandre, F. J., & Macías-Bernal, J. M. Protection value and functional service life of heritage timber buildings. Building Research & Information. 2019; 47(5): 567–584.
23. Okolie, K. C., & Ogunoh, P. E. Assessment of Functional and Environmental Indicators in the Performance of Buildings in Federal. International Journal of Engineering and Advanced Technology Studies. 2013; 1(2): 1-11.
24. Kathrine, A. (N.D.). Users' demand for functionality and adaptability. [Online] Available from https://www.irbnet.de/daten/iconda/06089021032.pdf
25. Shahi, S., Esnaashary Esfahani, M., Bachmann, C., & Haas, C. A definition framework for building adaptation projects. Sustainable Cities and Society. 2020; 63: 102345.
26. Petković-Grozdanovića, N., Stoiljković, B., Keković, A., & Murgul, V. The Possibilities for Conversion and Adaptive Reuse of Industrial Facilities into Residential Dwellings. Procedia Engineering. 2016; 165: 1836–1844.
27. Bullen, P. A. Adaptive reuse and sustainability of commercial buildings. Facilities. 2007; 25(1/2): 20–31.
28. Keymer, M. A. (n.d.). Design Strategies for New and Renovation Construction that Increase the Capacity of Buildings to Accommodate Change. United States: Massachusetts Institute of Technology; 2000.
29. Slaughter, E. S. Design strategies to increase building flexibility. Building Research & Information. 2001; 29(3): 208–217.
30. Serrano-Jiménez, A., Femenías, P., Thuvander, L., & Barrios-Padura, Á. A multi-criteria decision support method towards selecting feasible and sustainable housing renovation strategies. Journal of Cleaner Production. 2021; 278.
31. Conejos, S., & Langston, C. A. (n.d.). Designing for future building adaptive reuse using adaptSTAR. 12. [Online] Available from https://www.academia.edu/48800510/Designing_for_future_building_adaptive_reuse_using_adaptSTAR
32. Della Spina, L. Cultural Heritage: A Hybrid Framework for Ranking Adaptive Reuse Strategies. Buildings. 2021; 11(3): 132.
33. Herthogs, P. Enhancing the Adaptable Capacity of Urban Fragments: A Methodology to Integrate Design for Change in Sustainable Urban Projects. Ph.D. Thesis, Vrije Universiteit Brussel, Brussels, Belgium, 2016. [Online] Available from https://www.researchgate.net/profile/Pieter-Herthogs/publication/316656233_Enhancing_the_Adaptable_Capacity_of_Urban_Fragments_a_methodology_to_integrate_Design_for_Change_in_sustainable_urban_projects/links/5d1a355e458515c11c08f4dc/Enhancing-the-Adaptable-Capacity-of-Urban-Fragments-a-methodology-to-integrate-Design-for-Change-in-sustainable-urban-projects.pdf
34. Heidrich, O.; Kamara, J.; Maltese, S.; Re Cecconi, F.; Dejaco, M.C. A critical review of the developments in building adaptability. Int. J. Build. Pathol. Adapt. 2017; 35(4): 284–303.
35. Miles, M. E., Berens, G., & Weiss, M. A. Real estate development: principles and process (3rd ed.). Washington, D.C.: Urban Land Institute; 2000.
36. Armstrong, G., Soebarto, V., & Zuo, J. Vacancy Visual Analytics Method: Evaluating adaptive reuse as an urban regeneration strategy through understanding vacancy. Cities. 2021;115.
---
Regular Issue
Open Access
Article
| | |
| --- | --- |
| Volume | 8 |
| Issue | 1 |
| Received | January 15, 2022 |
| Accepted | February 20, 2022 |
| Published | March 20, 2022 |