By
Reshma P.
Student, Department of Bioinformatics, BioNome, Bengaluru,, Karnataka, India
Abstract
Objectives: Leprosy is an infectious disease in skin, peripheral nerve and mucosa of upper airway. Around 70% of this infection is caused by Mycobacterium leprae, which was discovered during1873. Multi drug therapy is used for the treatment, still multiple drug resistance and reactions has been reported among patients. Hence, this work focused on identifying bioactive compounds from Coscinium fenestratum that can target mycobacterium leprae ML2640 protein by in-silico approach. Method: In this study, 80 phytocompounds from Coscinium fenestratum were screened against ML2640 proteins of Mycobacterium leprae from PubChem and PDB database were docked using h PyRx tool. Pharmacological studies were analysed using Swiss ADME and ADMET tools by applying Lipinski rule. Results: Molecular docking studies that conducted on seven selected phytocompounds among 80 phytocompound from Coscinium fenestratum, demonstrating their potential binding affinity to inhibit the activity of ML2640, thereby effectively disrupting the survival, virulence, and host infection rate of the target pathogen. Pharmacological analysis utilizing Swiss ADME and ADMET analysis confirmed the drug-like properties of these phytocompounds, Conclusion: This study is highlighting these seven phytocompounds are potential as valuable candidates for further drug development against Mycobacterium leprae infection.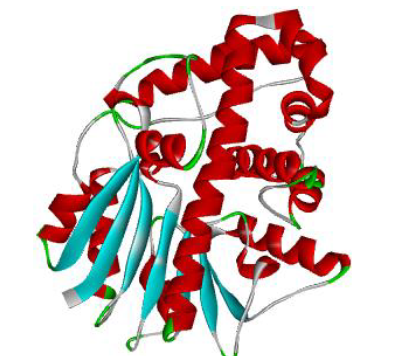 How to cite this article: Reshma P. Molecular Docking Study: Targeting mycobacterium leprae ML2640 Protein Using Active Compounds from Coscinium fenestratum ijgmr 2023; 01:21-33
---
Browse Figures
References
Maymone, M. B. C., Laughter, M., Venkatesh, S., Dacso, M. M., Rao, P. N., Stryjewska, B. M., Hugh, J., Dellavalle, R. P., & Dunnick, C. A. (2020). Leprosy: Clinical aspects and diagnostic techniques. Journal of the American Academy of Dermatology, 83(1), 1–14.
Alemu Belachew, W., & Naafs, B. (2019). Position statement: LEPROSY: Diagnosis, treatment and follow-up. Journal of the European Academy of Dermatology and Venereology: JEADV, 33(7), 1205–1213
Murray, P. R., Baron, E. J., Pfaller, M. A., Tenover, F. C., Yolken, R. H., & Morgan, D. R. (1995). Manual of Clinical Microbiology (6th edn). Trends in microbiology, 3(11), 449–449
Sasaki, Shin, Fumihiko Takeshita, Kenji Okuda, and Norihisa Ishii. "Mycobacterium leprae and leprosy: a compendium." Microbiology and immunology 45, no. 11 (2001): 729–736.
Mietto, B. S., de Souza, B. J., Rosa, P. S., Pessolani, M. C. V., Lara, F. A., & Sarno, E. N. (2020). Myelin breakdown favours Mycobacterium leprae survival in Schwann cells. Cellular microbiology, 22(1), e13128.
Cole, S. T., Eiglmeier, K., Parkhill, J., James, K. D., Thomson, N. R., Wheeler, P. R., … & Lacroix, C. (2001). Maclean® J. Moule S, Murphy L, Oliver K, Quail MA, Rajandream MA, Rutherford KM, Rutter S, Seeger K, Simon S, Simmonds M, Skelton J, Squares R, Squares S, Stevens K, Taylor K, Whitehead S, Woodward JR, Barrell BG, 1007–1011.
Graña, M., Haouz, A., Buschiazzo, A., Miras, I., Wehenkel, A., Bondet, V., Shepard, W., Schaeffer, F., Cole, S. T., & Alzari, P. M. (2007). The crystal structure of M. leprae ML2640c defines a large family of putative S-adenosylmethionine-dependent methyltransferases in mycobacteria. Protein science: a publication of the Protein Society, 16(9), 1896–1904.
Berney, M., Berney-Meyer, L., Wong, K. W., Chen, B., Chen, M., Kim, J., Wang, J., Harris, D., Parkhill, J., Chan, J., Wang, F., & Jacobs, W. R., Jr (2015). Essential roles of methionine and S-adenosylmethionine in the autarkic lifestyle of Mycobacterium tuberculosis. Proceedings of the National Academy of Sciences of the United States of America, 112(32), 10008–10013.
Scollard, D. M., Adams, L. B., Gillis, T. P., Krahenbuhl, J. L., Truman, R. W., & Williams, D. (2006). The continuing challenges of leprosy. Clinical microbiology reviews, 19(2), 338–381.
van Vuuren, S., & Viljoen, A. (2011). Plant-based antimicrobial studies–methods and approaches to study the interaction between natural products. Planta medica, 77(11), 1168–1182.
Leandro, L. F., Cardoso, M. J. O., Silva, S. D. C., Souza, M. G. M., Veneziani, R. C. S., Ambrosio, S. R., & Martins, C. H. G. (2014). Antibacterial activity of Pinus elliottii and its major compound, dehydroabietic acid, against multidrug-resistant strains. Journal of medical microbiology, 63(12), 1649–1653.
Tuyiringire, N., Deyno, S., Weisheit, A., Tolo, C. U., Tusubira, D., Munyampundu, J. P., Ogwang, P. E., Muvunyi, C. M., & Heyden, Y. V. (2020). Three promising antimycobacterial medicinal plants reviewed as potential sources of drug hit candidates against multidrug-resistant tuberculosis. Tuberculosis (Edinburgh, Scotland), 124, 101987
Watthanachaiyingcharoen, R., Komatsu, K., Zhu, S., Vajragupta, O., & Leelamanit, W. (2010). Authentication of Coscinium fenestratum among the other Menispermaceae plants prescribed in Thai folk medicines. Biological & pharmaceutical bulletin, 33(1), 91–94.
DAS, K., Dang, R., Sivaraman, G., & Ellath, R. P. (2018). Phytochemical Screening for Various Secondary Metabolites, Antioxidant, and Anthelmintic Activity of Coscinium fenestratum Fruit Pulp: A New Biosource for Novel Drug Discovery. Turkish journal of pharmaceutical sciences, 15(2), 156–165.
Chomnawang, M. T., Trinapakul, C., & Gritsanapan, W. (2009). In vitro antigonococcal activity of Coscinium fenestratum stem extract. Journal of ethnopharmacology, 122(3), 445–449
Tungpradit, R., Sinchaikul, S., Phutrakul, S., Wongkham, W., & Chen, S. T. (2010). Anti-cancer compound screening and isolation: Coscinium fenestratum, Tinospora crispa and Tinospora cordifolia. Chiang Mai J Sci, 37(3), 476-488
Kim, H. K., Choi, Y. H., & Verpoorte, R. (2023). Natural Products Drug Discovery: On Silica or In-Silico? Handbook of experimental pharmacology, 277, 117–141.
Kalyaanamoorthy, S., & Chen, Y. P. P. (2011). Structure-based drug design to augment hit discovery. Drug discovery today, 16(17–18), 831–839.
Kahsai, A. W., Xiao, K., Rajagopal, S., Ahn, S., Shukla, A. K., Sun, J., … & Lefkowitz, R. J. (2011). Multiple ligand-specific conformations of the β2-adrenergic receptor. Nature chemical biology, 7(10), 692–700.
Ongtanasup, T., Prommee, N., Jampa, O., Limcharoen, T., Wanmasae, S., Nissapatorn, V., Paul, A. K., Pereira, M. L., Wilairatana, P., Nasongkla, N., & Eawsakul, K. (2022). The Cholesterol-Modulating Effect of the New Herbal Medicinal Recipe from Yellow Vine (Coscinium fenestratum (Goetgh.)), Ginger (Zingiber officinale Roscoe.), and Safflower (Carthamus tinctorius L.) on Suppressing PCSK9 Expression to Upregulate LDLR Expression in HepG2 Cells. Plants (Basel, Switzerland), 11(14), 1835.
Khoshkholgh-Sima, B., Sardari, S., Mobarakeh, J. I., & Khavari-Nejad, R. A. (2011). An in-silico approach for prioritizing drug targets in metabolic pathway of Mycobacterium tuberculosis. WASET, 59, 1027–1030.
McConkey, B. J., Sobolev, V., & Edelman, M. (2002). The performance of current methods in ligand–protein docking. Current Science, 845–856.
O'Boyle, N. M., Banck, M., James, C. A., Morley, C., Vandermeersch, T., & Hutchison, G. R. (2011). Open Babel: An open chemical toolbox. Journal of cheminformatics, 3(1), 1–14.
Daina, A., Michielin, O., & Zoete, V. (2017). SwissADME: a free web tool to evaluate pharmacokinetics, drug–likeness and medicinal chemistry friendliness of small molecules. Scientific reports, 7, 42717.
Daina, A., Michielin, O., & Zoete, V. (2017). SwissADME: a free web tool to evaluate pharmacokinetics, drug–likeness and medicinal chemistry friendliness of small molecules. Scientific reports, 7, 42717.
Daina, A., & Zoete, V. (2016). A boiled‐egg to predict gastrointestinal absorption and brain penetration of small molecules. ChemMedChem, 11(11), 1117–1121.
---
Regular Issue
Subscription
Original Research
| | |
| --- | --- |
| Volume | 01 |
| Issue | 02 |
| Received | August 3, 2023 |
| Accepted | September 29, 2023 |
| Published | October 25, 2023 |