By
Mansi Gupta

Deepti Pande Rana

Suparna Sircar
Student, Bachelor of Interior Design, Amity School of Architecture, Lucknow, India
Associate Professor, Amity School of Architecture and Planning, Amity University, Lucknow, India
Professor, Amity School of Architecture and Planning, Amity University, Lucknow, India
Abstract
This paper explores the uses of organic fabrics in home interiors. Organic fabrics are gaining popularity in the field of interior design as more people become aware of the harmful effects that conventional fabrics have on the environment. These fabrics offer several benefits, including sustainability and durability making them a popular choice for interior designers. Organic fabrics can be used in various ways in home interiors, from bedding and curtains to upholstery and decorative items. The paper also discusses the challenges and limitations of using organic fabrics in home interiors, including availability, cost, and limited design options, and they can be more
expensive than traditional fabrics. Despite these challenges, the use of organic fabrics in home interiors is expected to grow in the future, as technology improves to increase availability and design options. The study analyses the various types of organic fabrics available for use in home interiors, including cotton, linen, and wool, and compares them to conventional materials in terms of their durability, aesthetics, and environmental impact. Finally, the paper presents case studies and examples of successful implementation of organic fabrics in home interiors, showcasing the versatility and adaptability of these materials. Overall, this research paper provides insights into the benefits and opportunities associated with the use of organic fabrics in home interiors, highlighting their potential to transform the way we design and decorate our living spaces.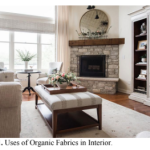 How to cite this article: Mansi Gupta, Deepti Pande Rana, Suparna Sircar Uses of Organic Fabrics in Home Interiors ijepda 2023; 01:44-58
---
Full Text
Browse Figures
References
1. 8 BENEFITS OF ORGANIC COTTON CLOTHING. (2021, JAN 22). Retrieved from sustainme.in: https://www.sustainme.in/blogs/news/8-benefits-of-organic-cotton-clothing
2. Clarke, R. (2021, 15 15). www.treehugger.com. Retrieved from Organic Farming: History, Timeline, and Impact: https://www.treehugger.com/organic-farming-history-timeline-and-impact
3. Dezeen. (2017, 01 31). Retrieved from contemporary-furniture-textured-textiles-house-interiorrenovation-black-mill-hampstead-london: https://www.dezeen.com/2017/01/31/contemporaryfurniture-textured-textiles-house-interior-renovation-black-mill-hampstead-london/
4. fashinza.com. (2021). Retrieved from 7 Sustainable Fabric Types And Their Importance: https://fashinza.com/textile/fabric/7-natural-fabric-types-and-their-importance/
5. Huang, E. (2016, December 14). ORGANIC FABRICS. Retrieved from vivifytextiles.com: https://www.vivifytextiles.com/blogs/news/organic-fabrics
6. Kashyap, P. R. (2015). Sustainable Fibers and Fabrics used in Home Textiles. IJSRD Journal, 3.
7. Kiron, M. I. (2014, August 5). Uses of Fabrics for Interior Home Textile. Retrieved from textilelearner.net: https://textilelearner.net/fabrics-for-interior-home-textile/
8. LLP, P. F. (2023). Organic fabric and why it is the future?! Retrieved from suvetah.com: https://suvetah.com/blogs/news/organic-fabric-and-why-it-is-the-future
9. Team, S. S. (2023, March 15). A Quick Guide for Organic Fabrics and Eco-Friendly Fashion Alternatives. Retrieved from sewport.com: https://sewport.com/organic-fabrics
10. Monty CL. The origin and development of cryptalgal fabrics. In Developments in sedimentology 1976 Jan 1 (Vol. 20, pp. 193-249). Elsevier.
---
Regular Issue
Subscription
Review Article
| | |
| --- | --- |
| Volume | 01 |
| Issue | 02 |
| Received | April 17, 2023 |
| Accepted | May 2, 2023 |
| Published | May 10, 2023 |
Editor