By
Asavari Jivtode*
Student, School of Planning and Architecture, New Delhi, India
Abstract
Building adaptation has a significant impact on sustainable development. There are various aspects of building obsolescence that affect the quality and performance of the building after its useful lifecycle, which include reduced environmental, economic, functional and social performance. Timely and effective building adaptation of the buildings which are facing obsolescence can extend its effective lifespan and this can provide considerable economic, environmental and social benefits, making it a sustainable alternative to demolition and new construction. This paper reviews different methods of building adaptation, techniques to find out the potential structures for adaptation which can reduce the negative impact on the environment. This paper also seeks to explore tools that can be used to analyze the building lifecycle and assess its sustainability index.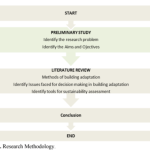 How to cite this article: Asavari Jivtode* "Achieving Sustainability Through Building Adaptationt" ijepda 2023; 01:28-33
---
Full Text
Browse Figures
References
1. Dasgupta, R., Solanki, S. K. & Paul, V., 2021. Post-pandemic impact on planning of district. Int. J. Built Environment and Asset Management, pp. 162-182.
2. Ding, G., 2004. The development of a multi-criteria approach for the. PhD Thesis,University of Technology, Sydney.
3. Douglas, J., 2006. Building Adaptation. s.l.:Butterworth Heinemann.
4. Gupta, N., Solanki, S. K. & Mittal, M., 2022. Effectiveness of Amendment of GCC on Claims by CPWD in 2019. International Journal for Research in Applied Science & Engineering Technology (IJRASET), pp. 3130-3146.
5. Kasana, V., Paul, V. & Solanki, S. K., 2022. Framework for Rehabilitation of Buildings to Improve Health, Hygiene, and Comfort of Occupants. INTERNATIONAL JOURNAL OF TOWN PLANNING AND MANAGEMENT, pp. 9, 38-46.
6. Kumar, K., Basu, D. C., Rastogi, A. & Paul, V. K., 2020. Retrofitting the existing requirements for an institutional building Framework for Enhancing the Functionality. IJSDR, 5(3), pp. 362-368.
7. Kumar, K. & Paul, V. K., 2022. A Critical Review of Risk Factors and Reliability Assessment Issues of Fire and Life Safety in Buildings. NICMAR JOURNAL OF CONSTRUCTION MANAGEMENT, XXXVII(III), pp. 23-33.
8. Kumar, K. & Paul, V. K., 2022. Risk and Reliability Assessment of Smoke Control Systems in the Buildings. International Journal for Research in Applied Science & Engineering Technology (IJRASET), 10(X), pp. 576-581.
9. Kumar, K. & Paul, V. K., 2023. Significance of Fire Protection System Reliability for Structure Fire Safety. STRUCTURAL ENGINEERING DIGEST, Issue October-December, pp. 42-25.
10. Paul, V. K., Basu, C., Rastogi, A. & Kumar, K., 2021. Essentials of Building Life and Fire Safety. First ed. India: COPAL Publishing.
11. Pragya & Kumar, K., 2021. A Review of Performance of Green Roofs for Retrofitting Existing Structures. Journal of Research in Infrastructure Designing, pp. 1-7.
12. Shahi, S., Esfahani, M. E., Bachmann, C. & Haas, C., 2020. A definition framework for building adaptation projects. Elsevier-Sustainable Cities and Society, p. 1.
13. Solanki, S. K. & Paul, V. K., 2022. Comparison between service life prediction methods for building rehabilitation: application on a case study. Journal of Building Pathology and Rehabilitation, pp. 1-13.
14. Solanki, S. K., Rastogi, A. & Khursheed, S., 2022. Techno-Managerial Approach to Building Rehabilitation. 1 ed. s.l.:Copal Publishing.
---
Regular Issue
Subscription
Review Article
| | |
| --- | --- |
| Volume | 01 |
| Issue | 01 |
| Received | March 29, 2023 |
| Accepted | April 17, 2023 |
| Published | April 25, 2023 |
Editor