By
Pranesh Dilip Tambe

Ameya Rajesh Pati

Kiran Dhaije

Ragini Sharma
Student, Department of Information Technology, Saraswati College of Engineering, Kharghar Navi Mumbai, Maharashtra, India
Assistant Professor, Department of Information Technology, Saraswati College of Engineering, Kharghar Navi Mumbai, Maharashtra, India
Abstract
In today's society, surveillance is becoming increasingly important in order to maintain a place's decorum and assure the safety and security of its inhabitants. In this case, an aerial monitoring system will be beneficial. This study explains how an unmanned aerial vehicle (drone) can be used to create an aerial surveillance system. We begin by describing the elements of our airborne surveillance system, followed by a discussion of some of the technologies we employed to construct it. Following that, we describe how we integrated those technologies into a drone and made them function in tandem to produce our intended aerial surveillance system. This system will be a practical and cost-effective replacement for present surveillance systems. It can be utilised for both peacekeeping and real-time monitoring of a location at any time of day. The goal is to create economical, rapid, and effective monitoring that may be employed broadly at the private, institutional, and governmental levels.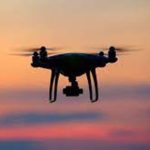 How to cite this article: Pranesh Dilip Tambe, Ameya Rajesh Pati, Kiran Dhaije, Ragini Sharma Surveillance Drone rtpl 2022; 9:7-14
---
Full Text
Browse Figures
References
1. Ben Lutkevich, Earls Alan R. Drone (UAV). [Online]. TechTarget. Available from: https://www.techtarget.com/iotagenda/definition/drone.
2. Boon K, Lovelace DC, editors. The domestic use of unmanned aerial vehicles. Terrorism: Commentary on Security Documents. Vol. 134. Oxford University Press; 2014; 207–228.
3. Vitto V. Report of the defense science board task force on the investment strategy for darpa. Washington DC: Defence Science Board; 1999 Jul 1.
4. Matt Parker GB. Quadcopter. Fort Collins, Colorado-80523: Colorado State University; 2012.
5. Weiger RL. Military unmanned aircraft systems in support of homeland security. PA: Army War Coll Carlisle Barracks; 2007 Mar 30.
6. Williams BG. Predators: The CIA's drone war on Al Qaeda. Potomac Books, Inc.; 2013 Jul 31.
7. Campbell JP. Vertical takeoff and landing aircraft. New York: The MacMillan Company; 1962.
8. Garrett Reim. (2019). DARPA cancels ARES cargo drone project with Lockheed Martin. [Online]. Flight Global. Available from: https://www.flightglobal.com/helicopters/darpa-cancels-ares-cargo- drone-project-with-lockheed-martin-/132645.article.
9. Cohen J. Drone spy plane helps fight California fires. Science. 2007; 318(5851): 727.
10. Roberts MR. 5 drone technologies for firefighting. Fire Chief Magazine; 2014.
---
Regular Issue
Open Access
Article
| | |
| --- | --- |
| Volume | 9 |
| Issue | 1 |
| Received | May 12, 2022 |
| Accepted | May 19, 2022 |
| Published | May 25, 2022 |