By
K. Ragodaya Deepthi

Ch. Laasya

K. Khyathi
Assistant Professor, Department of Electronics Communication Engineering, Vasavi College of Engineering, Hyderabad, India
Assistant Professor, Department of Electronics Communication Engineering, Vasavi College of Engineering, Hyderabad, India
Assistant Professor, Department of Electronics Communication Engineering, Vasavi College of Engineering, Hyderabad, India
Abstract
In wireless communication the propagation channel is characterized by multipath propagation due to scattering on different obstacles. MIMO takes advantage of multi-path and uses multiple antennas to send multiple parallel signals from transmitter. "Multi-path" occurs when different signals arrive at the receiver at various times. MIMO exploits the space dimension to improve wireless systems capacity, range and reliability. There are two different modulation techniques that exploits the best features of MIMO communication and establish reliable wireless connection between MIMO transmitter and MIMO receiver. They are space shift keying (SSK) and quadrature phase shift keying (QSSK). Unlike other modulation techniques where symbols are transmitted, In SSK the antenna index relays information during transmission. This absence of symbol information eliminates the transceiver elements necessary for APM transmission and detection (such as coherent detectors). As well, the simplicity involved in modulation reduces the detection complexity compared to that of spatial modulation (SM), while achieving almost identical performance gains. In this paper, SSK is implemented for MIMO and also compared the results with QSSK under various conditions like increasing the number of transmitting antennas, increasing number of receiving antennas and proved the later has low probability of error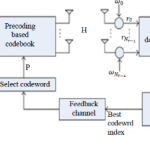 How to cite this article: K. Ragodaya Deepthi, Ch. Laasya, K. Khyathi Performance Analysis of Space Shift Keying and Quadrature Space Shift Keying for MIMO Channels rrjosst 2022; 10:46-55
---
Full Text
Browse Figures
References
1. A. Mokh, M. H´elard, M. Crussi`ere. "Extended receive antenna shift keying". 2017 24th IEEE International Conference on Telecommunication (ICT). 3-5 May 2017; Limassol, Cyprus. US: IEEE Press; 2017.
2. Ertugrul Basar. "Spatial modulation techniques for 5G wireless networks May 2016, Conference: 2016 24th Signal processing and Communication Application Conference (SIU). 16-19 May 2016; Zonguldak, Turkey. US: IEEE Press; 2016.
3. R. Zhang, L.-L. Yang, L. Hanzo. "Generalised precoding aided spatial modulation". IEEE Transactions on Wireless Communications. 2013; 12(11): 5434– 5443.
4. Pritam Som, A. Chockalingam. "Spatial Modulation and Space Shift Keying in Single Carrier Communication". 2012 IEEE 23rd International Symposium on Personal Indoor and Mobile Radio Communications (PIMRC). 9-12 September 2012; Sydney, NSW, Australia. US: IEEE Press; 2012.
5. Omar Hiari, Raed Mesleh, Abdullah Alkhatib. "A Physical Transmitter Implementation of a Quadrature Space Shift Keying MIMO System". IEEE Transactions on Circuits and Systems II: Express Briefs. January 2021; 68(1): 251 – 255.
6. L.-L. Yang. "Transmitter preprocessing aided spatial modulation for multiple-input multiple-output systems". 2011 IEEE 73rd Vehicular Technology Conference (VTC Spring). 15-18 May, 2011; Budapest Hungary. US: IEEE Press; 2011. 1–5 p.
7. A. Mokh, Y. Kokar, M. H´elard, M. Crussi`ere. "Time reversal receive antenna shift keying on mimo los channel" 2017 International Conference on Sensors, Networks, Smart and Emerging Technologies (SENSET). 12-14 Sept. 2017; Beiriut, Lebanon. US: IEEE Press; 2017.
8. Y. Kokar, J.-C. Prevotet, M. Helard, "Receive antenna shift keying modulation testbed for wireless communications systems". in Globecom Workshops (GCWorkshops). 4-8 December 2016; Washigton, DC, USA. US: IEEE Press; 2016. 1–6 p.
9. M. W. Numan, Mohammad Tariqul Islam, Norbahiah Misran, "An efficient FPGA-based hardware implementation of MIMO wireless systems" Proceedings of the 7th International Symposium on Communication Systems Networks and Digital Signal Processing (CSNDSP). 21-23 July 2010; University of Northumbria, Newcastle Upon Tyne, UK. US: IEEE Press 2010.
10. Jeyadeepan Jeganathan, Ali Ghrayeb, Leszek Szczecinski, Andres Ceron. "Space Shift Keying Modulation for MIMO Channels". IEEE Transactions on Wireless Communications. July 2009; 8(7): 3692-3703.
---
Regular Issue
Open Access
Article
| | |
| --- | --- |
| Volume | 10 |
| Issue | 3 |
| Received | April 18, 2022 |
| Accepted | April 26, 2022 |
| Published | May 9, 2022 |