By
Sandip Zine

Parth Mehta

Ankita Rai

Sayli Sawant
Assistant Professor, Department of Pharmaceutical Chemistry, Vivekanand Education Society's College of Pharmacy, Collector Colony, Chembur, Mumbai, Maharashtra, India
Student, Department of Pharmaceutical Chemistry, Vivekanand Education Society's College of Pharmacy, Collector Colony, Chembur, Mumbai, Maharashtra, India
Student, Department of Pharmaceutical Chemistry, Vivekanand Education Society's College of Pharmacy, Collector Colony, Chembur, Mumbai, Maharashtra, India
Student, Department of Pharmaceutical Chemistry, Vivekanand Education Society's College of Pharmacy, Collector Colony, Chembur, Mumbai, Maharashtra, India
Abstract
Antibiotics are called as 'Wonder Drugs', the miracles of modern sciences. They help combat bacteria and prevent their growth. But due to unmonitored and uncontrolled consumption of these antibiotics, there is an emergence of antibiotic resistance. This has led to a series of downfall in the therapeutic potency and efficacy of many drugs. More and more bacteria are becoming Multi-Drug Resistant (MDR); such highly resistant strains of certain bacteria are called Superbugs. The misuse and overconsumption of many antibiotics, has led to a steep rise in the number of antibiotic-resistant strains at a global level, thus elevating global mortality and morbidity rates. This prompted World health Organisation in 2011 to coin a slogan "No action today, no cure tomorrow". This review gives a piece of detailed information on the origin, molecular mechanisms of antibiotic resistance, supported by factual data and case studies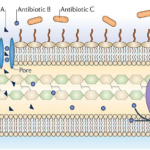 How to cite this article: Sandip Zine, Parth Mehta, Ankita Rai, Sayli Sawant Antibiotic Resistance: Molecular Mechanisms of Resistance rrjomv 2021; 11:1-8
---
Full Text
Browse Figures
References
1. Levy SB, Marshall B. Antibacterial Resistance Worldwide: Causes, Challenges and Responses. Nat Med. 2004; 10(12Suppl): 122–129p.
2. Overview of Bacteria. 2017. http://www.merckmanuals.com/home/infections/bacterial-infections/overview-of-bacteria
3. Chopra R, Alderborn G, Podczeck F, et al. The Influence of Pellet Shape and Surface Properties on the Drug Release from Uncoated and Coated Pellets. Int J Pharm. 2002; 239(1–2): 171–178p.
4. Aminov RI. A Brief History of the Antibiotic Era: Lessons Learned and Challenges for the Future. Front Microbiol. 2010; 1: 134p.
5. Walker D, Fowler T. Annual Report of the Chief Medical Officer. Vol. 2. Infections and the Rise of Antimicrobial Resistance. Department of Health; 2011.
6. World Economic Forum. Global Risks 2013. 8th Edn. 2013. http://www.weforum.org/reports/ global-risks2013-eighth-edition.
7. World Economic Forum. Global Risks 2014. 2014. Report http://www.weforum.org/reports/ global-risks-2014-report.
8. Kojima S, Nikaido H. Permeation Rates of Penicillins Indicate that Escherichia coli Porins Function Principally as Nonspecific Channels. Proc Natl Acad Sci USA. 2013; 110(28): E2629–E2634p.
9. Vargiu AV, Nikaido H. Multidrug Binding Properties of the AcrB Efflux Pump Characterized by Molecular Dynamics Simulations. Proc Natl Acad Sci USA. 2012; 109(50): 20637–20642p.
10. Baroud M, et al. Underlying Mechanisms of Carbapenem Resistance in Extended-Spectrum β-Lactamase-Producing Klebsiellapneumoniae and Escherichia coli Isolates at a Tertiary Care Centre in Lebanon: Role of OXA-48 and NDM-1 Carbapenemases. Int J Antimicrob Agents. 2013; 41(1): 75–79p.
11. Wozniak A, et al. Porin Alterations Present in Noncarbapenemase-Producing Enterobacteriaceae with High and Intermediate Levels of Carbapenem Resistance in Chile. J Med Microbiol. 2012; 61(9): 1270–1279p.
12. Bailey AM, et al. RamA, a Member of the AraC/XylS Family, Influences both Virulence and Efflux in Salmonella entericaserovar Typhimurium. J Bacteriol. 2010; 192(6): 1607–1616p.
13. Pomposiello PJ, Bennik MH, Demple B. Genome-Wide Transcriptional Profiling of the Escherichia coli Responses to Superoxide Stress and Sodium Salicylate. J Bacteriol. 2001; 183(13): 3890–3902p.
14. Baucheron S, Nishino K, Monchaux I, et al. Bile-Mediated Activation of the acrAB and to lC Multidrug Efflux Genes occurs Mainly through Transcriptional Derepression of ramA in Salmonella entericaserovar Typhimurium. J Antimicrob Chemother. 2014; 69(9): 2400–6p. doi: 10.1093/jac/dku140. Epub 2014 May 9. PMID: 24816212.
15. Hirakawa H, Inazumi Y, Masaki T, Hirata T, Yamaguchi A. Indole Induces the Expression of Multidrug Exporter Genes in Escherichia coli. Mol Microbiol. 2005; 55(4): 1113–1126p.
16. Nikaido E, Giraud E, Baucheron S, et al. Effects of Indole on Drug Resistance and Virulence of Salmonella entericasero var Typhimurium Revealed by Genome-Wide Analyses. Gut Pathogens. 2012; 4(1): 5p. https://doi.org/10.1186/1757-4749-4-5.
17. Billal DS, Feng J, Leprohon P, et al. Whole Genome Analysis of Linezolid Resistance in Streptococcus Pneumoniae Reveals Resistance and Compensatory Mutations. BMC Genomics. 2011; 12(1): 512p.
18. Gao W. et al. Two Novel Point Mutations in Clinical Staphylococcus aureus Reduce Linezolid Susceptibility and Switch on the Stringent Response to Promote Persistent Infection. PLoS Pathog. 2010; 6(6): e1000944p.
19. Leclercq R. Mechanisms of Resistance to Macrolides and Lincosamides: Nature of the Resistance Elements and Their Clinical Implications. Clin Infect Dis. 2002; 34(4): 482–492p.
20. Kumar N, et al. Crystal Structure of the Transcriptional Regulator Rv1219c of Mycobacterium Tuberculosis. Protein Sci. 2014; 23(4): 423–432p.
21. Vetting MW, et al. Structure of QnrB1, a Plasmidmediated Fluoroquinolone Resistance Factor. J Biol Chem. 2011; 286(28): 25265–25273p.
22. Randall CP, Mariner KR, Chopra I, O'Neill AJ. The Target of Daptomycin is Absent from Escherichia coli and Other Gram-Negative Pathogens. Antimicrob Agents Chemother. 2013; 57(1): 637–639p.
23. Blake KL, O'Neill AJ. Transposon Library Screening for Identification of Genetic Loci Participating in Intrinsic Susceptibility and Acquired Resistance to Anti-Staphylococcal Agents. J Antimicrob Chemother. 2013; 68(1): 12–16p.
24. Livermore DM. Defining an Extended-Spectrum Betalactamase. Clin Microbiol Infect. 2008; 14(Suppl. 1): 3–10p.
25. Nordmann P, Poirel L, Walsh TR, Livermore DM. The Emerging NDM Carbapenemases. Trends Microbiol. 2011; 19(12): 588–595p.
26. Voulgari E, Poulou A, Koumaki V, Tsakris A. Carbapenemase-Producing Enterobacteriaceae: Now that the Storm is Finally Here, How will Timely Detection Help Us Fight Back? Future Microbiol. 2013; 8(1): 27–39p.
27. Johnson AP, Woodford N. Global Spread of Antibiotic Resistance: The Example of New Delhi Metallo-β-Lactamase (NDM)-Mediated Carbapenem Resistance. J Med Microbiol. 2013; 62(Pt 4): 499–513p.
28. Lynch III, JP Clark NM, Zhanel GG. Evolution of antimicrobial resistance among Enterobacteriaceae (focus on extended spectrum β-lactamases and carbapenemases). Expert Opinion on Pharmacotherapy. 2013;14(2),199–210p.
29. Wright GD. Bacterial Resistance to Antibiotics: Enzymatic Degradation and Modification. Adv Drug Delivery Rev. 2005; 57(10): 1451–1470p.
30. Norris AL, Serpersu EH. Ligand Promiscuity through the Eyes of the Aminoglycoside N3 acetyltransferaseiia. Protein Sci. 2013; 22(7): 916–928p.
31. Levy SB, Marshall B. Antibacterial Resistance Worldwide: Causes, Challenges and Responses. Nat Med. 2004; 10(Suppl. 12): S122–S129p.
32. Jones M, Karlowsky J, Draghi D, Thornsberry C, Sahm D, Nathwani D. Epidemiology and Antibiotic Susceptibility of Bacteria Causing Skin and Soft Tissue Infections in the USA and Europe: A Guide to Appropriate Antimicrobial Therapy. Int J Antimicrob Agents. 2003; 22(4): 406–419p.
33. Jones M, Draghi D, Thornsberry C, Karlowsky J, Sahm D, Wenzel R. Emerging Resistance among Bacterial Pathogens in the Intensive Care Unit. A European and North American Surveillance Study (2000–2002). Ann Clin Microbiol Antimicrob. 2004; 3: 14p.
34. Panlilio A, Culver D, Gaynes R et al. Methicillin-Resistant Staphylococcus aureus in US Hospitals, 1975–1991. Infect Control Hosp Epidemiol. 1992; 13(10): 582–586p.
35. Oliveira D, Tomasz A, de Lencastre H. Secrets of Success of a Human Pathogen: Molecular Evolution of Pandemic Clones of Meticillin-Resistant Staphylococcus aureus. Lancet Infect Dis. 2002; 2(3): 180–189p.
36. Stefani S, Varaldo P. Epidemiology of Methicillin-Resistant Staphylococci in Italy. Clin Microbiol Infect. 2003; 9(12): 1179–1186p.
37. Zhang H, Hackbarth C, Chansky K, Chambers H. A Proteolytic Transmembrane Signaling Pathway and Resistance to -Lactams in Staphylococci. Science. 2001; 291(5510): 1962–1965p.
38. Pinho M, Filipe S, de Lencastre H, Tomasz A. Complementation of the Essential Peptidoglycan Transpeptidase Function of Penicillin-Binding Protein 2 (PBP2) by the Drug Resistance Protein PBP2A in Staphylococcus aureus. J Bacteriol. 2001; 183(22): 6525–6531p.
39. Pinho MG, de Lencastre H, Tomasz A. An Acquired and a Native Penicillin-Binding Protein Cooperate in Building the Cell Wall of Drug-Resistant Staphylococci. Proc Natl Acad Sci USA. 2001; 98(19): 10886–10891p.
---
Regular Issue
Open Access
Article
| | |
| --- | --- |
| Volume | 11 |
| Issue | 1 |
| Received | November 17, 2020 |
| Accepted | November 19, 2020 |
| Published | April 19, 2021 |