By
Ambika Nand Jha
Doctor of Pharmacy, Department of Pharmacy, Practice Indubhai Patel College of Pharmacy & Research Centre, Dharmaj, Anand, Gujarat, India
Abstract
Background: Diabetes mellitus is a chronic disease that occurs at the point when the pancreas is not able to produce insulin, or when the body cannot utilize the insulin it produces. Diabetes mellitus is a complex metabolic disorder that affects various systems of body such as visual, circulatory, renal and nervous system. Human beings depend upon plants for their various needs such as food, fodder, fuel, timber, fibres, dyes, gums, resins, medicines etc. Conclusion: The human healthcare system is highly benefited from traditional knowledge. Ayurveda is a widely practiced system of medicine in India. A number of plants have been described in Ayurveda and other traditional medicines for the treatment of diabetes. Herbal medicines are currently in demand and their necessity is increasing eventually. India is one of the largest producers of medicinal herbs and is called as botanical garden of the world. This review intends to understand the importance of various types of herbal and poly-herbal formulations available traditionally, which can be used for diabetes treatment.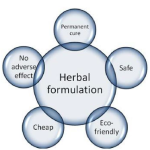 How to cite this article: Ambika Nand Jha Herbal Drug Used in the Treatment of Diabetes: A Review rrjohs 2021; 10:27-34
---
Full Text
Browse Figures
References
1. WHO Expert Committee on Diabetes Mellitus: Second Report. World Health Organ Tech Rep Ser. 1980; 646: 1–80p.
2. Diabetes Mellitus: Report of a WHO Study Group. World Health Organ Tech Rep Ser, 1985; 727: 1–113p.
3. Mayfield J. Am Diagnosis and classification of diabetes mellitus: new criteria. American family physician, Fam Physician. 1998; 58(6): 1355–1362.
4. Jaiswal KM, Shah C. A Review of Diabetes Mellitus and Herbs in Ayurveda. Imperial Journal of Interdisciplinary Research (IJIR). 2016; 2(3): 514–520p.
5. Sangeetha AB. Traditional Use of Medicinal Plant Rubia cordifolia L. in the Preparation of Kohl. Int J Herb Med. 2018; 6(6): 120–121p.
6. Edition. Edition; http://www.vision2020uk.org.uk/idf-diabetes-atlas-7thedition.
7. Prabhakar PK, Doble M. Mechanism of Action of Natural Products Used in the Treatment of Diabetes Mellitus. Chin J Integr Med. 2011; 17(8): 563–574p.
8. Pushparaj PN, Tan BK, Tan CH. The Mechanism of Hypoglycemic Action of the Semi-Purified Fractions of Averrhoabilimbi in Streptozotocin-Diabetic Rats. Life Sci. 2001; 70: 535–547p.
9. Aggarwal N, Shishu. A Review of Recent Investigations on Medicinal Herbs Possessing Antidiabetic Properties. J Nutrition Disorder Ther. 2011; 1(102): 97–106p.
10. Dwivedi CP, Daspaul S. Antidiabetic Herbal Drugs and Polyherbal Formulation Used for Diabetes: A Review. J Phytopharmacol. 2013; 2(3): 44–51p.
11. Mishra R, Shuaib M, Shravan, Mishra P. S. A Review on Herbal Antidiabetic Drugs. J Appl Pharm Sci. 2011; 1(6): 235–237p.
12. Eidi A, Eidi M, Esmaeili E. Antidiabetic Effect of Garlic (Allium sativum L.) in Normal and Streptozotocin Induced Diabetic Rats. Phytomedicine. 2005; 13(9–10): 624–9p.
13. Suryanarayana P, Saraswat M, Mrudula T, Krishna TP, Krishnaswamy K, et al. Curcumin and Turmeric Delay Streptozotocin-Induced Diabetic Cataract in Rats. Invest Ophthalmol Vis Sci. 2005; 46(6): 2092–9p.
14. Jarald E, Joshi SB, Jain DC. Diabetes and Herbal Medicines. Iran J Pharmacol Ther. 2008; 7(1): 97–106p.
15. Jafri Ahmad S, Abbas S, et al. (Institute of Molecular Biology, The University of Lahore). Hypoglycemic Effect of Zingiber Officinale in Alloxan Induse Diabetic Rat. Pak Vet J. 2011; 31(2): 160–2p.
16. Tirgar PR, Shah K, et al. Investigation into Mechanism of Action of Antidiabetic Activity of Emblica officinalis on streptozotocin induced Type 1 Diabetic Rat. Res J Pharm Biol Chem Sci. 2010; 1(4): 672–682p.
17. Shanmugasundaram ER, Rajeswari G, Baskaran K, Rajesh Kumar BR, Radha Shanmugasundaran K, Kizar Ahmath B. Use of Gymnema Sylvestre Leaf Extract in the Control of Blood Glucose.
---
Regular Issue
Open Access
Article
| | |
| --- | --- |
| Volume | 10 |
| Issue | 1 |
| Received | December 28, 2020 |
| Accepted | December 28, 2020 |
| Published | April 28, 2021 |