By
D.S.V.G.K. Kaladhar

Akhilesh Tiwari

Shristi Sharma
Associate Professor and Head, Department of Microbiology and Bioinformatics, UTD, Atal Bihari Vajpayee University, Chhattisgarh, India
Abstract
Peptic ulcers are also called as or duodenal ulcers or gastric ulcers that are open sores generally develop in the lining of the stomach due to food and climatic factors. H. pylori infections are potentially the most dangerous and are linked to several diseases like diabetes, cancer, cardiovascular diseases, etc. In the present study, in silico screening and evaluation of some metabolites from Momordica charantia like Momorcharin, Momordicin, Metformin, Pioglitazone, Glipizide, Gliclazide and Glibenclamide in the treatment of peptic ulcers has been conducted. Vacuolating cytotoxin autotransporter (VacA) causes ulceration and gastric lesions is interacting with Urease subunit alpha (ure a), Outer membrane protein-adhesin (babA), Acid-activated urea channel (ureI; rapidly enhances the production of ammonia) and Cytotoxicity-associated immunodominant antigen (CagA). CagA is directly interacting with Serine/threonine-protein kinase CtkA and Cag island protein (virD4). Glibenclamide, Glipizide and Momorcharin has shown good results with Vac A and CagA involved in peptic ulcer. The present study has shown that Glibenclamide is found as effective molecule in the control of peptic ulcer.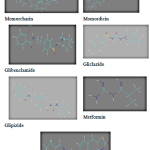 How to cite this article: D.S.V.G.K. Kaladhar, Akhilesh Tiwari, Shristi Sharma In Silico Screening and Evaluation of Some Metabolites from Momordica charantia in the Treatment of Peptic Ulcers rrjocb 2021; 10:5-10
---
Full Text
Browse Figures
References
1. Fan M, Kim EK, Choi YJ, Tang Y, Moon SH. The role of Momordica charantia in resisting obesity. Int J Environ Res Public Health. 2019;16(18):3251. doi: 10.3390/ijerph16183251, PMID 31487939.
2. Yan JK, Wu LX, Qiao ZR, Cai WD, Ma H. Effect of different drying methods on the product quality and bioactive polysaccharides of bitter gourd (Momordica charantia L.) slices. Food Chem. 2019;271:588–96. doi: 10.1016/j.foodchem.2018.08.012, PMID 30236720.
3. Behera TK, Singh AK, Staub JE. Comparative analysis of genetic diversity in Indian bitter gourd (Momordica charantia L.) using RAPD and ISSR markers for developing crop improvement strategies. Sci Hortic. 2008;115(3):209–17. doi: 10.1016/j.scienta.2007.08.013.
4. Thiagarajan SK, Rama Krishnan K, Ei T, Husna Shafie N, Arapoc DJ, Bahari H. Evaluation of the effect of aqueous Momordica charantia Linn. extract on zebrafish embryo model through acute toxicity assay assessment. Evid Based Complement Alternat Med. 2019;2019:9152757. doi: 10.1155/2019/9152757, PMID 31186668.
5. Jan B, Shams R, Dar AH, Singh A, Khan SA. Bitter gourd. In: Antioxidants in vegetables and nuts-properties and health benefits. Singapore: Springer; 2020. p. 175–89.
6. Singh V, Mahaur S, Kushwaha SK. Nutraceuticals: A new golden era in health and disease. Asian J Res Chem. 2018;11(3):652–8. doi: 10.5958/0974–4150.2018.00117.7.
7. Kumar KS, Bhowmik D. Traditional medicinal uses and therapeutic benefits of Momordica charantia Linn. Int J Pharm Sci Rev Res. 2010;4(3):23–8.
8. Poovitha S, Parani M. In vitro and in vivo α-amylase and α-glucosidase inhibiting activities of the protein extracts from two varieties of bitter gourd (Momordica charantia L.). BMC Complement Altern Med. 2016;16(1);Suppl 1:185. doi: 10.1186/s12906–016–1085–1, PMID 27454418.
9. Grover JK, Yadav SP. Pharmacological actions and potential uses of Momordica charantia: a review. J Ethnopharmacol. 2004;93(1):123–32. doi: 10.1016/j.jep.2004.03.035, PMID 15182917.
10. Singh J, Cumming E, Manoharan G, Kalasz H, Adeghate E. Medicinal chemistry of the anti-diabetic effects of Momordica charantia: active constituents and modes of actions. Open Med Chem J. 2011 [Suppl];5(Suppl 2):70–7. doi: 10.2174/1874104501105010070, PMID 21966327.
11. De Luis DA, De La Calle H, Roy G, De Argila CM, Valdezate S, Canton R, Boixeda D. Helicobacter pylori infection and insulin-dependent diabetes mellitus. Diabetes Res Clin Pract. 1998;39(2):143–6. doi: 10.1016/s0168–8227(97)00127–7, PMID 9597384.
12. Paul A, Raychaudhuri SS. Medicinal uses and molecular identification of two Momordica charantia varieties-a review. Electron J Biol. 2010;6(2):43–51.
13. Nejati S, Karkhah A, Darvish H, Validi M, Ebrahimpour S, Nouri HR. Influence of Helicobacter pylori virulence factors CagA and VacA on pathogenesis of gastrointestinal disorders. Microb Pathog. 2018;117:43–8. doi: 10.1016/j.micpath.2018.02.016, PMID 29432909.
14. Xiang Z, Censini S, Bayeli PF, Telford JL, Figura N, Rappuoli R, Covacci A. Analysis of expression of CagA and VacA virulence factors in 43 strains of Helicobacter pylori reveals that clinical isolates can be divided into two major types and that CagA is not necessary for expression of the vacuolating cytotoxin. Infect Immun. 1995;63(1):94–8. doi: 10.1128/iai.63.1.94–98.1995, PMID 7806390.
15. Ozbakiş Dengiz G, Gürsan N. Effects of Momordica charantia L. (Cucurbitaceae) on indomethacin-induced ulcer model in rats. Turk J Gastroenterol. 2005;16(2):85–8. PMID 16252198.
16. Gürbüz I, Akyüz C, Yeşilada E, Şener B. Anti-ulcerogenic effect of Momordica charantia L. fruits on various ulcer models in rats. J Ethnopharmacol. 2000;71(1–2):77–82. doi: 10.1016/s0378–8741(99)00178–6, PMID 10904148.
17. Kim JM, Kim JS, Jung HC, Song IS, Kim CY. Virulence factors of Helicobacter pylori in Korean isolates do not influence proinflammatory cytokine gene expression and apoptosis in human gastric epithelial cells, nor do these factors influence the clinical outcome. J Gastroenterol. 2000;35(12):898–906. doi: 10.1007/s005350070003, PMID 11573725.
18. Mattar R, Marques SB, Monteiro MDS, Dos Santos AF, Iriya K, Carrilho FJ. Helicobacter pylori cag pathogenicity island genes: clinical relevance for peptic ulcer disease development in Brazil. J Med Microbiol. 2007;56(1):9–14. doi: 10.1099/jmm.0.46824–0, PMID 17172510.
19. Abdel-Rahman RF, Soliman GA, Saeedan AS, Ogaly HA, Abd-Elsalam RM, Alqasoumi SI, Abdel-Kader MS. Molecular and biochemical monitoring of the possible herb-drug interaction between Momordica charantia extract and glibenclamide in diabetic rats. Saudi Pharm J. 2019;27(6):803–16. doi: 10.1016/j.jsps.2019.05.002, PMID 31516323.
20. Rezaeizadeh, ALIREZ A. 2013. Some mechanisms for wound healing enhancing effects of bitter gourd (Momordica charantia L.) extract in diabetic rats (Doctoral dissertation, Ph. D. Thesis, Universiti Putra Malaysia, Serdang, Malaysia).
---
Regular Issue
Open Access
Article
| | |
| --- | --- |
| Volume | 10 |
| Issue | 1 |
| Received | March 25, 2021 |
| Accepted | March 27, 2021 |
| Published | April 30, 2021 |