By
Lavi Jain

Kaustubh Tripathi

Surya Prakash DV
B.Tech Student, Department of Biotechnology, Meerut Institute of Engineering and Technology (MIET), Meerut, Uttar Pradesh, India
B.Tech Student, Department of Biotechnology, Meerut Institute of Engineering and Technology (MIET), Meerut, Uttar Pradesh, India
Assistant Professor, Department of Biotechnology, Meerut Institute of Engineering and Technology (MIET), Meerut, Uttar Pradesh, India
Abstract
Manihot esculenta, which is commonly known as Cassava, is a woody shrub that provides a high source of carbohydrate. It is an annual crop native to tropical and subtropical regions of the world. Nigeria is the largest producer of the cassava plant. The parts of the plant like leaves, roots, stems, etc are consumed in a variety of ways as they have been shown to possess activities like analgesic, anti-inflammatory anti-helmentic, anti-diabetic, antipyretic, hepatoprotective, relaxing, antimutagenic, and anti-cancer. Calories, proteins, fats, carbohydrates, phosphorus, iron, vitamin B, vitamin C, and starch are among the nutrients found in the plant. The leaves contain vitamin A, vitamin B1, calcium, iron, phosphorus, fat, starch, calories, and proteins. The stem also consists ofenzymes,calcium oxalate, tannins and peroxidase. The cassava plant is also rich in saponin, flavonoid, alkaloids, and other phytochemicals. In many regions of the world, it is widely considered a medicinal plant. The extracts of leaves show a promising antidiarrheal activity. It is also used for the treatment of many infectious diseases. The roots of cassava are eaten raw, boiled, and even used as an alternative to wheat flour in the processes of baking. The pesticidal activity of Manihot esculenta has also been determined and the results suggested that the plant also has pesticidal activity. The leaves act as a natural remedy and the extract helps in skincare and healing. It is also an excellent wound healing remedy as it contributes to wound repair, cell replacement, bone health, memory enhancement, and the body's metabolic function.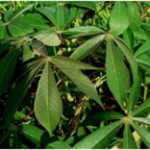 How to cite this article: Lavi Jain, Kaustubh Tripathi, Surya Prakash DV A Review on Manihot Esculenta Species rrjob 2021; 10:6-10
---
Full Text
Browse Figures
References
1 Thambi, Mity, and Tom Cherian. Pesticidal activity of the leaves of Manihot esculenta against the pest Sitophilus oryzae. The Pharma Innovation, Part A. 2015; 4(6): 15-18p.
2 Suresh, R., M. Saravanakumar, and P. Suganyadevi. Anthocyanins from Indian cassava (Manihot esculenta Crantz) and its antioxidant properties. International Journal of Pharmaceutical Sciences and Research. 2011; 2(7): 1819-1828p.
3 Abdelsamed I. Elshamy, Abd El-Nasser G. El Gendy, Abdel Razik H. Farrag, Jihan Hussein, Nadia A. Mohamed, Walaa A. El-Kashak, Simona Nardoni, Francesca Mancianti, Marinella De
Leo & Luisa Pistelli. Shoot aqueous extract of Manihot esculenta Crantz (cassava) acts as a protective agent against paracetamol-induced liver injury. Natural product research. 2020: 1-5p.
4 Miladiyah, Isnatin. Analgesic activity of ethanolic extract of Manihot esculenta Crantz leaves in mice. Universamedicina. 2011; 30(1): 3-10p.
5 Ehiobu, John M., and Gideon I. Ogu. Phytochemical content and in vitro antimycelial efficacy of Colocasia esculenta (L), Manihot esculenta (Crantz) and Dioscorearotundata (Poir) Leaf Extracts on Aspergillus niger and Botryodiplodiatheobromae. Journal of Horticulture and Plant Research. 2018; 9-18p.
6 Thiyagarajan, M., and M. Suriyavathana. Phytochemical and antimicrobial screening of ManihotesculantaCrantz varieties Mulluvadi I, CO3 root bark. International Journal of Biotechnology and Biochemistry. 2010; 6(6): 859-864p.
7 Amaza, I. B. Determination of proximate composition, amino acids, minerals and phytochemical profile of Cassava (Manihot esculenta) peel from sweet cassava variety grown in YobeState of North Eastern Nigeria. Nigerian Journal of Animal Production. 2021; 48(1): 124-134p.
8 Olsen, Kenneth M., and Barbara A. Schaal. Evidence on the origin of cassava: phylogeography of Manihotesculenta. Proceedings of the National Academy of Sciences. 1999; 96(10): 5586-5591p.
9 Abuh, Amodu, Reuben Agada, and DluyaThagariki. Effect of Manihot esculenta and Manihotutilissima Cyanide Extract on Some Biochemical Parameters of Albino Rats. Asian Journal of Research in Biochemistry. 2020; 13-28p.
10 Isaac-Bamgboye, F. J., Enujiugha, V. N., &Oluwamukomi, M. O. In-vitro Antioxidant Capacity, Phytochemical Characterisation, Toxic and Functional Properties of African Yam Bean (Sphenostylisstenocarpa) Seed-Enriched Cassava (Manihot esculenta) Product (Pupuru). European Journal of Nutrition & Food Safety. 2020; 12(3): 84-98p.
11 Bahekar, Satish E., and Ranjana S. Kale. Antidiarrheal activity of ethanolic extract of Manihot esculenta Crantz leaves in Wistar rats. Journal of Ayurveda and integrative medicine. 2015; 6(1): 35-40p.
12 VajjiramChinnadurai, Periannan Viswanathan, KandasamyKalimuthu, AmmasaiVanitha, Venkatachalam Ranjitha, ArivalaganPugazhendhi. Comparative studies of phytochemical analysis and pharmacological activities of wild and micropropagated plant ethanol extracts of Manihot esculenta. Biocatalysis and Agricultural Biotechnology. 2019; 19: 101166.
13 Nadjiam, Djirabaye, Nicolas CyrilleAyessou, and AliouGuissé. Physicochemical Characterization of Nine Cassava (Manihot esculenta Crantz) Cultivars from Chad. Food and Nutrition Sciences. 2020; 11(7): 741-756p.
14 Esther Ekeledo, Sajid Latif, Adebayo Abass, Joachim Müller.Antioxidant potential of extracts from peels and stems of yellow‐fleshed and white cassava varieties. International Journal of Food Science & Technology.2021; 56(3): 1333-1342p.
15 Salvador, E. M., Vanessa Steenkamp, and Cheryl Myra EthelwynMcCrindle. Production, consumption and nutritional value of cassava (Manihot esculenta, Crantz) in Mozambique: An overview. 2014; 6(3): 29-38p.
16 Okeke CU, Iweala E. Antioxidant profile of Dioscorea Rotundata, Manihot Esculenta, Ipoemea Batatas, Vernonia Amygdalina and Aloe Vera. J Med Res Technol 2007;4:4-10p.
17 Jayasri P, Narendra Naik D, A. Elumalai. Evaluation of anthelmintic activity of Manihot esculenta leaves. Int J Curr Pharm Res 2011;3(4):115-16p.
18 Zakaria ZA. The in vitro antibacterial activity and brine shrimp toxicity of Manihot esculenta var. Sri Pontian (Euphorbiacea) extracts. Int. J. Pharmacol 2006;2(2):216-20p.
---
Regular Issue
Open Access
Article
| | |
| --- | --- |
| Volume | 10 |
| Issue | 2 |
| Received | June 8, 2021 |
| Accepted | July 29, 2021 |
| Published | August 20, 2021 |