By
Prashant Kumar Srivastava

Praveet Dubey
Assistant Professor, Institute of Legal Studies, Uttar Pradesh, India
Student, Shri Ramswaroop Memorial University, Uttar Pradesh, India
Abstract
No economy can flourish without the rights of the consumer being protected. A patron is an indispensable actor of any economy as he is the person who buys or hires goods or services from the seller and in turn boosts employment in the country. Thus, protecting the rights of the consumer is important because in the present times the demands and expectations of the consumer have changed due to globalization and growing awareness. However, the availability of a large number of goods and services sometimes proves to be harmful to the consumer as not all sellers and service providers are genuine. A new section in Consumer Rights in India has all started with the Parliament passing the Consumer Protection Act, 2019 and repealing the Consumer Protection Act, 1986 making the Consumer extra effective than before. The principal spotlight of the Consumer Protection Act, 2019 is that it establishes a Central Consumer Protection Authority which acts as a regulatory frame to "promote, protect, put in force customer rights as a class." A clean shift from Caveat emptor (allow the client to be aware) to Caveat venditor (allow the vendor to be aware) may be visible within side the new provisions because the unfair change practices and fraud achieved via way of means of the vendor will now be penalized. The contemporary Act additionally makes provisions for punishment concerning unfair exchange practices and deceptive commercials and plenty of greater modifications which hold the rights of the patron updated with the modern modifications within side the market.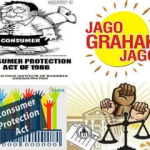 How to cite this article: Prashant Kumar Srivastava, Praveet Dubey Analysis of Consumer Protection Law in India jltcpl 2021; 4:30-39
---
Full Text
Browse Figures
References
1. 2018(2) ALD (SC)5.
2. Civil Appeal No. 3883 of 2007, Judgement dated 7 April 2017.
3. (2009) INC 252.
---
Regular Issue
Open Access
Article
| | |
| --- | --- |
| Volume | 4 |
| Issue | 1 |
| Received | July 22, 2021 |
| Accepted | July 25, 2021 |
| Published | August 4, 2021 |