By
Jalalu Guntur

S. Srinivasulu Raju

K. Karthik

M. Satya Siddheswar
Asstiant Professor, Velagapudi Ramakrishna Siddhartha Engineering College (VRSEC), Andhra Pradesh, India
Asstiant Professor, Velagapudi Ramakrishna Siddhartha Engineering College (VRSEC), Andhra Pradesh, India
Student, Velagapudi Ramakrishna Siddhartha Engineering College (VRSEC), Andhra Pradesh, India
Student, Velagapudi Ramakrishna Siddhartha Engineering College (VRSEC), Andhra Pradesh, India
Abstract
Smart door locking systems have become more sophisticated as technology has advanced. Though an automatic password-based door lock system provides a more secure method of locking and unlocking the system, because of the ongoing Covid situation, it is extremely dangerous to touch the keypads, which are frequently used by different people. Hence, in this project we use RFID tags and Arduino. The RFID card reader detects and validates the user's access. When the card is brought close to the reader, it recognizes the radio frequency of the card and thus verifies its authenticity. key along with beeping sound, Lcd display and led blinking. We have also connected a sensor, which will be very useful during the night times for operating the door. In addition to this, face recognition technique and SMS alerting system can also be implemented in this project for enhanced security. This system is extremely valuable because to its low cost of construction, advanced capability, and simple interface. A fire alarm can be added to this system. We don't usually have fire alarms at home; therefore this device can serve as a lock and a fire alarm. Mainly, this project is designed and implemented to enhance security with ease of convenience. This system can be used in main doors, private rooms, and lockers in our home or even hotel rooms, banks, classrooms, use any other location as a secondary lock for added security.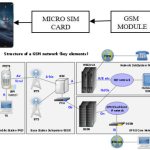 How to cite this article: Jalalu Guntur, S. Srinivasulu Raju, K. Karthik, M. Satya Siddheswar Automatic Door Lock System with Security using IoT ijmdic 2022; 7:33-39
---
Full Text
Browse Figures
References
1. Patil Bhushan S., Mahajan Vishal A., Suryawanshi Sagar A., et, al. "Automatic Door Lock System, International Journal of Microelectronics and Digital Integrated Circuits Volume 7, Issue 2 ISSN: 2456-3968 © JournalsPub 2021. All Rights Reserved 39
using PIN on Android phone Smart Door Locking System". International Research Journal of Engineering and Technology. November 2008; 5(11): 1007-1011.
2. Nishad, N. Gupte, Mihir R. Shelar. "Smart Door Locking System". International Journal of ngineering Research & Technology. Novmber 2013; 2(11).
3. Yordan Hasan, Abdurrahman, Yudi Wijanarko, Selamat Muslimin, Renny Maulidda. "The Automatic Door Lock to Enhance Security in RFID System". Journal of Physics: Conference Series. 2019; 1500 vol. 3rd Forum in Research, Science, and Technology (FIRST 2019) International Conference 9-10 October 2019, South Sumatera, Indonesia
4. Shancang Li, Li Da Xu, Shanshan Zhao. "The internet of things: a survey". Information Systems Frontiers. 2015; 17(2):243–259.
5. Sajjad Hussain Shah, Ilyas Yaqoob. "A survey: Internet of things (iot) technologies, applications and challenges". 2016 IEEE Smart Energy Grid Engineering (SEGE). 21-24 August 2016; Oshawa, ON, Canada. IEEE Press; 2016; 381–385 p.
6. Koppala Guravaiah, R Leela Velusamy. "Prototype of home monitor- ing device using internet of things and river formation dynamics-based multi-hop routing protocol (rfdhm)". IEEE Transactions on Consumer Electronics. August 2019; 65(3):329–338.
7. S Vaishali, S Suraj, G Vignesh, S Dhivya, S Udhayakumar. Mobile integrated smart irrigation management and monitoring system using iot. 2017 International Conference on Communication and Signal Processing (ICCSP). 6-8 April 2017; Chennai, India. IEEE Press; 2018. 2164–2167 p.
8. Yuthika Shekhar, Ekta Dagur, Sourabh Mishra, Suresh Sankara- narayanan. "Intelligent IoT based automated irrigation system". International Journal of Applied Engineering Research. 2017; 12(18):7306–7320.
9. Dishay Kissoon, Hinouccha Deerpaul, Avinash Mungur. "A smart irrigation and monitoring system". International Journal of Computer Applications. April 2017; 163(8): 39-45.
10. Shweta B Saraf, Dhanashri H Gawali. "Iot based smart irrigation monitoring and controlling system". 2017 2nd IEEE International Conference on Recent Trends in Electronics Information & Communication Technology. 19-20 May 2017; Bangalore, India. US: IEEE Press; 2017. 815–819 p.
11. S. Suresh, J. Bhavya, S. Sakshi, K. Varun, G. Debarshi. "Home monitoring and security system. 2016 International Conference on ICT in Business Industry Government (ICTBIG). 18-19 November 2016; Indore, India. US: IEEE Press; 2017; 1–5 p,
12. S. R. Prathibha, A. Hongal, M. P. Jyothi. "Iot based monitoring system in smart agriculture". 2017 International Conference on Recent Advances in Electronics and Communication Technology (ICRAECT). 16-17 March 2017; Bangalore, India. US: IEEE Press; 81–84 p. 13. Professional. (December 31st, 2018) Temperature Sensor. [Online] Available from http:// play ground. arduino.cc/main/dhtlib/,. 14. Wikipedia (1 December 2021). Soil Moisture Sensor. [Online]. Available from https://en.wikipedia.org/wiki/soil moisture–sensor/.
15. Arduino (4th November 2022). "Getting Started with the Arduino GSM Shield. [Online]Available from https://www.arduino.cc /en/guide/arduinogsmshield, 2020.
16. Raspberry Pi Foundation (4th April 2022). "IR Sensor" [Online] Available at, https://www.raspberrypi.org/, 2020.
17. Koppala Guravaiah, S. Srinivasulu Raju "2020 e-Agriculture: Irrigation System based on Weather Forecasting", inproceedings of 15th (IEEE) International Conference on Industrial and Information Systems. 26-28 November 2020; Indian Institute of Technology. Rupnagar, India. US: IEEE Press;2021.
18. Koppala Guravaiah, RG Thivyavignesh, and R Leela Velusamy. Vehicle monitoring using internet of things. In Proceedings of the 1st International Conference on Internet of Things and Machine Learning, pages 1–7, 2017.
---
Regular Issue
Open Access
Article
| | |
| --- | --- |
| Volume | 7 |
| Issue | 2 |
| Received | April 14, 2021 |
| Accepted | April 21, 2022 |
| Published | May 25, 2022 |