By
Akanksha Saxena
Research Scholar, Faculty of Commerce and Management, Rama University, Kanpur, Uttar Pradesh, India
Abstract
As of late, there has been noticed expanding mindfulness inside business networks on the criticalness of practicing environmental awareness and embracing different climate of the board techniques. Considering the whole expanding social class and ecological emergency nowadays, maintainable improvement is an unquestionable requirement for business production. Maintainable advancement has now become the need of the hour. The idea of worry for climate appears to have a sweeping critical function for eco-accommodating practices with a current motivation to make strides toward environmental friendliness idea in human resource management (HRM). Green HRM is a key business guide cutting impression in 'Going-green'. The laurels of green HRM accompanies a profound feeling of movement and association of all administrative levels with intricate and unforeseen objective, contribution, adaptability, and maintainability. Green HR uses a representative interface to advance supportable practices and embraces eco-accommodating HR activities to build profitability and upgrade productivity. There is a mounting need across the globe for reconciliation of business, the executives, and ecological management. This present research paper proposes selections of feasible and eco-accommodating practices by human resource management divisions in associations looking like green HRM. Green HRM is an idea that has been picked up for consideration by researchers as of late. This applied paper further adds to the essential comprehension of this thought.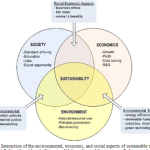 How to cite this article: Akanksha Saxena A Study of the Green HRM Practices and Its Role in Sustainable Development njhrmd 2021; 4:9-18
---
Full Text
Browse Figures
References
1. Brundtland Commission Report. World Commission on Environment and Development. Oxford: Oxford University Press; 1987.
2. Collins CJ, Clark KD. Strategic human resource practices, top management team social networks, and firm performance: the role of human resource in creating organizational competitive advantage. Acad Manag J.2003;46(6):740-51.
3. Ployhart RE. The psychology of competitive advantage: an adjacent possibility. Ind Organ Psychol. 2012;5(1):62-81. doi: 10.1111/j.1754-9434.2011.01407.x.
4. Harmon J, Fairfield KD, Wirtenberg J. Missing an opportunity: HR leadership and sustainability.People & Strategy. 2010;33:16-21.
5. Robinson F. Going green: what does it really mean? [online]; 2008. Available from: http://ezinearticles.com/?Going green!-What-does-it-really-mean?&kd=2267926.
6. Jose Chiappetta Jabbour CJC. How green are HRM practices, organizational culture, learning and teamwork? A Brazilian study. Ind Comm Train. 2011;43(2):98-105. doi:10.1108/00197851111108926.
7. Paillé P, Chen Y, Boiral O, Jin J. The impact of human resource management on environmental performance: an employee-level study. J Bus Ethics. 2014;121(3):451-66. doi: 10.1007/s10551-013-1732-0.
8. Wehrmeyer W. Greening people: human resources and environmental management; 1996.
9. Aravamudhan NR. Green HR getting into the Business of Green, HRM [review:12]. 2012.
10. Mandip G, Green HRM. People management commitment to environmental sustainability. Res J Recent Sci.2012;1:244-52.
11. Renwick DWS, Redman T, Maguire S. Green human resource management: a review and research agenda. Int J Manag Rev. 2013;15(1):1-14. doi: 10.1111/j.1468-2370.2011.00328.x.
12. Wong KL, Tan PSH, Ng YK, Fong CY. The role of HRM in enhancing organizational performance. Hum Resour Manag Res. 2013;3(1):11-5.
13. Jackson SE, Seo J. The greening of strategic HRM scholarship. Organ Manag J. 2010;7(4):278-90. doi:10.1057/omj.2010.37.
14. Hussain A. Green human resource management (GHRM) practices in organizations: A comprehensive literature survey. J Manag Res Anal. 2018;5(2):112-7.
15. Ren S, Tang G, E. Jackson SE. Green human resource management research in emergence: a review and future directions. Asia Pac J Manag. 2018;35(3):769-803. doi: 10.1007/s10490-017- 9532-1.
---
Regular Issue
Open Access
Article
| | |
| --- | --- |
| Volume | 4 |
| Issue | 1 |
| Received | May 2, 2021 |
| Accepted | May 12, 2021 |
| Published | May 30, 2021 |