By
Ruchi Rathore
Assistant Professor, Department of Economics, Government P.G. College, Rehli, Madhya Pradesh, India
Abstract
Present condition shows that India has a higher economic growth. When we talk about which factors are responsible for economic growth. There will be many factors, but the main factor is the demand in service; rapid growth in the service sector that have contributed to overall economic growth. The present study is an attempt to provide a substantial theoretical explanation through demand side to support service led growth. The present study estimates the income elasticity of demand for service from 1951 to 2010. The study finds a structural change in demand for services corresponding to income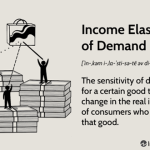 How to cite this article: Ruchi Rathore A Structural Change in Demand for Service due to Income Elasticity: A Macro Analysis njcbmr 2021; 04:8-10
---
Full Text
Browse Figures
References
1. Syrovátka P. Income elasticity of demand within individual consumer groups and the level of income elasticity of the entire market demand. Agric Econ (Zemědělská Ekon). 2012;52(9), no:412–7. doi: 10.17221/5044-AGRICECON.
2. Wolff De PD. Income elasticity of demand, a micro-economic and a macro-economic interpretation. Econ J. 1941;51(201):140. doi: 10.2307/2225666.
3. Knell Markus, Stix Helmut. The income elasticity of money demand: A meta-analysis of empirical results. J Econ Surv. 2005;19(3):513–33. doi: 10.1111/j.0950–0804.2005.00257.x.
4. Havranek Tomas, Kokes Ondrej. Income elasticity of gasoline demand: A meta-analysis. Energy Econ. 2015;47:77–86. doi: 10.1016/j.eneco.2014.11.004.
5. Yang Qingxu. To analysis the relationship between the demand price elasticity and revenue International Conference on E-Product E-Service and E-Entertainment. Vol. 2010; 2010. doi: 10.1109/iceee.2010.5660441.
---
Regular Issue
Open Access
Article
| | |
| --- | --- |
| Volume | 04 |
| Issue | 01 |
| Received | March 11, 2021 |
| Accepted | March 23, 2021 |
| Published | April 5, 2021 |