By
Mrunal Naik

Praful Nar

Mayuri Sawant

Prerna Sinha

Umesh Pinjarkar
Student, Department of Electronics and Telecommunication Engineering, Saraswati College of Engineering, Navi Mumbai, Maharashtra, India
Professor, Department of Electronics and Telecommunication Engineering, Saraswati College of Engineering, Navi Mumbai, Maharashtra, India
Abstract
At immediate circumstances differently abled people require pathway to lead a normal life. Technology has always helped people with disabilities. Due to digital revolution, many apps and gadgets have reduced the challenges faced on a daily basis by differently abled. The aim of our research paper is to create a single device solution in such a way which is simple, fast, accurate and cost-effective. The main purpose of the prototype is to make the differently abled people, feel independent confident by seeing, hearing and talking for them. Having limited or no access to visual and environmental information can impact a person's ability to function in a variety of situations including navigating around their environment, socially interacting and accessing printed materials.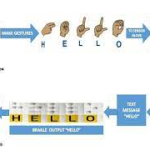 How to cite this article: Mrunal Naik, Praful Nar, Mayuri Sawant, Prerna Sinha, Umesh Pinjarkar Communication Interpretation Device for Deaf and Blind jotssn 2021; 8:1-6
---
Full Text
Browse Figures
References
1. Akthar S Javeed. Survey on communication among blind, deaf and dumb people using a smart glove. International Journal of Advance Research, Ideas and Innovations in Technology. 2018.
2. Ghute MS, Soitkar S, Kamble KP. A Novel Approach to Communicate with Deaf Dumb and Blind Person. International Journal of Engineering Research & Science (IJOER). April-2017;3(4).
3. Shahrukh Javed, Ghousia Banu, J Aarthy Suganthi Kani and Ateequeur Rahman. Wireless Glove for Hand Gesture Acknowledgment: Sign Language to Discourse Change Framework in Territorial Dialect. Robotics &Automation Engineering Journal. June 2018;3(2).
4. Sanish Manandhar, Sushana Bajracharya, Sanjeev Karki, Ashish Kumar Jha. Hand Gesture Vocalizer for Dumb and Deaf People. SCITECH Nepal, Vol. 14, No. 1.
5. Anuradha PG, Devibalan K. A Low-Cost Portable Communication Device for the Deaf blind.
6. Ruman Sarkar, Smita Das, Sharmistha Roy. SPARSHA: A Low Cost Refreshable Braille for Deaf Blind People for Communication with Deaf-Blind and Non-disabled Persons., 9th International Conference, ICDCIT 2013, Bhubaneswar, India.
7. Bhagyashri Shirude, Aishwarya Mohite, Kalyani Aghav, Pranjali Gade. Providing Effective Approach for Communication among Blind, Deaf and Dumb People. International Journal of Advanced Research in Computer Engineering & Technology (IJARCET). 2016;5(3).
8. Sunita V. Matiwade, M.R. Dixit. Electronic Support System for Deaf and Dumb to Interpret Sign Language of Communication. International Journal of Innovative Research in Science, Engineering and Technology (An ISO 3297: 2007 Certified Organization). 2016;5(5).
9. Katherin Duarte-Barón, Julieth X. Pabón, Reynaldo Claros, Jhon J. Gil. Design and construction of a device for facilitating the learning of Braille literacy system. Ingeniería y Competitividad. 2016;18(1):79–92.
---
Regular Issue
Open Access
Article
| | |
| --- | --- |
| Volume | 8 |
| Issue | 1 |
| Received | April 26, 2021 |
| Accepted | May 10, 2021 |
| Published | May 25, 2021 |