By
Parikshit Kharat

Rahul Patil
Student, Department of Civil Engineering, Deogiri College of Engineering and Management Studies, Maharashtra, India
Professor, Department of Civil Engineering, Deogiri College of Engineering and Management Studies, Maharashtra, India
Abstract
There are different types of slabs from which the slab supported by column and beam is called as Conventional slab and the slab which is supported by Column and drop but the beam is not used in this slab is called as flat slab. Live and dead loads are transferred from slab to drop and then it is transfer to columns. This type of slab mostly preferred for long span areas or plain ceiling etc. these types of buildings can be analyzed against earthquake and this earthquake forces are dangerous for building if these buildings are not analyzed for resist the earthquake forces. In this study we considered the earthquake afferect and obtaining the effect and behavior of the that seismic analysis for different model of flat slab with drop and without drop for G+15, 20 and 25 story in terms of model time period, displacement, drift and base shear.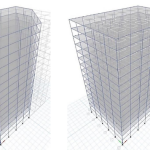 How to cite this article: Parikshit Kharat, Rahul Patil Comparative Study on Unsymmetrical G+15, G+20, G+25 Story Building with Flat Slab, Conventional Slab, And Flat Slab Without Drop josem 2021; 08:15-27
---
Full Text
Browse Figures
References
1. R.S. More, et.al "Analysis of Flat Slab". International Journal of Science and Research (IJSR) ISSN (online): 2319-7064
2. N. Girish1, N. Lingeshwaran "A Comparative Study of Flat Slabs Using Different Shear Reinforcement Parameters". International Journal of Engineering & Technology (2018) 321-325.
3. Kaulkhere R.V, Prof G. N. Shete "Analysis and Design of Flat slab with various shapes". IJSDR |Volume 2, Issue 5. ISSN: 2455-2631
4. K.Vivek, Prof G.V.Rama Rao, "Seismic Analysis and Comparison between flat Slab and Grid Slab with Different Masonry in fill".
5. Ashish S. Bora, Darshan G. Gaidhankar, Mrudula S. Kulkarni, "Analysis of Flat Slab With And Without Opening" International Journal of Scientific & Technology Research Volume 8, Issue 09, September 2019 ISSN 2277-8616
6. M. Altug erberik, Amr S. Elnashai, "Vulnerability Analysis of Flat Slab Structures". 13th World Conference on Earthquake Engineering Vancouver, B.C., Canada August 1-6, 2004
A. Osman and M. Abdel Azim, "Analysis and Behavior of High-rise Buildings with Transfer Plate System". 13th Arab Structural Engineering Conference University of Blida December 13-15, 2015 Algeria.
8. Dhiman Basu and Sudhir K. Jain "Seismic Analysis of Asymmetric Buildings with Flexible Floor Diaphragms."Journal of structural engineering © asce / august 2004.
9. A. S. Shaikh, Dr. R. S. Desai, H. S. Nakhwa, "Comparative Study of Multi-Storied Building With And Without Transfer Floor".International journal of research and applied science and Engineering technology. Ijraset.
10. Yasser M. Abdlebasset, Ezzeldin Y. Sayed-Ahmed, Sherif A. Mourad, "High-Rise Buildings with Transfer Floors: Construction Stages Analysis"journal of Al Azhar university Engineering sector. Vol 11, No.40, July 2016,927,942.
---
Regular Issue
Open Access
Article
| | |
| --- | --- |
| Volume | 08 |
| Issue | 03 |
| Received | November 1, 2021 |
| Accepted | November 25, 2021 |
| Published | December 25, 2021 |