By
Sushmitha M.

B.P. Annapurna

Bhagyashri P

Chethan K
Department of Civil Engineering, University Visvesvaraya College of Engineering, Bangalore University, Karnataka, India
Abstract
Modal evaluation is the technique of figuring out the inherent dynamic traits of the shape in phrases of herbal frequencies and mode shapes and the usage of them to create a mathematical version for its dynamic behavior. The dynamics of a structure is defined by frequency and position. Modal evaluation offers the records regarding to exceptional modes of vibration, exceptional form that may be taken up via way of means of the shape at some stage in vibration. These shapes during different modes are called mode shapes and all mode shapes have their corresponding natural frequencies. In this study, modal analysis on 3D-RC masonry infill (MI) model and prototype frames with openings are carried out. MI is modeled as equivalent diagonal strut which is a macro-modeling technique as per the formulation from IS 1893 (Part-1):2016. The natural frequencies obtained from modal analysis are compared with the time period formula from IS 1893 (Part-1):2016.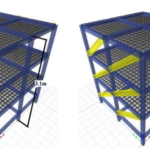 How to cite this article: Sushmitha M., B.P. Annapurna, Bhagyashri P, Chethan K Modal Analysis of RC Masonry Infill Model and Prototype Frames with Openings josem 2021; 08:13-21
---
Full Text
Browse Figures
References
1. Stafford Smith BS, Carter C. A method of analysis for infilled frames. Proceedings of the
Institution of Civil Engineers. Proceedings of the Institute of Civil Engineers. 1969;44(1):31–48.doi: 10.1680/iicep.1969.7290.
2. Chethan K, Babu Ramesh, Venkataramana Katta, Sharma Akanshu. Studies on the influence of infill on dynamic characteristics of reinforced concrete frames. J CPRI. 2009;5(2).
3. Prabhu Raja, Ramu MV, Thyla PR. Development of structural similitude and scaling laws for elastic models. Int J Manuf Eng. 2010;9(3):67–9.
4. Asteris Panagiotis G, Giannopoulos Ioannis P, Chrysostomou Christis Z. Modeling of infilled frames with openings. TOBCTJ ECCOMAS Thematic Conference on Computational Methods in Structural Dynamics and Earthquake Engineering Greece. 2011;6(1):81–91. doi:
10.2174/1874836801206010081. 0 5 10 20 30 40 50 60 70 80 BF
Model 4.47 4.48 4.50 4.53 4.56 4.62 4.62 4.65 4.76 4.92 5.59
Prototype 1.68 1.69 1.70 1.72 1.73 1.75 1.77 1.79 1.81 1.83 1.87
Natural Frequency in Hz
% Openings Comparison of Natural Frequency along Out-of-Plane Model Prototype
5. Kulkarni PB, Kulkarni PB, Raut Pooja. Analysis of masonry infilled R.C. Frame with and without opening including soft storey by using equivalent diagonal strut method. Int J Sci Res Publ. September 2013;3(9).
6. Di Trapani F, Di Trapani F, Shing PB, ASCE M, Cavaleri L. Macro element model for in-plane and out-of-plane responses of masonry infills in frame structures. J Struct Eng. 2017;2018:144(2).
7. Yang Guang, Zhao Erfeng, Li Xiaoya. mad Norouzzadeh Tochaei, Kan, Wei Zhang. Research on improved equivalent diagonal strut model for masonry-infilled RC frame with flexible connection. Hindawi Advances in Civil Engineering. 2019.
8. Indian Standard, IS 456–2000. Plain and reinforced concrete-code of practice. New Delhi, India: BIS.
9. Indian standard is 1893 (Part 1): 2016. Criteria for earthquake resistant design of structures, Part 1: General provisions and buildings, fifth revision. New Delhi, India: BIS.
---
Regular Issue
Open Access
Article
| | |
| --- | --- |
| Volume | 08 |
| Issue | 01 |
| Received | May 15, 2021 |
| Accepted | June 20, 2021 |
| Published | August 30, 2021 |