By
Rushikesh Bhoite

Ketna Dhoble

Sujesh Ghag

Aishwarya Gole

Sreejith Sreenivasan
Student, Department of Mechanical Engineering, Saraswati College of Engineering, NaviMumbai, Maharashtra, India
Student, Department of Mechanical Engineering, Saraswati College of Engineering, NaviMumbai, Maharashtra, India
Student, Department of Mechanical Engineering, Saraswati College of Engineering, NaviMumbai, Maharashtra, India
Student, Department of Mechanical Engineering, Saraswati College of Engineering, NaviMumbai, Maharashtra, India
Assistant Professor, Department of Mechanical Engineering, Saraswati College of Engineering, NaviMumbai, Maharashtra, India
Abstract
The global energy crisis is currently the most pressing issue. Renewable energy resources are being prioritized in today's world to decreases the need on conventional resources. Solar energy is gaining popularity as a means of increasing renewable energy adoption in a variety of fields. Solar panels which convert sun's energy into electrical energy are inefficient and costly. Solar tracking systems are the most appropriate technology to increase the efficiency of solar cells by tracking the sun rays. Furthermore, solar panels are typically installed in dusty environments. The dust collects on the panel, obstructing the sun's incident light. It indirectly reduces the power generation capacity of the panel. In this project, a prototype of microcontroller-based sun tracking solar panel with cleaning system has been fabricated.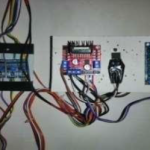 How to cite this article: Rushikesh Bhoite, Ketna Dhoble, Sujesh Ghag, Aishwarya Gole, Sreejith Sreenivasan Development and Fabrication of Sun Tracking Solar Panel with Cleaning System joprm 2022; 12:19-26
---
Full Text
Browse Figures
References
1. Rajendra Kodamanchili, Devadass P. Sun Tracking Automatic Panel Cleaning Mechanism & Solar Panel with Gsm Based Energy Billing System. Int Res J Eng Technol (IRJET). 2020; 7(4): 1304–1307.
2. Komal Choudhary, Harshada Kawale, Sagar Navghare, Swapnil Bendre, Prasanna Titarmare. Dual Axis Sun Tracking for Solar Pv Modules with An Automated Cleaning System. J Emerg Technol Innov Res (JETIR). 2020 May; 7(5): 25–28.
3. Karan Salgaonkar, Anupam Shirodkar, Akshay Yedurkar, Ankit Mohite. Automated Dual Axis Solar Tracking System using LDR Sensors. Int J Eng Res Technol (IJERT). 2017; 6(7).
4. Abdulaziz Alshalian, Abdulrahman Alghamdi, Abdullah Alghamdi, Saad Binsalamah. Solar Panels Cleaning System. Prince Mohammad Bin Fahd University. 2009.
5. Vamshi Krishna Sabbi. IoT Based Self-Cleaning and Automated Fault Detection of Solar Panel System. International Journal of Innovative Technology and Exploring Engineering (IJITEE). 2019; 8(12S): 884–888.
6. Amit Kumar Yadav, Abhishek Gupta, Amit Saini, Anamika Yadav, Amit Kumar Chaturvedi, Mokhtar Shouran. Sun Tracking Solar Panel with Auto Dust Cleaning System. Asian Conference on Innovation in Technology (ASIANCON). 2021; 1–5.
7. Ngo Xuan Cuong, Vo Quang Nha, Nguyen Thi Hong. A Simplified Calculation Method of Electric Linear Actuators for Single-Axis Sun Tracker. Hue University Journal of Science: Natural Science (HUJOS: Natural Science). 2018; 127(1D): 47–54. ISSN 1859–1388.
8. Sachin Kumar, Anuj Kumar. Sun tracking solar pan with auto dust cleaning system. Project for Mechanical Engineering Dept. 2018; 10–14. https://www.slideshare.net/sachinkumar831/suntrackin-solar-panel-with-auto-dust-cleaning-system.
9. Naik Malhar K. Economical Automatic Solar Panel Cleaning System using arduino. Journal of Engineering Research and Application. 2020 Jan; 10(01): 16–19.
10. Chen Jui-Ho, Yau Her-Terng, Hung Tzu-Hsiang. Design and implementation of FPGA-based Taguchi-chaos-PSO Sun tracking systems. Mechatronics. 2015; 25: 55–64.
11. https://www.researchgate.net/figure/A-Position-of-a-fixed-photovoltaic-panel-over-a-day-BPosition-of-a-simple solar_fig1_333978283
12. Jambhulkar Dhanashri C, Bhongade Akanksha N, Padghan Pratiksha A, Yawale Nikita V. Two Axis with Four Sensors Solar Tracking System. Int Res J Eng Technol (IRJET). 2020 Feb; 07(02): 1566–1569.
---
Regular Issue
Open Access
Article
| | |
| --- | --- |
| Volume | 12 |
| Issue | 1 |
| Received | May 26, 2022 |
| Accepted | May 31, 2022 |
| Published | June 9, 2022 |