By
Anil Kumar

Ankit
Student, Department of Mechanical Engineering, Delhi Technological University, Delhi, India
Assosiate Professor, Department of Mechanical Engineering, Delhi Technological University, Delhi, India
Abstract
The present work reports the experimental performance evaluation of aluminum suction line-based domestic refrigerators. Furthermore, it compared domestic refrigerators with conventional copper capillary tubes and suction lines using R600a as a refrigerant. Performance parameters: energy consumption, ice-making time, and pull-down time was reduced significantly compared to conventional copper suction and capillary tube. Refrigerants having Ambient temperature for ice making test and pull down were initially set at 43°C and that for rated energy consumption test was at 32°C. For ice making test, the test thermostat was set in such a manner that stable operating conditions were obtained in the coldest position before starting the test. For the rated power consumption test, the refrigerator has to run on no load condition and the temperature of the evaporator does not exceed 5 ± 0.5°C at the geometric center. Power consumption was reduced by 7.24%, Ice making time was reduced by 6.27%, and Pull downtime was reduced by 6.39% using an aluminum-based suction line and capillary tube. 68.49% reduction in the cost of aluminum-based capillary tubes and suction lines was observed. All the performance tests were done in a testing chamber at particular conditions. This research work will be helpful to the researchers in developing a new low-cost model of the domestic refrigerator without degrading the quality.
Keywords: Domestic refrigerator, capillary, copper, aluminum, suction
This article belongs to Conference RAMMTE-2022: Recent Advances in Materials, Manufacturing and Thermal Engineering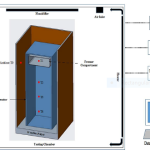 How to cite this article: Anil Kumar, Ankit Techno-economic Assessment of a Domestic Refrigerator with Aluminium-based Suction Line and Capillary Tube jopc 2022; 10:100-107
---
Full Text
Browse Figures
References
1. Arora CP. Refrigeration and Air Conditioning. New Delhi: McGraw Hill Education; 2013.
2. Edison G, Suresh A, Rao KN. Enhanced coefficient of performance by effective suction line cooling- an experimental report. Indian J Sci Technol. 2012; 5(10): 1–9. doi: 10.17485/ijst/2012/v5i10.13.
3. Ahmed Mahmood RA. Case study of liquid suction heat exchanger in a mechanical refrigeration system using alternative refrigerants. Int J Eng Technol. 2020 Jul 17; 9(3): 644–9. doi: 10.14419/ijet.v9i3.30777.
4. Khalsa KPS, Sadhu S. Experimental study of domestic refrigerator performance improvement with evaporative condenser. Int J Air-Cond. Ref. 2021 Jun 28; 29(2): 2150015. doi: 10.1142/S2010132521500152.
5. Sathawane RK, Patil SA. Effect of suction and discharge line evaporative cooling on the performance of VCRS. IARJSET. 2016; 3(10).
6. Oyedepo SO. Effect of capillary tube length and refrigerant charge on the performance of domestic refrigerator with R12 and R600a. Int J Adv Thermofluid Res. 2016 Jun 1; 2(1): 2–14.
7. Telang SM, Walke P. An Experimental Study of the Effect of Capillary tube in Different Length and Different Configuration on the Performance of Simple Vapour Compression Refrigeration System. Int Res J Eng Technol (IRJET). 2019 Jul; 6(7).
8. Rajput KS, Gupta RC. Flow of refrigerants through a capillary tube–A Review. IRJTI. 2018 Dec 18; 3(12).
9. Performance of Household Refrigerating appliance. Bur Indian Stand. 2000 Jul.
10. Babu BR, Rani KU, Gowd BUM. Performance enhancement of domestic refrigerator using hydrocarbon mixture R-436A as refrigerant. Int J Res Appl Sci Eng Technol (IJRASET). 2016 Jul; 4(7).
---
Conference
Open Access
Original Research
| | |
| --- | --- |
| Volume | 10 |
| Issue | 1 |
| Received | August 27, 2022 |
| Accepted | September 6, 2022 |
| Published | November 30, 2022 |