By
Srijan Bansal

Vijay Gautam

Ved Prakash
Student, Department of Mechanical Engineering, Delhi Technological University, Delhi, India
Scholar, Department of Mechanical Engineering, Delhi Technological University, Delhi, India
Abstract
Deep drawing is a metal forming operation used for manufacturing sheet-metal components for application in the automobile, aerospace, and packaging industries. The objective of the present work was to study the various parameters influencing the drawability of AA6082. The deep-drawing process was modeled and simulated in Ls-Dyna Pre-Post(R) V4.6.17 software. The tensile test was
performed according to the ASTM-E8M standard on AA6082-T6 material and subsequently annealed to attain higher ductility. The annealing was performed in an industrial furnace for a temperature range of 200°C–350°C and 350°C provided the best results. Further, to predict the accurate material behavior during deep drawing, Barlat-3 parameter anisotropic yield criterion was used. The material
model parameters and constants were determined by conducting a uniaxial tensile test and anisotropy test on a universal testing machine, respectively. The experimental results revealed that annealing enhanced ductility and strain hardening exponent but reduced the strength of the sheet metal. It was observed that a higher blank holding force was required with lower sheet thickness to remove
wrinkling. The nature of the load is tensile in the radial and compressive in the circumferential direction. An increase in the coefficient of friction decreased the sheet thickness in the wall section of the drawn cup. It was concluded that the limiting draw ratio increased with an increase in sheet thickness, coefficient of friction between punch and sheet, and an increase in die corner radius. The limiting draw ratio decreased with an increase in punch speed, blank holding force, friction between die and sheet, and punch radius.
Keywords: Limiting draw ratio, Barlat-3 parameter model, AA6082, LS-Dyna
This article belongs to Conference RAMMTE-2022: Recent Advances in Materials, Manufacturing and Thermal Engineering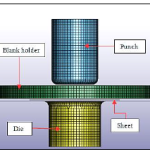 How to cite this article: Srijan Bansal, Vijay Gautam, Ved Prakash Numerical Studies on Deep Drawability of the Aluminium Alloy, AA6082 and Parameters Affecting It jopc 2022; 10:65-75
---
Full Text
Browse Figures
References
1. Jiang Z, Zhao J, Xie H. Microforming Technology: Theory, Simulation and Practice. London: Academic Press; 2017. 2. Joshi AR, Kothari KD, Jhala RL. Effects of different parameters on deep drawing process. Int J Eng Res Technol. 2013 Mar; 2(3): 1–5. 3. Swapna D, Ch SR, Radhika S. A review on deep drawing process. Int J Emerg Res Manag Technol. 2018 Jun; 6(6): 146–9. 4. Browne MT, Hillery MT. Optimising the variables when deep-drawing CR 1 cups. J Mater Process Technol. 2003 May 10; 136(1–3): 64–71. 5. Kotkunde N, Deole AD, Gupta AK, Singh SK. Experimental and numerical investigation of anisotropic yield criteria for warm deep drawing of Ti–6Al–4V alloy. Mater Des. 2014 Nov 1; 63: 336–44. doi: 10.1016/j.matdes.2014.06.017.
6. Wang Y, Huang G, Liu D, Chen L, Han T, Peng J et al. Influence of blank holder type on drawability of 5182-O aluminum sheet at room temperature. Trans Nonferrous Met Soc China. 2016 May 1; 26(5): 1251–8. doi: 10.1016/S1003–6326(16)64225–5. 7. Harpell ET, Worswick MJ, Finn M, Jain M, Martin P. Numerical prediction of the limiting draw ratio for aluminum alloy sheet. J Mater Process Technol. 2000 Apr 3;100(1–3):131–41. doi: 10.1016/S0924–0136(99)00468–9. 8. Marumo Y, Saiki H, Mori T. Combined effects of strain hardening characteristics and tool geometry on the deep-drawability of square aluminum cups. J Mater Process Technol. 1999 May 19;89–90:30–6. doi: 10.1016/S0924–0136(99)00019–9. 9. Rao BV, Ravindra PVRR, Chandra GMR, Krishna GMR. Optimization of blank holding force in deep drawing of cylindrical cups using Taguchi approach. Int J Eng Innov Technol. 2012;2(3):143–8. 10. C–H, Ng SNM, Yahaya AAAM. Reviews on aluminum alloy series and its applications. Acad J Sci Res. 2017; 5(12): 708–16. doi: 10.15413/ajsr.2017.0724. 11. Altan T, Tekkaya AE. Sheet Metal Forming: Processes and Applications. Materials Park Oh: ASM International; 2012. 12. Banabic D. Sheet Metal Forming Processes Constitutive Modelling and Numerical Simulation. Aufl. 2010 ed. Berlin: Springer Berlin; 2014. 13. Dieter GE, Bacon D. Mechanical Metallurgy. New York: McGraw-Hill; 1976 Dec.
---
Conference
Open Access
Original Research
| | |
| --- | --- |
| Volume | 10 |
| Issue | 1 |
| Received | August 27, 2022 |
| Accepted | September 6, 2022 |
| Published | November 30, 2022 |