By
Priyanka T. Kare

Sarika S. Malode

Kalyani S. Kakad

Khanderao R. Jadhav
Assistant Professor, Department of Pharmacognosy, NGSPM's College of Pharmacy, Anjaneri, Nashik, Maharashtra, India
Assistant Professor, Department of Pharmaceutics, NGSPM's College of Pharmacy, Anjaneri, Nashik, Maharashtra, India
Assistant Professor, Department of Pharmacognosy, PES Modern College of Pharmacy Nigdi Pune, Maharashtra, India
Assistant Professor, Department of Pharmaceutics, KCT's R.G. Sapkal College of Pharmacy, Anjaneri, Nashik, Maharashtra State, India
Abstract
The major goal of this study is to extract, isolate, and characterize curcumin-I, a component of curcuminoids. Turmeric, or Curcuma longa Linn., plays a significant role in Ayurvedic medicine. Turmeric, or Curcuma longa Linn, is the popular name for this plant. An array of chemicals with biological activity may be more easily extracted with the help of this seasoning. Some of the compounds at play include curcuminoids and turmerone, although this is by no means a full list. When curcumin I, II, and III are combined, a process takes place that creates curcuminoids. Curcumin is a powerful anti-inflammatory, anti-HIV, anti-tumor, anti-viral, anti-cancer, anti-fungal, and anti-parasitic chemical. Some more uses are: It has also been hypothesised that this molecule has anti-parasitic and anti-fungal effects. The fact that it could potentially prevent tumour, viral, and parasite development is just frosting on the cake in terms of its therapeutic potential. In order to collect the data necessary for this study, an extraction of ground turmeric using the Soxhlet technique was performed. Separating curcumin-I from the other synthetic curcuminoids was crucial to achieving this aim. Scientists were able to effectively isolate and purify the molecule using crystallisation and chromatography. The best strategy was crystallisation.
Keywords: Curcuma longa, Curcuminoids, TLC, U.V., Mass, NMR
This article belongs to Conference Thematic special issue on advanced perspectives in Chemical sciences-2022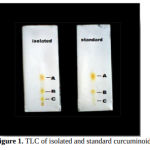 How to cite this article: Priyanka T. Kare, Sarika S. Malode, Kalyani S. Kakad, Khanderao R. Jadhav Extraction, Isolation, Characterization of Curcumin-I From Curcuminoids jopc 2022; 10:51-57
---
Full Text
Browse Figures
References
1. Jagetia GC. Radioprotection and radiosensitization by curcumin. Adv. Exp. Med. Biol. 2007; 595, 301–320p.
2. Jayaprakasha GK, Rao LJ and Sakariah KK. Chemistry and biological activities of C. longa. Trends in Food Science & Technology. 2001; 1–16p.
3. Govindarajan VS. Turmeric–chemistry, technology and quality. Crit Rev Food Sci Nutr. 1980; 12: 199–301p.
4. Tomeh MA, Hadianamrei R, Zhao X. A Review of Curcumin and Its Derivatives as Anticancer Agents. Int J Mol Sci. 2019; 20 (5):1033. doi: 10.3390/ijms20051033.
5. Wang Q, Sivakumar K, Mohanasundaram S. Impacts of extrusion processing on food nutritional components. Int J Syst Assur Eng Manag. 2022; 13: 364–374 (2022). https://doi.org/10.1007/ s13198-021-01422-2.
6. Himesh S, Sharan PS, Mishra K, et al. Qualitative and Quantitative Profile of Curcumin from ethanolic extract of Curcuma longa. International research journal of Pharmacy. 2011; 2 (4): 180–184p.
7. Wang Z, Leung MH, Kee TW, English DS. The Role of Charge in the Surfactant Assisted Stabilization of the Natural Product Curcumin. Langmuir. 2011; 26 (8): 5520–6p.
8. Mohanasundaram, Bharathi, Thirumalai, et al. Studies on phytochemicals, antibacterial efficacy and antioxidant potency of Capparis sepiaria on enteric pathogens. International J. of Biomolecules and Biomedicine. 2011; 1 (3): 01–07p.
9. Bharati P and Pennarasi M. Production of Biodiesel from Municipal Sewage Sludge by Transesterification Process. Biomass Valorization to Bioenergy. 2019; 97–111p.
10. Ammon H and Wahl MA. Pharmacology of Curcuma longa. Planta Med. 1991; 57: 1–7p.
11. Shishodia S, Sethi G and Aggarwal BB. Curcumin: getting back to the roots. Ann N Y Acad Sci. 2005; 1056: 206–17p.
12. Patil MB, Taralkar SV, Sakpal VS, Shewale SP, Sakpal RS. Extraction, Isolation and Evaluation of Antiinflammatory activity of Curcuminoids from Curcuma longa. International Journal of Chemical Sciences and Applications. 2011; 2 (3): 172–174p
13. Lucia Sounder, VA Doss, Mohanasundaram.S. Analysis of hydroethanolic leaf extract of Aerva lanata (L) in screening antioxidant activity and invitro antibacterial efficacy. Int. J. Res. Pharm. Sci. 2018; 9 (3), 911–915p.
14. Susanna and Zetterström. Bachelor's Thesis Isolation and synthesis of curcumin Linköping University Department of Physics, Chemistry and Biology. 2012.
---
Conference
Open Access
Article
| | |
| --- | --- |
| Volume | 10 |
| Issue | 2 |
| Received | August 17, 2023 |
| Accepted | September 16, 2022 |
| Published | November 12, 2022 |