By
D. Brindha

B.R. Venkatraman
Research Scholar, Thanthai Periyar Government Arts and Science College (Autonomous), Affiliated to Bharathidasan University, Tamil Nadu, India
Associate Professor, Thanthai Periyar Government Arts and Science College (Autonomous), Affiliated to Bharathidasan University, Tamil Nadu, India
Abstract
A kind of tropical hardwood tree called the Tectona grandis tree that is indigenous to India. The name "teak tree" is another common name for this kind of tree. It is a member of the plant family that is referred to as Lamiaceae. The primary purpose of this research is to investigate whether or not the plant extract has a corrosion-inhibiting quality. In this study, an aqueous extract of Tectona grandis leaves, commonly known as TGLE, was employed as a corrosion inhibitor for aluminium (Al) in a solution of sodium hydroxide with a concentration of 1M. The sodium hydroxide solution was prepared by diluting 1M sodium hydroxide with 1M sodium hydroxide. Electrochemical methods, such as Potentiodynamic polarisation (PDP) and Electrochemical Impedance Spectroscopy (EIS), in addition to chemical methods, were used in this study to evaluate the inhibitory effects of this medication (weight loss). A promising inhibitory efficiency (IE) of 80% was achieved with TGLE when it was administered at an optimal dosage of 1.2 g/L; this was found to be consistent across all of the techniques that were used. The results of the trials were combined into an appropriate adsorption isotherm, which allowed for additional study into the inhibitor's method of action to be carried out. In order to investigate the possible influence that temperature may have on the effectiveness of the inhibitor, a temperature range of 303 to 333 degrees Kelvin was investigated. An inquiry of the surface was carried out using microscopic metallurgical research, and the results of this study provided further support for the findings.
Keywords: Corrosion, Aluminium, Green inhibitor, NaOH, Tectona grandis, Teak
This article belongs to Regular Issue Conference Thematic special issue on advanced perspectives in Chemical sciences-2022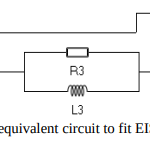 How to cite this article: D. Brindha, B.R. Venkatraman Evaluation of Tectona Grandis Leaf Extract As A Green Corrosion Inhibitor for Aluminium in 1M NaOH jopc 2022; 10:41-50
---
Full Text
Browse Figures
References
1. Davis JR. Aluminium and aluminium alloys. ASM International. 1993p.
2. Talati JD, Modi RM. Dihydroxy-benzenes as corrosion inhibitors for aluminium-copper alloy in sodium hydroxide. Br. Corros. J. 1975; 10: 103–106p.
3. Moghadam Z, Shabani-Nooshabadi M, Behpour M. Electrochemical performance of aluminium alloy in strong alkaline media by urea and thiourea as inhibitor for aluminium-air batteries. J. Mol. Liq. 2017; 242: 971–978p.
4. Poongodi, MohanaSundaram, Sivakumar, et al. Invitro studies on Antioxidant properties of different local varities of Banana (Musa sp). International J. of Pharma and Biosciences. 2012; 2
(5): 634–644p.(a) (b) (a) (b) (c) Evaluation of Tectona Grandis Leaf Extract As A Green Corrosion Inhibitor Brindha and Venkatraman
© STM Journals 2022. All Rights Reserved S50
5. Karthikeyan V, Sivakumar K, Aishwarya G, et al. Studies on Larvicidal Activity of Leucas aspera, Vitex negundo and Eucalyptus against Culex quinquefasciatus collected from Coovum River of Chennai, India. Asian J Pharmaceutical Sci. and Clin. Res. 2012; 5 (3): 1–4p.
6. Abd-El-Nabey BA, Abdel-Gaber AM, Elawady GY, et al. Inhibitive action ofsome plant extracts on the alkaline corrosion of aluminium. Int. J. Electrochem. Sci. 2012; 7: 7823–7839p.
7. Ayeni FA, Madugu IA, Sukop P, et al. Effect of aqueous extracts of bitter leaf powder on the corrosion inhibition of Al-Si alloy in 0.5 M caustic soda solution. J. Miner. Mater. Charact. Eng. 2012; 11: 667-670p.
8. Priya SL, Chitra A, Rajendran S, et al. Corrosion behaviour of aluminium in rainwater containing garlic extract. Surf. Eng. 2015; 21: 229–231p.
9. Oguzie EE. Corrosion inhibition of aluminium in acidic and alkaline media by Sansevieria trifasciata extract. Corros. Sci. 2007; 49: 1527–1539p.
10. Sirajunnisa A, Mohamed MIF, Subramania A, et al. The inhibitive effect of Ziziphus jujuba leaves extract on the alkaline corrosion of aluminium. European J. Appl. Sci. Tech. 2014; 1: 23–31p.
11. Ameh PO. Corrosion inhibition and adsorption behaviour for mild steel by Ficus glumosa gum in H2SO4 solution. African J. Pure Appl. Chem. 2012; 6: 100–106p.
12. ASTM G1-90. Standard practice for preparing, cleaning, and evaluation corrosion test specimens. 2003.
13. Mohanasundaram S, Ramirez-Asis E, Quispe-Talla, A. et al. Experimental replacement of hops by mango in beer: production and comparison of total phenolics, flavonoids, minerals, carbohydrates, proteins and toxic substances. Int J Syst Assur Eng Manag. 2022; 13, 132–145p.
14. Nathiya RS, Raj V. Evaluation of Dryopteris cochleata leaf extracts as green inhibitor for corrosion of aluminium in 1 M H2SO4. Egypt. J. Pet. 2017; 26: 313–323p.
15. Bashir S, Singh G, Kumar A. Shatavari (Asparagus Racemosus) as green corrosion inhibitor of aluminium in acidic medium. Port. Electrochim. Acta. 2019; 37: 83–91p.
16. Ating EI, Umoren SA, Udousoro II, et al. Leaves extract of Ananas sativum as green corrosion inhibitor for aluminium in hydrochloric acid solutions. Green Chem. Lett. Rev. 2010; 3: 61–68p.
17. Obot IB, Obi-Egbedi NO. An interesting and efficient green corrosion inhibitor for aluminium from extracts of Chlomolaena odorata L. in acidic solution. J. Appl. Electrochem. 2010; 40: 1977–1984p.
18. Obot IB, Obi-Egbedi NO, Umoren SA, et al. Synergistic and antagonistic effects of anions and Ipomoea invulcrata as green corrosion inhibitor for aluminium dissolution in acidic medium. Int. J. Electrochem. Sci. 2010; 5: 994–1007p.
19. Nnanna LA, Owate IO. An interesting and efficient green corrosion inhibitor for aluminium from extracts of Monringa oleifera in acidic solution. Scientia Africana. 2014; 13: 52–63p.
20. Palumbo G, Berent K, Proniewicz E, et al. Guar gum as an eco-friendly corrosion inhibitor for pure aluminium in 1-M HCl solution. Materials (Basel). 2019; 12.
21. MohanaSundaram, Magesh, Baraneedharan, et al. Studies on Phytochemicals, Antioxidant Efficacy and In Vitro Antibacterial Activity of Flacourtia ramontchi. Global J. of Biotech. and Biochemistry Research. 2011; 1(1): 1–10p.
22. Kiruthiga G, Rajendran S. Corrosion inhibition of aluminium in alkaline solution using aqueous extract of Tridax procumbens leaves. Der Chem. Sin. 2013; 4: 68–72p.
23. Brett CMA. The application of electrochemical impedance techniques to aluminium corrosion in acidic chloride solution. J. Appl. Electrochem. 1990; 20: 1000–1003p.
24. Gopinath, Karthikeyan, Sivakumar, et al. Studies on removal of Malachite green from the aqueous solution by sorption method using water Hyacinth-Eichornia crassipes roots. Journal of Biodiversity and Environmental Sciences. 2011; 2 (1): 1–8p.
25. Wang JM, Wang JB, Shao HB, et al. Corrosion and electrochemical behaviors of pure aluminium in novel KOH-ionic liquid-water solutions. Mater. Corros. 2009; 60: 977–981p.
26. Vyas P, Yadav DK, Khandelwal P. Tectona grandis (teak)–A review on its phytochemical and therapeutic potential. Nat. Prod. Res. 2019; 33: 2338–2354.
---
Conference
Open Access
Article
| | |
| --- | --- |
| Volume | 10 |
| Issue | 02 |
| Received | August 17, 2022 |
| Accepted | September 16, 2022 |
| Published | November 12, 2022 |