By
Chaitanya Burande
Abstract
Ankle and foot orthotics play a pivotal role in the rehabilitation of individuals who have suffered a stroke, aiding in the restoration of their gait and overall mobility. However, optimizing the effectiveness of these orthoses requires a personalized approach that takes into account each patient's unique biomechanical characteristics. This study delves into the innovative use of carbon fiber combined with cost-effective 3-D printing technology to craft custom foot plate orthoses for individuals with partial foot amputations. The core of this investigation revolves around the development, testing, and validation of a novel prosthetic foot plate. To ensure precision in design and performance, the study begins by modeling the human foot as a finite element (FE) model, replicating the dimensions of a UK7- sized foot with a 2 mm thickness. This FE model serves as the foundation for the creation of the foot plate, enabling theoretical predictions and empirical assessments to be conducted with scientific rigor. One of the most significant findings of this research is the remarkable efficiency of carbon fiber in extending the length of the legs and mitigating strain on the delicate distal ends of the feet. By redistributing the weight to other areas of the foot or leg, the carbon fiber foot plate offers a breakthrough solution for enhancing balance, stability, and comfort for individuals with partial foot amputations. In summary, this study showcases the transformative potential of carbon fiber and 3-D printing in the realm of ankle and foot orthotics, with a particular focus on individuals with partial foot amputations. Through meticulous design, testing, and validation, the research underscores the importance of tailored orthotic solutions and offers a promising pathway towards optimizing gait rehabilitation and overall mobility for a diverse patient population.
Keywords: 3D printing, ankle foot amputation, carbon fibre, and orthoses.
This article belongs to Special Issue Conference International Conference on Innovative Concepts in Mechanical Engineering (ICICME – 2023)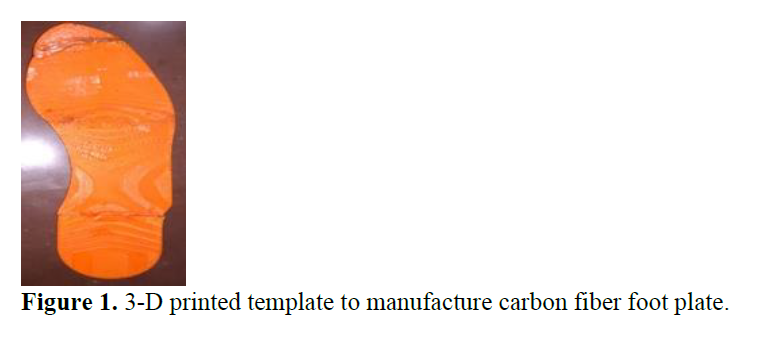 How to cite this article: Chaitanya Burande Design and Development of Ankle Foot Orthosis for Foot Amputated Person by Using Carbon Fibre jopc 2023; 11:-
---
Browse Figures
References
1.
Chandrika Wagle, Dr. S.N.Padhi, Design And Analysis of Foot Plate Using Carbon Material For Partial Foot Amputation, Trends in Biomaterials & Artificial Organs, 35(3), page no: 273-276, (2021).
2.
AnamikaSahu, Rajesh Sagar,Siddharth Sarkar, SushmaSagar, Psylogical Effect Of Amputation: A Review Of Studies From India, Industry psycharist journal, 25(1), pp. 4-10, (2016).
3.
Sitaramamurty A.S.S.M., Krishnan V.L., Chakravarthy Y.K., Design of A Single Lower Extremity Exoskeleton System For Physiotherapy And Walking Assistance, Journal of Advanced Research in Dynamical and Control Systems, 73(6), pp. 444-457, (2017).
4.
Chakravarthy Y.K., Vigneshwar P., Kedarnath P.V., Harish Y.S., Srinath A, Optimum Material Selection To Prosthetic Leg Through Intelligent Interface of Rsm And FEA, Materials Today:Proceedings, 4(2), pp. 1998-2007, (2017).
5.
Karthikeya K., Simulation And Analysis Prosthetic Leg, International Journal of Mechanical Engineering and Technology, 8(2), pp. 102-106, (2017).
6.
Rao, An Experimental Investigation On Mechanical And Wear Properties Of Al7075/Sicp Composites: Effect of Sic Content And Particle Size, Tb, Journal of Tribology-Transactions of The ASME, 140(4), May (2018).
7.
Polu, AR; Kumar, Preparation And Characterization Of Peg-Mg(Ch3coo)(2)-Ceo2 Composite Polymer Electrolytes For Battery Application, Bulletin of Materials Science,37(2), page no: 309-314, April (2014).
8.
Anish; Chaubey, A; Kumar, A; Kwiatkowski, B; Barnat-Hunek, D; Widomski, MK, Bi-Axial Buckling Of Laminated Composite Plates Including Cutout And Additional Mass, Materials, 12(11), June (2019).
9.
Bharat Satya Kumar Y., KalyanChakravarthy Y., Paladagu R.P., Venkatesh R., Srinath A., Development Of Force Plate For Prosthetic Applications Interfacing With Internet Of Things, International Journal of Engineering and Technology(UAE), 7(2.7), pp. 944-947, (2018).
10.
Venkatesulu M., Rama Kotaiah K. (2019), Production And Mechanical Properties of Al 6063/B4c Composites, Journal of Mechanical Engineering Research and Developments, 42(1), page no:.46-49, (2019).
11.
Teja K.M.V.R., Kunjunath B., Chandrasekhar K., Kunapaneni V.L.M., Siddhartha S, Comparison of The Mechanical Performance Between (Glass, Sisal, Ladies Finger, Hemp) Reinforced Polyester Composites With And Without Molybdic Acid, International Journal of Mechanical Engineering and Technology, 8(5), page no: 458-470, (2017).
12.
Mike S, Elsam D, Dieter R, Acute and Mid term (06 Weeks), Effect of An Ankle Foot Orthosis On Biomechanical Parameters Clinical Outcomes And Physical Activity In Knee Osteoarthritis Patent With Various Misalignment, 38(6), page no: 481-91, (2014).
13.
Martam, tommey, Salvb, Tom V, Carloss, Powered Ankle –Foot Orthosis: The Effects of Assistant on Healthy and Impaired User While Walking, Journal of neuro engineering and rehabilitation, Article no. 86, (2018).
14.
Ganesh Bapat, S Sujata, Identification and Analysis of Knee-Ankle-Foot Orthosis Design Requirements Based on Feedback Survey of Orthosis Users in India, 14(1), page no: 82-90, (2017).
15.
Michel P, Dillon, Stefania Faton, Andrew Hansen, Effect of Prosthetic Design on Centre of Pressure Excursion in Partial Foot Prostheses, Journal of Rehabitation Research & Development, 48(2), page no: 161-78, (2011).
16.
Bharadwaja, K., Srinivasa Rao, S., & Babu Rao, T. (2021). Investigation of tensile and flexural behavior of epoxy and SiO2 composite: An experimental study. Materials Today: Proceedings, 45, 2649–2652. doi:10.1016/j.matpr.2020.11.514
17.
Bharadwaja, K., Rao, S. S., & Rao, T. B. (2021). Investigation of hardness & tribology behavior of Epoxy and Sio2 composite: An experimental study. Materials Today: Proceedings, 45, 3343–3347. doi:10.1016/j.matpr.2020.12.653
---
Conference
Open Access
Original Research
| | |
| --- | --- |
| Volume | 11 |
| Issue | 08 |
| Received | August 18, 2023 |
| Accepted | September 12, 2023 |
| Published | September 22, 2023 |