By
Syeda Wajiha Zahra

Muhammad Nadeem

Muhammad Nouman Abbasi

Ali Arshad

Saman Riaz

Waqas Ahmed
Lecturer, Department of Computer Science, Alhamd Islamic University, Islamabad, Pakistan
Lecturer, Department of Computer Science and Technology, University of Science and Technology Beijing, Islamabad, Pakistan
Lecturer, Department of Computer Science, Alhamd Islamic University, Islamabad, Pakistan
Lecturer, Department of Computer Science, National University of Technology, Islamabad, Pakistan
Lecturer, Department of Computer Science, National University of Technology, Islamabad, Pakistan
Lecturer, Department of Computer Science, Alhamd Islamic University, Islamabad, Pakistan
Abstract
The relentless surge of cyber threats represents a pressing challenge to global security and individual privacy. Among these, phishing attacks remain a particularly pernicious form of cybercrime. This study provides a comprehensive review of phishing attacks, their evolution, methodologies, impacts, and countermeasures. The methods of perpetrating phishing attacks have grown in sophistication, extending beyond the common email phishing to include spear phishing, whaling, clone phishing, vishing, smishing, and search engine phishing. Through in-depth exploration of numerous case studies, the study illustrates the substantial financial and non-financial consequences of these attacks. The review also sheds light on the cutting-edge detection and prevention techniques that are currently being deployed to mitigate the risks associated with phishing. Amidst the escalating arms race between cybercriminals and cybersecurity professionals, the study highlights emergent trends and challenges, stressing the necessity for continued advancements in research and technology. The objective of this review is to provide a valuable reference for academics, cybersecurity professionals, and policymakers, enabling them to comprehend and address the challenges posed by phishing threats.
Keywords: Phishing Attacks, Cybersecurity, Spear Phishing, Whaling, Clone Phishing, Cyber Threats, Detection Techniques, Cybersecurity Trends, Future Challenges, Case Studies, Impact Analysis, Financial Consequences, Privacy Concerns
[This article belongs to International Journal of Wireless Security and Networks(ijwsn)]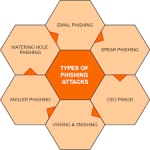 How to cite this article: Syeda Wajiha Zahra, Muhammad Nadeem, Muhammad Nouman Abbasi, Ali Arshad, Saman Riaz, Waqas Ahmed Phishing Attack, Its Detections and Prevention Techniques ijwsn 2023; 01:13-25
---
References
1. Nadeem M, Arshad A, Riaz S, Zahra SW, Dutta AK, Almotairi S. Preventing the Cloud Networks through Semi-Supervised Clustering from Both Sides Attacks. Appl Sci. 2022; 12(15): 7701.
2. Rashid A, Chaturvedi A. Cloud computing characteristics and services: a brief review. Int J Comput Sci Eng. 2019; 7(2): 421–426.
3. Nadeem M, Arshad A, Riaz S, Band SS, Mosavi A. Intercept the Cloud Network from Brute Force and DDoS Attacks via Intrusion Detection and Prevention System. IEEE Access. 2021; 9: 152300–152309.
4. Jangjou M, Sohrabi MK. A comprehensive survey on security challenges in different network layers in cloud computing. Arch Comput Methods Eng. 2022; 29(6): 3587–3608.
5. Alam A. Cloud-Based E-learning: Scaffolding the Environment for Adaptive E-learning Ecosystem Based on Cloud Computing Infrastructure. In Computer Communication, Networking and IoT: Proceedings of 5th ICICC 2021. 2022; 2: 1–9. Singapore: Springer Nature Singapore.
6. Seifert M, Kuehnel S, Sackmann S. Hybrid Clouds Arising from Software as a Service Adoption: Challenges, Solutions, and Future Research Directions. ACM Comput Surv. 2023; 55(11): 1–35.
7. Nadeem F. Evaluating and Ranking Cloud IaaS, PaaS and SaaS Models Based on Functional and Non-Functional Key Performance Indicators. IEEE Access. 2022; 10: 63245–63257.
8. Parast FK, Sindhav C, Nikam S, Yekta HI, Kent KB, Hakak S. Cloud computing security: A survey of service-based models. Comput Secur. 2022; 114: 102580.
9. Nadeem M, Arshad A, Riaz S, Wajiha Zahra S, Band S, Mosavi A. Two layer symmetric cryptography algorithm for protecting data from attacks. Comput Mater Contin. 2022; 74(2): 2625–2640.
10. Mohammed CM, Zeebaree SR. Sufficient comparison among cloud computing services: IaaS, PaaS, and SaaS: A review. Int J Sci Bus. 2021; 5(2): 17–30.
11. Ali M, Jung LT, Sodhro AH, Laghari AA, Belhaouari SB, Gillani Z. A Confidentiality-based data Classification-as-a-Service (C2aaS) for cloud security. Alex Eng J. 2023; 64(2): 749–760.
12. Butt UA, Amin R, Mehmood M, Aldabbas H, Alharbi MT, Albaqami N. Cloud Security Threats and Solutions: A Survey. Wirel Pers Commun. 2023; 128(1): 387–413.
13. Aoudni Y, Donald C, Farouk A, Sahay KB, Babu DV, Tripathi V, Dhabliya D. Cloud security based attack detection using transductive learning integrated with Hidden Markov Model. Pattern Recognit Lett. 2022; 157: 16–26.
14. Nadeem M, Arshad A, Riaz S, Zahra SW, Dutta AK, Al Moteri M, Almotairi S. An Efficient Technique to Prevent Data Misuse with Matrix Cipher Encryption Algorithms. Comput Mater Contin. 2022; 74(2): 4059–4079.
15. Upadhyay D, Zaman M, Joshi R, Sampalli S. An efficient key management and multi-layered security framework for SCADA systems. IEEE Trans Netw Service Manag. 2021; 19(1): 642–660.
16. Zahra SW, Arshad A, Nadeem M, Riaz S, Dutta AK, Alzaid Z, Almotairi S, et al. Development of Security Rules and Mechanisms to Protect Data from Assaults. Appl Sci. 2022; 12(24): 12578.
17. Al-Shabi MA. A survey on symmetric and asymmetric cryptography algorithms in information security. Int J Sci Res Publ (IJSRP). 2019; 9(3): 576–589.
18. Musa A, Mahmood A. Client-side cryptography based security for cloud computing system. In 2021 Int Conf on Artificial Intelligence and Smart Systems (ICAIS), Coimbatore, India. 2021; 594–600.
19. Hossain ME. Enhancing the security of caesar cipher algorithm by designing a hybrid cryptography system. Int J Comput Appl. 2021; 183(21): 55–57.
20. Akanksha D, Samreen R, Niharika GS, Shruthi A, Kiran MJ, Venkatramulu S. A hybrid cryptosystem based on modified vigenere cipher and polybius cipher. EPRA Int J Res Dev. 2022; 7(6): 113–119.
21. Sun H, Grishman R. Lexicalized dependency paths based supervised learning for relation extraction. Comput Syst Sci Eng. 2022; 43(3): 861–870.
22. Tan CMS, Arada GP, Abad AC, Magsino ER. A hybrid encryption and decryption algorithm using caesar and vigenere cipher. In J Phys: Conf Ser. 2021 Aug; 1997(1): 012021. IOP Publishing.
23. Nadeem Muhammad, Arshad Ali, Riaz Saman, Zahra Syeda, Dutta Ashit, Alzaid Zaid, Alabdan Rana, Almutairi Badr, Alaybani Sultan. Hill Matrix and Radix-64 Bit Algorithm to Preserve Data Confidentiality. Comput Mater Contin. 2023; 75(2): 3065–3089. 10.32604/cmc.2023.035695
---
Regular Issue
Subscription
Review Article
| | |
| --- | --- |
| Volume | 01 |
| Issue | 02 |
| Received | September 15, 2023 |
| Accepted | September 21, 2023 |
| Published | September 25, 2023 |