By
Saloni Goyal

Ananya Jain
Student, DIT University, Dehradun, India
Student, DIT University, Dehradun, India
Abstract
Today cities are overpopulated and only 40% of space is left to house the world's population by 2050. Due to ever rising sea level 90% of coastal cities will be affected by flooding by the end of the century. This research aims to study about the floating city as a substitute. Floating cities shape to construct all of the infrastructure required for a water-based metropolis while also providing contextual space for humans Additionally, the concept inspired the use of marine vitality assets and incorporated them into the design. In depth, literature study was conducted for analyzing the parameters related to social and environmental challenges; for identifying the needs of different resources. Based on the findings related to rising sea-level and submerging coastline a detailed case study is done to validate the possibilities of the existence of floating cities in future; to acquire the requirements needed by the people living in and to understand the relative importance of energy alternatives for day-to-day need. Development of floating city requires modern innovation, social and community information. The combination of these factors gave rise to the concept of widening urban access to water-based space. The thought of living by water itself is a new form of urbanization. Assessment of the key characteristics of a floating city that significantly affects alternative renewable energy sources and the world's energy supplies. Implementing contemporary innovation and sharing social and community information are essential to the growth of the floating city. This research shows that floating structures can be an interesting solution to integrate ocean energy resources and floating design This extensive literature review provided useful insights and a closeup lens of upcoming challenges for floating city and their solution.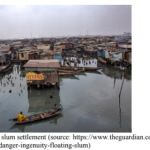 How to cite this article: Saloni Goyal, Ananya Jain Floating Cities from Concept to Creation :Neighbourhood Guide to the Future Development ijudd 2023; 01:28-34
---
Browse Figures
References
K. Krejca, "Development of Self-sufficient Floating Cities," N. T. Nguyen et al., 2018.
R. K. AdeyemI, "Case study: Makoko floating school," 2015.
Umar, "Making future floating cities sustainable:," ICE Publishing, 2020.
Penning-Rowsell, "Floating architecture in the landscape: climate," Taylor and Francis, vol. 45, 2019.
P. Bhatt, "Modular Maritime Metropolis: A Review on," Modular Maritime Metropolis: A Review on, vol. 9, 2020.
C. C.:. F. Pinto, "Gentrification in Porto: floating city users and internationally-driven urban change," Taylor and Francus, vol. 40, 2019.
K. O. Krejcar, "Development of Self-sufficient Floating Cities," Springer Nature Switzerland AG, 2018.
S. B. N. C. C. N. Kuma, "Study on Future Floating Cities," Ijmtst, 2021.
SS*, "Floating Cities and How to Supply the Energy and Welfare in Them," Archit Eng Tech, vol. 5, 2016.
McMichael, S. Dasgupta, S. Ayeb-Karlsson and I. Kelman, "A review of estimating population exposure to sea-level rise and the relevance for migration," IOP Publishing Ltd, vol. 15, 2020.
---
Regular Issue
Subscription
Original Research
| | |
| --- | --- |
| Volume | 01 |
| Issue | 02 |
| Received | May 24, 2023 |
| Accepted | June 5, 2023 |
| Published | August 23, 2023 |
Editor