By
Aalia Khan

Deepti Pande Rana

Prof Suparna Sircar
Student, Department of Interior Design, Amity School of Architecture and Planning, Lucknow, India
Associate Professor, Amity School of Architecture, Amity University, Lucknow, India
Professor, Amity School of Architecture, Amity University, Lucknow, India
Abstract
'Zen', a word derived from Buddhist philosophy indicates meditation, peacefulness, and harmony with natural elements. Zen-Inspired-Interior-design has commonly been used in Chinese and Japanese homes for several years but is now growing in popularity across several countries. Japanese interiors have several characteristics, the most important of them being minimalism i.e., using simple, lowlying furniture and a neutral colour palette with less ornament or heavy patterns and emphasis on functionality. It encourages the use of natural materials like wood and stone which bring nature indoors along with greenery inside and around the home. It is all about promoting a healthy and efficient way of life through closeness to nature, open, functional, and flexible spaces, and creating a soothing environment with subtle details. This research work delves into the various characteristics and concepts associated with Zen and Japanese-Inspired-Interiors. It also involves a study of the spatial layout and features of a traditional Japanese home and also draws parallels with the design of traditional Indian homes. The study also explores several literature studies that show the implementation of Japanese design in traditional as well as modern homes. The research helped in understanding how to take inspiration from the traditional Japanese way of designing, to create a home that acts as a tranquil solace and is both calming and rejuvenating, away from the chaos in this fast-paced world.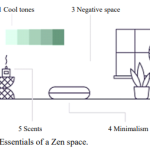 How to cite this article: Aalia Khan, Deepti Pande Rana, Prof Suparna Sircar Zen-Inspired Interior Design in Residence ijudd 2023; 01:1-16
---
Full Text
Browse Figures
References
1. Dian Sekartajii BD. Study on Architectural Characteristic and Natural Environment Control System of Japanese Traditional House: Case Study Traditional Houses in Kitakyushu City, Japan. Jurnal Arsitektur Universitas Bandar Lampung. 2013; 41–48.
2. Ohazama T. Case Study: Transition Space in Japanese Architecture. J Inter Des Educ Res. 1982; 8(1): 7–11.
3. Murdowo D, SL. Investigating the Zen concept in the interior setting to engage customer place attachment: An interior design for a Japanese restaurant in Bandung. Dynamics of Industrial Revolution 4.0: Digital Technology Transformation and Cultural Evolution. 2021; 331–335.
4. Chen Ming, RK. The Application of Zen Culture in Space Design. Advances in Economics, Business and Management Research. 2017; 29: 74–80.
5. Lee R. The Influence of Zen on Contemporary Aesthetics in Decorative Arts and Interior Design (Doctoral dissertation, Sotheby's Institute of Art-New York).
6. Xie Z. Study on the Application of Zen Culture in Architectural Space Design. 4th International Seminar on Education, Arts and Humanities. 2018; 44–47.
7. Yashar ZE. Reflections of Traditional Japanese Design Elements in Micro Modern Houses. Architecture Today; 2016.
8. Zhang B. Research on the Style of Space Decoration and Furnishing Design of Japanese-Style Homestay. Advances in Social Science, Education and Humanities Research. Atlantis Press; 2021; 515: 480–485.
9. Haimes P. On Japanese Minimalism. Contemporary Aesthetics. 2020; 18: 1–28.
10. Milica Živković AK. The Motives for Application of the Flexible Elements in the Housing Interior. FU Series: Arch Civ Eng. 2014; 12(1): 41–51.
11. Li B. The application of artificial intelligence and zen space in interior design. 2019 International Conference on Art Design, Music and Culture (ADMC). 2019; 41–46.
12. Emilia Garda MM. Learning from the Past: the Lesson of the Japanese House. Structural Studies, Repairs and Maintenance of Heritage Architecture (STREMAH). 2017; XV: 275–284.
13. Lee YJ. Inquiry into and Succession to Traditional Japanese Gardens. Athens: The University of Georgia; 2005.
14. Yagi K. A Japanese Touch for Your Home. Tokyo: Kodansha International Ltd.; 1986.
15. Tada GM. Japan Style (architecture + interiors + design). Singapore: Tuttle Publishing; 2005.
16. Beita E. Ambiguous boundaries: a Japanese way of designing with nature. WIT Trans Ecol Environ. 2010; 128: 15–26.
---
Regular Issue
Subscription
Original Research
| | |
| --- | --- |
| Volume | 01 |
| Issue | 01 |
| Received | April 17, 2023 |
| Accepted | May 17, 2023 |
| Published | May 28, 2023 |
Editor