By
Megha Singh

Avitesh
Student, Department of Architecture, Sushant University, Haryana, India
Assistant Professor, Department of Architecture, Sushant University, Haryana, India
Abstract
The phenomenon of expressing as well as communicating cultural identity in architecture and design is evident in numerous parts of the world: this paper examines and analyses in the context of Jaipur. Jaipur has constantly redesigned and reinvented itself, absorbing a wide range of social and cultural influences, can be clearly seen in its depository of crafts, traditions, and architectural expressions. This is perhaps most instantly recognizable and clearly reflected in the way its architectural identity has evolved over time. The cultural identity of Jaipur exits within the walled city. The paper defines the cultural identity of walled city, Jaipur using the two theories of the book "Image of the city" by Kevin Lynch and "Genius Loci" by Christian Norberg-Schulz. The clear difference and similarities between the image and identity of the walled city has been showed in the paper using the maps of the walled city and overall map of Jaipur. It also explains the identity of walled city using some aspects like social, political, cultural, historical and geographical aspects which covers the tangible and intangible aspects as well. The paper finishes up with proposal and for the recommendation highlighted issues and disparities in impression also the perception of the general image and form of the city because of the urban growth and development in the present context.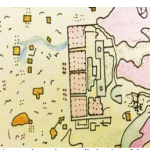 How to cite this article: Megha Singh, Avitesh Impact of City Planning on Cultural Identity: A case study of Jaipur City ijtpm 2022; 8:55-67
---
Full Text
Browse Figures
References
1. Agrawal V. Reading context in design. United States: Massachusetts Institute of Technology; 1993.
2. City, C. A. S., Andy Pratt. S.L.: S.N. [Internet]. 2000
3. Egoreichenko, A., Cities of The Future: Socio-Cultural Aspect of Urban Innovations. Professional Сulture of the Specialist of the Future. Russia: Future Academy; 2018.
4. Jain, D. S., n.d. Rajasthan – Jaipur – Indian Heritage Cities Network12. [Internet]. 2009
5. Jawaid, F., Exploring the Imageability of Walled City Jaipur. [Internet]. 2017
6. Md. Fuzail Jawaid, A. K. S. P., Exploring the Imageability of Walled City Jaipur. [Internet]. 2014
7. Norberg-Schulz C. Genius loci. 1979.
8. Scriver P, Prakash V. Colonial Modernities: Building, Dwelling and Architecture in British India and Ceylon. Routledge; 2007.
9. Spacey, J., 2016. [Internet]. Available from: https://simplicable.com/new/city-culture
10. Jones C, Svejenova S. The Architecture of City Identities: A Multimodal Study of Barcelona and Boston [Internet].2017. Available from: https://www.researchgate.net/pub lication/315672981_The_Architecture_of_City_Identities_A_Multimodal_Study_of_Barcelona_and_Boston
11. Tillotson G, Sachdev V. Building Jaipur: The Making of an Indian City. 2002.
12. V.Toraskar V, Mhetar G, Patil M. Study of Architecture and Planning of Jaipur City in context with Vastushastra. 2007
13. lynch k. The Image of the City. 2016.
14. Corbusier L. Towards a New Architecture. 1986;.Cumming, Elizabeth, and Wendy Kaplan. 1991. The Arts and Crafts Movement. London: Thames and Hudson.
15. Duncan, Alastair. Art Nouveau. London: Thames and Hudson. 1994.
16. Frampton, Kenneth. Modern Architecture: A Critical History. Thames & Hudson. 2007
17. Goyal G. Placemaking in Jaipur Urban Center. 2019
18. Marshall, P. J. The Cambridge Illustrated History of the British Empire. United Kingdom: Cambridge University Press; 2001.
19. Mahgoub Y. Architecture and the expression of cultural identity in Kuwait. The Journal of Architecture. 2022; 12(2): 165-182.
20. Özgece N. Erincik Edgu, Nezih Ayiran. Assessing Imageability of Port Cities Through the Visibility of Public Spaces: The Cases of Famagusta and Limassol. Space and Culture. 2020.
21. ONAY O. The Importance of Cultural Elements in the Formation of City Identity. Antalya Bilim University. 2018. [Online] Available from https://www.academia.edu/4050 8043/The_Importance_of_Cultural_Elements_in_the_Formation_of_City_Identity
22. Zeini I. (2017) The Cities' Identities between Critical Regionalism and Globalization. [Online] Available from: https://press.ierek.com/index.php/ARChive/article/view/125
23. Szczepański M. Urbanism as a way of life – 04 spatial identity in the theoretical and empirical contexts. Poland: University of Silesia; 2015.
24. Saad S. The Spatial Identity of Historic Cairo, Part one: Typology, Geometry, and Geographic Distribution. The Academic Research Community Publication. 2017; 1(1).
25. Hosseini E, Shahedi B, Mursib G, Nafida R. Augmentation of Cultural Identity and Architectural Innovation. 2011. [Online] Available from:
https://www.researchgate.net/publication/263580433_Augmentation_of_Cultural_Identity_and_Architectural_Innovation
26. Kajtazi T, Jakupi A. Interpretation of architectural identity through landmark architecture: The case of Prishtina, Kosovo from the 1970s to the 1980s. Frontiers of Architectural Research. 2017; 6(4): 1-7.
27. Cvijic S, Guzijan J. Urban regeneration as an instrument of identity preservation: a case study of trebinje's krš district. Archives for Technical Sciences. 2016; 1(14): 19-27.
28. Cheshmehzangi A. Identity and the City. Identity of Cities and City of Identities. Germany: Springer; 2020
29. ArchDaily. (2021) Cultural Identity: The Latest Architecture and News. [Online] Available from https://www.archdaily.com/tag/cultural-identity
30. Mahgoub, Y. Architecture and the expression of cultural identity in Kuwait. The Journal of Architecture. 2007; 12(2): 165-182.
31. Sheida Ettehad, Amir Reza Karimi Azeri, Ghazaleh Kari. The Role of Culture in Promoting Architectural Identity. European Online Journal of Natural and Social Sciences: Proceedings. 2014; 3(4): 410-418.
32. Arbak .E. an analysis on the transformation of urban identity: case study of bodrum.
33. Saalem Sadeque. An integrated model of city and neighborhood identities: A tale of two cities. Journal of Business Research. 2020; 117: 780-790.
34. Nooraddin. H. Architectural Identity in an Era of Change. Developing Country Studies. 2012; 2(10): 81-96.
35. Funo S, Yamamoto N, Pant M. Space Formation of Jaipur City, Rajasthan, India. Journal of Asian Architecture and Building Engineering. 2002; 1(1): 261- 269.
36. Yaldız E, Aydın D, Sıramkaya S. Loss of City Identities In The Process Of Change: The City Of Konya-Turkey. Procedia-Social and Behavioural Sciences. 2014; 140: 221-233.
---
Regular Issue
Open Access
Article
| | |
| --- | --- |
| Volume | 8 |
| Issue | 1 |
| Received | February 15, 2022 |
| Accepted | February 24, 2022 |
| Published | March 15, 2022 |