By
Sunday Yusuf Kpalo
Senior Lecturer, Department of Geography, Faculty of Environmental Sciences, Nasarawa State University, Keffi, Nigeria
Abstract
Biomass can be densified under a high compression pressure or a low compression pressure. The type of raw material, moisture level, particle size, and form typically all influence how much pressure should be used. This study utilized maize cobs and waste paper pulp to produce briquettes which are seen as alternative fuels. The goal was to determine how compression pressure affected the strength and fuel characteristics of the briquettes that were formed. The biomass was mixed together at different ratios and compacted using a manually operated hydraulic piston-press. Different compression pressures of 5, 7 and 10 MPa were applied during densification. The compressive strength of briquettes was determined using a universal testing machine while determination of the higher heating value of the briquette was done using the IKA C2000 Basic bomb calorimeter. Also, burning rate was determined through the combustion of mass of fuel in the air. Results indicated that with increasing compression pressure, density, compressive strength, and higher heating value greatly increased. The rate at which briquettes burned, however, was negatively impacted by increasing compression pressure The burning rate decreases with increasing compression pressure because there are fewer air voids in the briquettes, which limits the amount of mass and heat that can be transferred during combustion. Adequate strength and heating value can be obtained in briquettes compressed at 10 MPa. However, a compression pressure of 7 MPa should suffice for combustion efficiency in terms of burning rate. Findings from this study could improve present agricultural residue densification technology, especially in rural areas where there is dire need of alternative energy.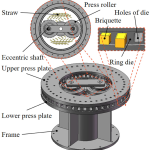 How to cite this article: Sunday Yusuf Kpalo Effect of Compression Pressure on the Strength and Fuel Properties of Maize Cob Briquettes ijrec 2022; 8:16-24
---
Full Text
Browse Figures
References
1. Yin R, Liu R, Mei Y, Fei W, Sun X. Characterization of bio-oil and bio-char obtained from sweet sorghum bagasse fast pyrolysis with fractional condensers. Fuel. 2013;112:96–104.
2. Kpalo SY, Zainuddin MF, Halim HA, Ahmad AF, Abbas Z. Physical characterization of briquettes produced from paper pulp and Mesua ferrea mixtures. Biofuels. 2022;13(3):333-40.
3. Anozie AN, Odejobi OJ, Alozie EE. Estimation of Carbon Emission Reduction in a Cogeneration System Using Sawdust. Energy Sources, Part A Recover Util Environ Eff. 2009;31(9):711–21.
4. Poddar S, Kamruzzaman M, Sujan SMA, Hossain M, Jamal MS, Gafur MA, et al. Effect of compression pressure on lignocellulosic biomass pellet to improve fuel properties: Higher heating value. Fuel. 2014;131:43–8.
5. Tiwari C. Producing fuel briquettes from sugarcane waste. In: EWB-UK National Research & Education Conference. Sheffield, UK; 2011. p. 39–45.
6. Ngusale GK, Luo Y, Kiplagat JK. Briquette making in Kenya: Nairobi and peri-urban areas. Renew Sustain Energy Rev. 2014;40:749–59.
7. Mitchual SJ, Frimpong-Mensah K, Darkwa NA. Effect of species, particle size and compacting pressure on relaxed density and compressive strength of fuel briquettes. Int J Energy Environ Eng. 2013;4(1):1–6.
8. Bazargan A, Rough SL, McKay G. Compaction of palm kernel shell biochars for application as solid fuel. Biomass and Bioenergy. 2014;70:489–97.
9. Yank A, Ngadi M, Kok R. Physical properties of rice husk and bran briquettes under low pressure densification for rural applications. Biomass and Bioenergy. 2016;84:22–30.
10. Lubwama M, Yiga VA. Development of groundnut shells and bagasse briquettes as sustainable fuel sources for domestic cooking applications in Uganda. Renew Energy. 2017;111:532–42.
11. Dinesha P, Kumar S, Rosen MA. Biomass Briquettes as an Alternative Fuel: A Comprehensive Review. Energy Technol. 2018;1(11):1–21.
12. Okot DK, Bilsborrow PE, Phan AN. Effects of operating parameters on maize COB briquette quality. Biomass and Bioenergy. 2018;112:61–72.
13. Ayub HR. Effect of Compacting Pressure on Fuel Properties of Finger Millet Briquettes. J Energy Technol Policy. 2017;7(8):25–9.
14. Chin OC, Siddiqui KM. Characteristics of some biomass briquettes prepared under modest die pressures. Biomass and Bioenergy. 2000;18:223–8.
15. Kaliyan N, Vance Morey R. Factors affecting strength and durability of densified biomass products. Biomass and Bioenergy. 2009;33:337–59.
16. Davies RM, Davies OA. Physical and combustion characteristics of briquettes made from water hyacinth and phytoplankton scum as binder. J Combust. 2013;2013:1–7.
17. Muazu RI, Stegemann JA. Effects of operating variables on durability of fuel briquettes from rice husks and corn cobs. Fuel Process Technol. 2015;133:137–45.
18. ASTM A. D4442-16: Standard test methods for direct moisture content measurement of wood and wood-based materials. West Conshohocken, PA: American Society of Testing and Materials. 2016.
19. ASTM D. 3175–11. Standard test method for volatile matter in the analysis sample of coal and coke. ASTM International. 2018.
20. ASTM D. 3175–11. Standard test method for volatile matter in the analysis sample of coal and coke. ASTM International. 2018.
21. ASTM D3176-15. Standard Practice for Ultimate Analysis of Coal and Coke. ASTM International, West Conshohocken, PA.; 2015.
22. ASTM D2395-17. Standard Test Methods for Density and Specific Gravity (Relative Density) of Wood and Wood-Based Materials. ASTM International, West Conshohocken, PA.; 2017.
23. ASTM D2166-85. Standard test method of compressive strength of wood. ASTM International, West Conshohocken, PA.; 2008.
24. ASTM D5865-13. Standard Test Method for Gross Calorific Value of Coal and Coke. ASTM International, West Conshohocken, PA.; 2013.
25. Hakizimana J de DK, Kim H-T. Peat briquette as an alternative to cooking fuel: A techno- economic viability assessment in Rwanda. Energy. 2016;102:453–64.
26. ISO 17225-7. Solid biofuels—Fuel specifications and classes—Part 7: Graded non-woody briquettes. ISO: Geneva, Switzerland; 2014.
27. Mitchual SJ, Katamani P, Afrifa KA. Fuel characteristics of binder free briquettes made at room temperature from blends of oil palm mesocarp fibre and Ceiba pentandra. Biomass Convers Biorefinery. 2019;541–51.
28. Ujjinappa S, Sreepathi LK. Production and quality testing of fuel briquettes made from pongamia and tamarind shell. Sadhana. 2018;43(58):1–7.
29. Theerarattananoon K, Xu F, Wilson J, Ballard R, Mckinney L, Staggenborg S, et al. Physical properties of pellets made from sorghum stalk, corn stover, wheat straw, and big bluestem. Ind Crop Prod. 2010;33:325–32.
30. Kpalo SY, Zainuddin MF, Manaf LA, Roslan AM. Production and Characterization of Hybrid Briquettes from Corncobs and Oil Palm Trunk Bark under a Low Pressure Densification Technique. Sustainability. 2020;12(6):1–16.
31. Kpalo SY, Zainuddin MF, Halim HBA, Ahmad AF, Abbas Z. Physical characterization of briquettes produced from paper pulp and Mesua ferrea mixtures. Biofuels. 2019;13(3):333–40.
32. Navalta CJLG, Banaag KGC, Raboy VAO, Go AW, Cabatingan LK, Ju YH. Solid fuel from Co- briquetting of sugarcane bagasse and rice bran. Renew Energy. 2020;147:1941–58.
---
Regular Issue
Open Access
Article
| | |
| --- | --- |
| Volume | 8 |
| Issue | 1 |
| Received | June 7, 2022 |
| Accepted | June 14, 2022 |
| Published | July 21, 2022 |