By
Rishabh Mudgal

Megha Gupta

Govind Madhav
Student, University School of Chemical Tech. Guru Gobind Singh Indraprastha University, Delhi, India
Student, University School of Chemical Tech. Guru Gobind Singh Indraprastha University, Delhi, India
Student, University School of Chemical Tech. Guru Gobind Singh Indraprastha University, Delhi, India
Abstract
The biofilm matrix is a mixture of secreted polymers, metabolites and nutrients ingested, lysis solution products, and even particle debris. This matrix, which is polyanionic by nature, is essential for the activated carbon of metal cations. In this study, the heavy metal adsorption mechanism in biofilms is modelled in one spatial dimension. The numerical method is a free-boundary value issue for nonlinear parabolic and quadratic partial differential equations. Parabolic equations control the evolution of the substrate, while hyperbolic equations control the growth of cellulose and exogenous polymeric substances (EPS). Every equation is related to every other equation. The model is allencompassing and may be used to a wide range of microbe populations, EPS, and substrates. In numerical analysis, the spatial rivalry between heterotrophic and autotrophic organisms using oxygen as a common substrate is considered. The model can replicate the transport and adsorption of heavy metals into biofilms as well as the distribution pattern of microbial species and substrate concentrations. It can also represent the dynamics of biofilm development. Using the approach of characteristics, numerical simulations are created for typical cases. Results show that the model can capture the key aspects of the heavy metal adsorption system on EPS. The biosorption procedure considers several process variables, including concentration, contact duration, ionic strength, energy, pores, pore volume, available sites, velocity, and factors related to activity, diffusion, and dispersion. In this review article, we outline the main physical and chemical mechanisms in the adsorbents of heavy metals on numerous types of widely used biosorbents. The most popular dynamic and steady state mathematical models for bioremediation in group and resolved columns are compiled here. Coupled nonlinear partial differential equations are produced because of the mathematical modelling of dynamic process models. It is recommended to use approximate approaches to research the sensitive analysis of key parameters.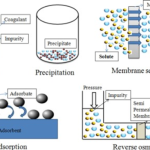 How to cite this article: Rishabh Mudgal, Megha Gupta, Govind Madhav Study of Heavy Metal ion Adsorption from Synthetic Wastewater with the Help of Biomass and Analysis of Mathematical Model ijpse 2022; 8:45-59
---
Full Text
Browse Figures
References
1. Alomá, I., Martín-Lara, M., Rodríguez, I., Blázquez, G. and Calero, M. Removal of nickel (II) ions from aqueous solutions by biosorption on sugarcane bagasse. Journal of the Taiwan Institute of Chemical Engineers. 2012; 43(2).pp.275-281.
2. Safa, Y., Bhatti, H., Bhatti, I. Asgher, M. Removal of direct Red-31 and direct Orange-26 by low cost rice husk: Influence of immobilisation and pretreatments. The Canadian Journal of Chemical Engineering.2011;89(6).1554-1565.
3. Mondal D, Nandi B, Purkait M. Removal of mercury (II) from aqueous solution using bamboo leaf powder: Equilibrium, thermodynamic and kinetic studies. Journal of Environmental Chemical Engineering. 2013;1(4):891-898.
4. Roy A, Adhikari B, Majumder S. Equilibrium, Kinetic, and Thermodynamic Studies of Azo Dye Adsorption from Aqueous Solution by Chemically Modified Lignocellulosic Jute Fiber. Industrial & Engineering Chemistry Research. 2013;52(19):6502-6512.
5. Sobhanardakani S, Parvizimosaed H, Olyaie E. Heavy metals removal from wastewaters using organic solid waste—rice husk. Environmental Science and Pollution Research. 2013;20(8):5265-5271.
6. Saha R, Mukherjee K, Saha I, Ghosh A, Ghosh S, Saha B. Removal of hexavalent chromium from water by adsorption on mosambi (Citrus limetta) peel. Research on Chemical Intermediates. 2012;39(5):2245-2257.
7. Hossain M, Ngo H, Guo W, Nguyen T, Vigneswaran S. Performance of cabbage and cauliflower wastes for heavy metals removal. Desalination and Water Treatment. 2013;52(4-6):844-860.
8. Ben-Ali S, Jaouali I, Souissi-Najar S, Ouederni A. Characterization and adsorption capacity of raw pomegranate peel biosorbent for copper removal. Journal of Cleaner Production. 2017;142:3809-3821.
9. Alencar W, Acayanka E, Lima E, Royer B, de Souza F, Lameira J et al. Application of Mangifera indica (mango) seeds as a biosorbent for removal of Victazol Orange 3R dye from aqueous solution and study of the biosorption mechanism. Chemical Engineering Journal. 2012;209:577-588.
10. Hameed B, Ahmad A. Batch adsorption of methylene blue from aqueous solution by garlic peel, an agricultural waste biomass. Journal of Hazardous Materials. 2009;164(2-3):870-875.
11. Hameed B. Grass waste: A novel sorbent for the removal of basic dye from aqueous solution. Journal of Hazardous Materials. 2009;166(1):233-238.
12. Hameed B. Removal of cationic dye from aqueous solution using jackfruit peel as non-conventional low-cost adsorbent. Journal of Hazardous Materials. 2009;162(1):344-350.
13. Hameed B. Spent tea leaves: A new non-conventional and low-cost adsorbent for removal of basic dye from aqueous solutions. Journal of Hazardous Materials. 2009;161(2-3):753-759.
14. Dhir, B., Kumar, R. (2010). 'Adsorption of Heavy Metals by Salvinia Biomass and Agricultural Residues', International Journal of Environmental Research, 4(3), pp. 427-432. doi: 10.22059/ijer.2010.61.
15. Asgher M, Bhatti H. Removal of reactive blue 19 and reactive blue 49 textile dyes by citrus waste biomass from aqueous solution: Equilibrium and kinetic study. The Canadian Journal of Chemical Engineering. 2011;90(2):412-419.
---
Regular Issue
Open Access
Article
| | |
| --- | --- |
| Volume | 8 |
| Issue | 1 |
| Received | July 21, 2022 |
| Accepted | July 23, 2022 |
| Published | August 3, 2022 |