By
Hemant C. Banik

Shubham S. Mishra

Jayesh A. Ghevade

Darshan S. Bendale

Prasanna Raut
Student, Department of Mechanical Engineering, Saraswati College of Engineering, Kharghar, Maharashtra, India
Student, Department of Mechanical Engineering, Saraswati College of Engineering, Kharghar, Maharashtra, India
Student, Department of Mechanical Engineering, Saraswati College of Engineering, Kharghar, Maharashtra, India
Student, Department of Mechanical Engineering, Saraswati College of Engineering, Kharghar, Maharashtra, India
Professor, Department of Mechanical Engineering, Saraswati College of Engineering, Kharghar, Maharashtra, India
Abstract
It is a multipurpose farming mechanism that can aid in various farming processes. The processes involved in farming asks for tedious efforts and high manpower. Therefore, a machine that can streamline the entire process and significantly lower the demand for personnel is needed. The mechanisms of the machine peers over the traditional tools used as well as newer machines for individuals' processes and tries to be better. The potential for robot-enhanced productivity in agriculture is enormous, and farms are seeing an increase in the presence of robots in various forms. Technology can probably solve the other issues connected to autonomous farm equipment. A swarm of little machines may be more effective and less expensive at producing crops than a few giant ones. Along with the mechanism, various channels will be attached that can aid in different farming activities. Thus, a mechanism that can combine various activities of farming in an effective and productive manner is designed and analyzed.
Keywords: Backyard farming, feedback wheel, farming equipment, irrigation, leadscrew, module, multipurpose agricultural machine, ploughing, small-scale farming, sowing, spraying, track
[This article belongs to International Journal of Mechanics and Design(ijmd)]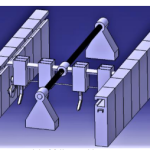 How to cite this article: Hemant C. Banik, Shubham S. Mishra, Jayesh A. Ghevade, Darshan S. Bendale, Prasanna Raut Design and Analysis of Multipurpose Agricultural Machine ijmd 2022; 8:8-12
---
Full Text
Browse Figures
References
1. Swetha S, Shreeharsha GH. Solar Operated Automatic Seed Sowing Machine. Int J Adv Agric Sci Technol. 2015; 4(1): 67–71.
2. Swetabh, Manish Kashyap, Yash Yadav, Ashutosh Singh, Dhruv Kumar. Multi-Tasking Agricultural Machine Tool. Int J Latest Trends Eng Technol. 11(3): 058–063.
3. Dilip Radkar, Goraksh Choughule, Abhijeet Desai, Prathamesh Gawand, Pradip Bade, Yogesh Chaudhari. Multipurpose Agriculture Machine. Int Res J Eng Technol (IRJET). 2021 May; 08(05): 216–223.
4. Kalamkar Ankit N, Deevkar Suhas D, Salumke Saurabh V, Deshmukh Babasaheb A, Dhore Satyajit S. Design and Development of Agriculture Multipurpose Machine. International Journal of Innovations in Engineering Research and Technology (IJIERT). 2020 Apr; 7(4): 1–8.
5. Rohokale Amol B, Shewale Pavan D, Pokharkar Sumit B, Sanap Keshav K. A Review on Multi- Seed Sowing Machine. Int J Mech Eng Technol. 2014 Feb; 5(2): 180–186.
6. Sakale CN, Waghmare SN, Chimote Rashmi S. A Review Paper on Multipurpose Farm Machine. Int Res J Eng Technol (IRJET). 2016 Sep; 03(09): 990–995.
7. Arunkumar Gopal, Elavendhan E, Tarun S, Lakshmi Sankar S. Design, development and fabrication of multipurpose agricultural machine. 3RD International Conference on Frontiers in Automobile and Mechanical Engineering (FAME 2020). 2020 Dec; 2311(1): 050007.
8. Satish Kumar KN, Sudeep CS. Robots for Precision Agriculture. 13th National Conference on Mechanisms and Machine. IISc, Bangalore, India. 2007 Dec.
9. Nithin PV, Shivaprakash S. Multi-Purpose Agriculture Machine. Int J Eng Res. 2016 May; 5(Special 6): 1129–1154.
10. Achutha MV, Sharath Chandra N, Nataraj GK. Concept Design and Analysis of Multipurpose Farm Equipment. Int J Innov Res Adv Eng. 2016 Feb; 2(3): 30–36.
---
Regular Issue
Open Access
Article
| | |
| --- | --- |
| Volume | 8 |
| Issue | 1 |
| Received | May 26, 2022 |
| Accepted | July 25, 2022 |
| Published | July 30, 2022 |