By
Govardhan R
Student, Department of Biotechnology, Ramaiah university of applied sciences, Mathikere, Bengaluru, Karnataka, India
Abstract
Objectives: In the present research, the network pharmacology process was applied to determine the underlying mechanism of the pharmacological properties of RUTIN. Network pharmacology was utilized to reveal the interactions between medications and the targets of illnesses, and it is capable of completely articulating the complexity between diseases and medications. The identification of diverse drug-target interactions using network pharmacology may be utilized to discover novel medications for difficult conditions like Parkinson's & Alzheimer's disease. RUTIN's considerable antioxidant capabilities have led to a broad range of pharmaceutical uses. Methods: In this research, the binding affinity of RUTIN corresponding to the targeted proteins was analyzed (TNF, ALOX5, PTGS2, IL2& TERT). Pathway evaluation for these targets showed a nitrogen metabolism pathway. An online tool called PyRx was used to perform molecular docking. The study was done virtually using input and structure of protein and phytocompounds from UniProtKB and PubChem. With the help of BIOVIA discovery studio software, the protein structure was analyzed.ADMET screening was used to evaluate the RUTIN's pharmacological properties. Results: The results from this research showed that the proteins ALOX5 and PTGS2 had the best binding affinity to RUTIN on performing molecular docking. Conclusion: According to the results of molecular docking, these target proteins have appropriate pharmacological effects, which offers a theoretical foundation and a hint for the investigation of the pharmacological mechanism of RUTIN.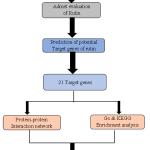 How to cite this article: Govardhan R Integrating Network Pharmacology and Molecular Docking to Assess Rutin's Pharmacological Properties ijmbr 2023; 01:17-27
---
Full Text
Browse Figures
References
Atanassova, M., & Bagdassarian, V. (2009). Rutin content in plant products. Journal of the University of Chemical Technology and Metallurgy, 44(2), 201-203.
Patel, K., & Patel, D. K. (2019). The beneficial role of rutin, a naturally occurring flavonoid in health promotion and disease prevention: a systematic review and update. Bioactive food as dietary interventions for arthritis and related inflammatory diseases, 457-479.
Kim, S., Thiessen, P. A., Bolton, E. E., Chen, J., Fu, G., Gindulyte, A., … & Bryant, S. H. (2016). PubChem substance and compound databases. Nucleic acids research, 44(D1), D1202-D1213.
Daina, A., Michielin, O., & Zoete, V. (2019). SwissTargetPrediction: updated data and new features for efficient prediction of protein targets of small molecules. Nucleic acids research, 47(W1), W357-W364.
Szklarczyk, D., Kirsch, R., Koutrouli, M., Nastou, K., Mehryary, F., Hachilif, R., … & von Mering, C. (2022). The STRING database in 2023: protein-protein association networks and functional enrichment analyses for any sequenced genome of interest. Nucleic Acids Research, gkac1000.
Ge, S. X., Jung, D., & Yao, R. (2020). ShinyGO: a graphical gene-set enrichment tool for animals and plants. Bioinformatics, 36(8), 2628-2629.
Jacob, R. B., Andersen, T., & McDougal, O. M. (2012). Accessible high-throughput virtual screening molecular docking software for students and educators. PLoS computational biology, 8(5), e1002499.
Pawar, S. S., & Rohane, S. H. (2021). Review on discovery studio: An important tool for molecular docking. Asian J. Res. Chem, 14(1), 86-88.
Dong, J., Wang, N. N., Yao, Z. J., Zhang, L., Cheng, Y., Ouyang, D., … & Cao, D. S. (2018). ADMETlab: a platform for systematic ADMET evaluation based on a comprehensively collected ADMET database. Journal of cheminformatics, 10(1), 1-11.
Chandran, U., Mehendale, N., Patil, S., Chaguturu, R., & Patwardhan, B. (2017). Network Pharmacology. Innovative Approaches in Drug Discovery, 127–164. https://doi.org/10.1016/B978-0-12-801814-9.00005-2
Rutin: A review on extraction, identification and purification methods, biological activities and approaches to enhance its bioavailability
Lee, D., & Hong, J. H. (2020). The Fundamental Role of Bicarbonate Transporters and Associated Carbonic Anhydrase Enzymes in Maintaining Ion and pH Homeostasis in Non-Secretory Organs. International journal of molecular sciences, 21(1), 339. https://doi.org/10.3390/ijms21010339
Pittman RN. Regulation of Tissue Oxygenation. San Rafael (CA): Morgan & Claypool Life Sciences; 2011. Chapter 2, The Circulatory System and Oxygen Transport. Available from: https://www.ncbi.nlm.nih.gov/books/NBK54112/
CHEM. (n.d.). https://www.chem.udel.edu/
Flores, E., & Herrero, A. (1994). Assimilatory nitrogen metabolism and its regulation. In The molecular biology of cyanobacteria (pp. 487-517). Springer, Dordrecht.
Alzarea, S. I., Qasim, S., Uttra, A. M., Khan, Y. H., Aljoufi, F. A., Ahmed, S. R., Alanazi, M., et al. (2022). Network Pharmacology and Molecular Docking Based Prediction of Mechanism of Pharmacological Attributes of Glutinol. Processes, 10(8), 1492. MDPI AG. Retrieved from http://dx.doi.org/10.3390/pr10081492.
---
Regular Issue
Subscription
Review Article
| | |
| --- | --- |
| Volume | 01 |
| Issue | 01 |
| Received | March 2, 2023 |
| Accepted | March 15, 2023 |
| Published | March 30, 2023 |