By
Ashwani Luthra
Abstract
The built environment of the cities is largely governed by the practices being following in planning and developing different land uses on their lands. Reducing land-man ratio, housing shortage, traffic and transportation problems, safety issues, water crisis, solid waste mis-management, sanitation, etc. are the key challenges faced by the bigger cities of India. One of the strongest reasons for these problems has been the inappropriate approach followed in land use planning and development. The Master Plans of the towns and cities and prepared without giving due regards to the urban settlement system of the region. The examination of inter-linkages and inter-dependencies of the urban settlements of different sizes help it determining the role of a particular town or city. The Master Plan prepared to best fit the role to be performed makes the town or city to function as a primate settlement or a dependent entity. The nature and magnitude of urban infrastructure to be provided becomes more pragmatic. An analysis of system of urban settlements of Punjab as per Census of India 2011 is done to identify the urban regions for which the Master Plans should be prepared following regionalization approach. This approach helps in determining the role of smaller towns around to act as dormitory or satellite towns around the primate city. An effort is made to appraise the local planning area (LPA) earmarked for Master Plan purposes against the urban regions identified through the study.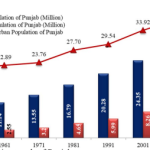 How to cite this article: Ashwani Luthra Regionalization of Urbanization for Better Built Environment ijlpa 2022; 8:1-9
---
Full Text
Browse Figures
References
1. Conzen, M.P. (1977). The maturing urban system in the United States, 1840–1910. Annals of the Association of American Geographers, 67(1), 88–108.
2. Deng, J.S., Wang, K., Hong, Y., & Qi, J.G. (2009). Spatio-temporal dynamics and evolution of land use change and landscape pattern in response to rapid urbanization. Landscape and urban planning, 92(3–4), 187–198.
3. Hall, P., & Hay, D. (1980). Growth centres in the European urban system. Univ of California Press.
4. Etzioni, A. (2003). Toward a new socio-economic paradigm. Socio-economic review, 1(1), 105–118.
5. Fuchs, V.R. (2004). Reflections on the socio-economic correlates of health. Journal of health economics, 23(4), 653–661.
6. Orcutt, G.H. (1957). A new type of socio-economic system. The review of economics and statistics, 116–123
7. Bourne, L.S. and J.W. Simmone (1978). "System of Cities" Oxford University Press, UK.
8. Besussi, E., Chin, N., Batty, M., & Longley, P. (2010). The structure and form of urban settlements. In Remote sensing of urban and suburban areas (pp. 13–31).
9. Census of India. (1951–2011). General Population Table, Punjab, Directorate of Census Operation, Punjab, Government of Punjab, India (1951).
---
Regular Issue
Open Access
Article
| | |
| --- | --- |
| Volume | 8 |
| Issue | 2 |
| Received | October 3, 2022 |
| Accepted | October 17, 2022 |
| Published | October 27, 2022 |