By
Vishakha Girdhar
Abstract
The goal of the current paper is to evolve certain spatial strategies for the Ludhiana City that include a polycentric system of settlements. Cities all over the world have experienced several hurdles over the years, and these challenges have hurt their development, efficiency, and performance, resulting in a slew of dangerous issues. In recent decades, Ludhiana City has also witnessed unprecedented population growth as well as physical growth. A close understanding of the dynamics of urbanization is important for managing the negative impacts posed by urban sprawl. A detailed study has been done to understand the push and pull factors that compel the inner-city population to move outwards to the peri-urban areas and on the other hand, certain other factors pull or attract the peri-urban population or the population from different parts of the country to come in the center or city. The final findings of the study include causes of centralization, its negative effects, forces of development of economic and social activities, problems associated with urban development, physical and environmental implications concerning haphazard growth, non-compatible land uses, and the recommendations to be applicable for the planned and balanced regional growth.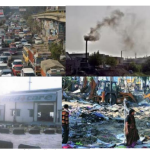 How to cite this article: Vishakha Girdhar Decentralization Strategies for Ludhiana City (Implications for Balanced Regional Growth) ijlpa 2022; 8:35-45
---
Full Text
Browse Figures
References
1. Vasanen A. Evolving polycentricities. The development of urban spatial structure in Finnish urban regions. Utupubfi. Published Online 2013.
2. Shaul Krakover. Progress in the study of decentralization. Geographical Analysis. 1986 Jul; 18(3): 260–263.
3. Byun P, Esparza AX. A revisionist model of suburbanization and sprawl: The role of political fragmentation, growth control, and spillovers. Journal of Planning Education and Research. 2005 Mar; 24(3): 252–264.
4. Approved Master Plans. Greater Ludhiana Area Development Authority, Punjab Govt. Undertaking, India. Glada.gov.in. Published 2012. Accessed May, 2022. Available at: https://glada.gov.in/en/master-plans/approved-master-plans.
5. Sitorus M. Format Paper atau Jurnal. ResearchGate. Published September, 2016. Accessed May 6, 2022. https://www.researchgate.net/publication/308609882_Format_Paper_atau_Jurnal
6. Sandberg K. Polycentric development: panacea for regional disparities in European countries? Academia.edu. Published 2006. Accessed May, 2022. Available at: https://www.academia.edu/71801940/Polycentric_development_panacea_for_regional_disparities_in_European_countries_.
7. Hague C, Kirk K. Polycentricity scoping study. (2003). Accessed May, 2022. Available at: http://archive.northsearegion.eu/files/user/File/Events/Thematic%20Events/Polycentric%20Seminar/ScopingPoly.pdf.
8. Download Limit Exceeded. Psu.edu. Published 2022. Accessed May, 2022. Available at: http://citeseerx.ist.psu.edu/viewdoc/download?doi=10.1.1.534.9048&rep=rep1&type=pdf.
9. The Constitution (Seventy-Fourth Amendment) Act, 1992|Legislative Department | Ministry of Law and Justice | GoI. Legislative.gov.in. Published 2016. Accessed May, 2022. Available at: https://legislative.gov.in/constitution-seventy-fourth-amendment-act-1992.
10. Government of India Press Information Bureau. Poverty estimates for 2004-05. 2007. Available at: https://niti.gov.in/planningcommission.gov.in/docs/news/prmar07.pdf.
---
Regular Issue
Open Access
Article
| | |
| --- | --- |
| Volume | 8 |
| Issue | 1 |
| Received | April 26, 2022 |
| Accepted | May 4, 2022 |
| Published | May 14, 2022 |