By
Sameer More

Madhukar Sorate
Student, Department of Mechanical Engineering, Saraswati Colleege of Engineering, Kharghar, Navi Mumbai, Maharastra, India
Professor, Department of Mechanical Engineering, Saraswati Colleege of Engineering, Kharghar, Navi Mumbai, Maharastra, India
Abstract
Electricity has now become a basic requirement for all humans. Electricity is used in almost every situation. Without electricity, we would perish. Electricity is employed in everyday life, industries, and transportation, among other things. So, by merely walking on the footstep, we are creating electrical power using renewable energy. Because non-renewable energy is scarce, renewable energy is in high demand these days. This paper discusses the process of generating mechanical energy from human footsteps and transferring it to electrical energy using a piezoelectric transducer. This type of generation falls under the Energy scavenging category of renewable resources, and it involves capturing and converting waste energy produced by routine activities, such as heat produced by exothermic reactions. There is a need to find alternative energy sources when the availability of traditional energy decreases. Almost all of our country's state electricity bureaus are unable to supply power in accordance with demand. The energy provided by these enterprises is insufficient even for residential utilities; in such a dire situation, diverting energy for other public requirements is extremely challenging.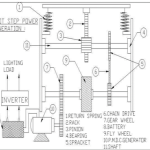 How to cite this article: Sameer More, Madhukar Sorate Electrical Power Generation from Foot Step using 555 Timer IC ijicegt 2022; 7:20-26
---
Full Text
Browse Figures
References
1. S. Hase, H. Shigeeda, T. Konishi, T. Yoshi. "Application of energy storage system for railway transportation in Japan Okui, S. Hase, H. Shigeeda, T. Konishi, T. Yoshi. The 2010 International Power Electronics Conference – ECCE ASIA.
2. Ashley Taylor and Tom krupenkin "Reverse electro wetting as a new approach to high power energy harvesting" Nature communication, pp 1-7August 2011.
3. Binoy Boban, Tom Jose V, Sijvo MT, "Electricty generation from footsteps; A Generative energy Resources"International journal of sciventic and research Publication 1-3,March 2013.
4. Muhammad Aamir Aman, Muhammad Zulqarnain Abbasi, Hamza Umar Afridi, Mehr-e-Munir, Jehanzeb Khan. Department of Electrical Engineering, Iqra National University, Pakistan. "Photovoltaic (PV) System Feasibility for Urmar Payan a Rural Cell Sites in Pakistan" J.Mech.Cont.& Math. Sci., Vol.-13, No.- 3, July-August (2018) Pages 173-179.
5. HR Nayan, "Power Generation Using Piezoelectric Material," Journal of Material Sciences & Engineering Journal of Material Sciences & Engineering, vol 4, pp 1-4, 2015.
6. J. Ghosh, et al., "Electrical Power Generation Using Footstep for Urban Area Energy Applications," 2013. International Conference on Advances in Computing, Communications and Informatics (ICACCI), 2013, pp 1367-1369.
7. K. Boby, et al., "Footstep Power Generation Using Piezo Electric Transducers". International Journal of Engineering and Innovative Technology, vol 3, pp. 264-267, April 2014.
8. A. Majeed, "Piezoelectric Energy Harvesting for Powering Micro Electromechanical Systems (MEMS)," Journal of Undergraduate Research, vol 5, pp 1-5.
9. M.N.Gupta, et al., "Electricity Generation Due to Vibration of Moving Vehicles Using Piezoelectric Effect," Electricity Generation Due to Vibration of Moving Vehicles Using Piezoelectric Effect, vol. 4 pp. 313-318. 2014.
10. R. M. Mahidur and R. Sarker, "Vibration Based Piezoelectric Energy Harvesting Utilizing Bridgeless Recitifier Circuit," Jurnal Kejuruteraan, pp. 87-94, 2016.
---
Regular Issue
Open Access
Article
| | |
| --- | --- |
| Volume | 7 |
| Issue | 2 |
| Received | March 21, 2022 |
| Accepted | April 14, 2022 |
| Published | April 25, 2022 |