By
Sheilina Choudhary
Student, Department of Biotechnology, Shoolini University of Biotechnology and Management Sciences,, Himachal Pradesh, India
Abstract
Objective: Parkinson's disease, behind Alzheimer's, is the second most common neurodegenerative ailment and a major cause of neurological morbidity worldwide. Clinical diagnosis is made, and current management is limited to symptomatic treatments, with levodopa remaining the cornerstone of pharmaceutical therapy. In certain patient groups, deep brain stimulation of specific basal ganglia targets can provide significant clinical relief. There are currently no proven disease-modifying medicines in clinical use that can halt or reverse the underlying neurodegenerative process. Methods: In this investigation, target proteins were downloaded from the PDB and docked in Biovia. The ligands' and standard medications' binding affinity with each target protein was compared and assessed. Also, only 4 substances were choosen for SWISS-ADME final results. Results: The docking result revealed that the ligands selected have the best binding affinity with all the three target proteins. Conclusion: The ligands could potentially be used to treat Parkinson's Disease in the future approaches for studying the urge ligands in vitro and in vivo analysis in order to create novel parkinson's inhibitors.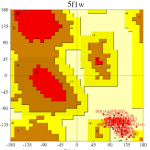 How to cite this article: Sheilina Choudhary Pharmacological Management of Parkinson's Disease: Current Therapies and Emerging Treatments ijgmr 2023; 01:30-42
---
Full Text
Browse Figures
References
Simpson, G. Lekwuwa, and T. Crawford, "Predictors of quality of life in people with Parkinson's disease: evidence for both domain specific and general relationships," Disability and Rehabilitation, 2014.
A. Davie, "A review of Parkinson's disease," British Medical Bulletin, vol. 86, no. 1, pp. 109–127, 2008.
National Institute for Health and Clinical Excellence (2006) Parkinson's Disease: Diagnosis and Management in Primary and Secondary Care. London: NICE (http://guidance.nice.org. uk/CG35)
The Parkinson's Disease Research Group of the United Kingdom (1995) Comparison of therapeutic effects and mortality data of levodopa and levodopa combined with selegiline in patients with early, mild Parkinson's disease. BMJ,311, 1602– 1607.
Verhagen ML, Del DP, van den Munckhof P et al. (1998) Amantadine as treatment for dyski-nesias and motor fluctuations in Parkinson's disease. Neurology,50, 1323–1326.
Muller T, Fritze J (2003) Fibrosis associated with dopamine agonist therapy in Parkinson's disease. J Clin Neuropharmacol,26, 109– 111
Zanettini R, Antonini A, Gatto G et al. (2007) Valvular heart disease and the use of dopa-mine agonists for Parkinson's disease. N Engl J Med,356, 39– 46
Crosby N, Deane KHO, Clarke CE (2005) Amantadine in Parkinson's disease. The Cochrane Library, Issue 2.
Hartley, M. McArthur, M. Coenen et al., "Narratives reflecting the lived experiences of people with brain disorders: common psychosocial difficulties and determinants
Luginger E, Wenning GK, Bosch S et al. Beneficial effects of amantadine on L-dopa-induced dyskinesias in Parkinson's disease. Mov Disord,15, 873– 878
W. Noblit and R. D. Hare, Meta-Ethnography: Synthesizing Qualitative Studies, Sage, London, UK, 1988.
Hammersley, What's Wrong with Ethnography?Routledge, London, UK, 1992.
Hawkins, P. Coffee, and A. Soundy, "Considering how athletic identity assists adjustment to spinal cord injury: a qualitative study," Physiotherapy, vol. 100, no. 3, pp. 268–274, 2014.
Caap-Ahlgren, L. Lannerheim, and O. Dehlin, "Older Swedish women's experiences of living with symptoms related to Parkinson's disease," Journal of Advanced Nursing, vol. 39, no. 1, pp. 87–95, 2002.
Bramley and V. Eatough, "The experience of living with Parkinson's disease: an interpretative phenomenological analysis case study," Psychology and Health, vol. 20, no. 2, pp. 223–235, 2005.
---
Regular Issue
Subscription
Original Research
| | |
| --- | --- |
| Volume | 01 |
| Issue | 01 |
| Received | April 13, 2023 |
| Accepted | May 4, 2023 |
| Published | May 18, 2023 |