By
Siddhi V. Kulkarni
Student, Electronics & Telecommunication Department, Deogiri Institute of Engineering and Management Studies College, Chhatrapati Sambhajinagar,, Maharashtra, India
Abstract
There are numerous electrical devices used daily. Whether we do it knowingly or unknowingly, we always appreciate how much easier life is as a result. But as we all know that everything nice eventually comes to an end, these gadgets inevitably stop working and are wasted. One of them claims that electronic garbage, or "E-waste", is a global issue that is only becoming worse. A significant buildup of e-waste is caused by the advent of newer technology and the exponential growth of electronic consumption. For effective e-waste management, there is a need for a tool that both individuals and companies can use. Thus, the term "e-waste" is considered. In this study, we will see a brief study of how the world deals with this electronic waste problem. And how does the world analyze this waste? And help our earth become a better place in various ways.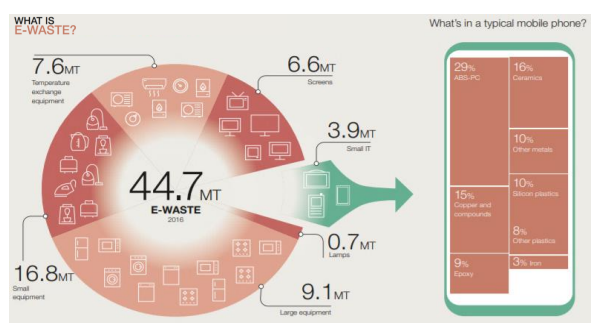 How to cite this article: Siddhi V. Kulkarni How Does the World Deal with E-waste? Its Management and Analysis ijenpc 2023; 01:11-16
---
Browse Figures
References
1. Ultimo electronics. The Scary Truth: Why E-Waste is a Problem. [Online]. Ultimo Electronics. https://ultimoelectronics.co.uk/why-e-waste-problem/.
2. Absolute Asset Disposal. (2020 Oct 22). Why Is Electronic Waste Hazardous? [Online]. blog.absoluteitad.com. https://blog.absoluteitad.com/asset-disposal/why-is-electronic-waste-hazardous.
3. Idowu Omisola. (2021 Sep 11). Reasons Why E-Waste Is More Dangerous Than You Think. [Online]. MUO. https://www.makeuseof.com/why-e-waste-is-dangerous/.
4. Geneva Environment Network. The Growing Environmental Risks of E-Waste. [Online]. https://www.genevaenvironmentnetwork.org/resources/updates/the-growing-environmental-risks-of-e-waste/.
5. Gabriella Sotelo. (2021 Aug 22). What Is E-Waste and Why Is It a Problem? [Online]. Treehugger. https://www.treehugger.com/what-is-e-waste-and-why-is-it-a-problem-5186270.
6. Vikaspedia. (2016). E-waste hazard. [Online] Available at: https://vikaspedia.in/energy/ environment/waste-management/e-waste-management/e-waste-hazard/.
7. Someya M, Suzuki G, Ionas AC, Tue NM, Xu F, Matsukami H, et al. Occurrence of emerging flame retardants from e-waste recycling activities in the northern part of Vietnam. Emerg Contam. 2016; 2(2): 58–65.
8. Idrees N, Tabassum B, Abd_Allah EF, Hasehm A, Sarah R, Hashim M. Groundwater contamination with cadmium concentrations in some West U.P. Regions, India. Saudi J Biol Sci. 2018; 25(7): 1365–1368.
9. Awasthi AK, Wang M, Awasthi MK, Wang Z, Li J. Environmental pollution and human body burden from improper recycling of e-waste in China: A short-review. Environ Pollut. 2018; 243(Pt B): 1310–1316.
10. Wang F, Kuehr R, Ahlquist D, Li J. E-waste in China: A country report. StEP Green Paper Series. 2013 Apr 5.
---
Regular Issue
Subscription
Review Article
| | |
| --- | --- |
| Volume | 01 |
| Issue | 01 |
| Received | June 20, 2023 |
| Accepted | July 29, 2023 |
| Published | October 20, 2023 |