By
Nadira Khan

Shibu Singh
Student, Ashoka institute of technology and Management Varanasi, , India
Student, Ashoka Institute of Technology and Management, , India
Abstract
Transfer of waste materials, such as plastic sacks, has become a significant issue, and plastic wastes are singed for transport, causing severe environmental impact. The use of waste plastics in bituminous mixes has shown that they improve the blend's characteristics while also reducing transfer difficulties. Plastic garbage that has been separated and cleaned is sliced so that it can pass through a sieve with a size of 2 mm – 3 mm using a shredding machine. The application of this technology will not only improve road construction but will also increase road life expectancy and aid to improve environmental conditions. Plastic roads would be beneficial given India's hot and humid climate, where temperatures regularly exceed 50 degrees Celsius and downpours cause massive destruction, leaving a huge percentage of the asphalt with massive pot gaps. In our investigation, we conducted a thorough analysis of the technique for incorporating waste plastic into bitumen and aggregates, as well as displaying the results of several tests on bitumen and aggregates. This waste plastic modified bitumen blend has improved constraining properties, strength, thickness, and water resistance. Because the vast majority of India's streets are of the adaptable variety, the use of such tactics is easily adaptable on a large scale. The addition of plastic waste to bitumen grows softening point, specific gravity (then sudden shrinking is noted after reaching most extreme point), penetration value, and ductility, according to the investigations of properties of the plastic waste-mixed bitumen. Bitumen and aggregates were coated with plastic, which improved the essential qualities of both aggregates and bitumen. The present review will come about lesser road repairs and utilisation of plastic wastes will use non-biodegradable wastes.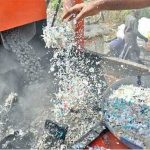 How to cite this article: Nadira Khan, Shibu Singh Bituminous of Plastic Road ijcmm 2022; 7:22-45
---
Full Text
Browse Figures
References
1. Chavan, A. J. Use of plastic waste in flexible pavements. International Journal of Application or Innovation in Engineering and Management. 2013; 2(4):540-552.
2. Gupta, Y. P. (2010). Utilisation of Plastic Waste in Construction of Bituminous Roads. [online]. Available from http://dspace.cusat.ac.in/jspui/bitstream/123456789/275/1/Utilisation%20of%20 Plastic%20Waste%20in%20%20Construction%20of%20Bituminous%20Roads.pdf .
3. Jain, P. K. (2012). Plastic waste Modified Bituminous Surfacing for Rural Roads: Workshop Non- Conventional Materials/Technologies.[online]. Available from http://citeseerx.ist.psu. edu/viewdoc/download?doi=10.1.1.472.7301&rep=rep1&type=pdf#page=107 .
4. Patil NM, Khurd VG. Utilization of waste plastic in road construction. International Journal of Inventive Engineering and Sciences (IJIES). 2015;3(9):25-28.
5. Poweth MJ, George S, Paul J. Study on use of plastic waste in road construction. International Journal of Innovative Research in Science, Engineering and Technology. 2013;2(3):633-638
6. Prusty, Biswanath. Use of waste polyethylene in bituminous concrete mixes. [B. tech Thesis]. [Rourkela, India]. National Institute of Technology Rourkela; 2012.
7. Rokade S. Use of waste plastic and waste rubber tyres in flexible highway pavements. InInternational conference on future environment and energy, IPCBEE 2012 (Vol. 28).
8. Rokdey SN, Naktode PL, Nikhar MR. Use of plastic waste in road construction. International Journal of Computer Applications. 2015;7:27-29.
9. Sabina KT, Sangita SD, Sharma BM. Performance evaluation of waste plastic/polymer modified bituminous concrete mixes. Journal of scientific and industrial research. 2009 ;68(11):975-979.
10. Sangita GR, Verinder K. A novel approach to improve road quality by utilizing plastic waste in road construction. Journal of Environmental Research and Development. 2011;5(4):1036-1042.
11. Shahan-ur-Rahman A. Use of Waste Plastic in Construction of Flexible Pavement. New Building Materials & Construction World. 2009.
12. Swami V, Jirge A, Patil K, Patil S, Patil S, Salokhe K. Use of waste plastic in construction of bituminous road. International Journal of Engineering Science and Technology. 2012;4(5):2351- 2355.
13. Vasudevan R, Sekar AR, Sundarakannan B, et.al. A technique to dispose waste plastics in an ecofriendly way–Application in construction of flexible pavements. Construction and Building Materials. 2012;28(1):311-320.
14. Verma, S. S. Roads from plastic waste. The Indian concrete journal. 2008; 43-44.
---
Regular Issue
Open Access
Article
| | |
| --- | --- |
| Volume | 7 |
| Issue | 2 |
| Received | February 1, 2022 |
| Accepted | February 13, 2022 |
| Published | February 16, 2022 |