By
Aniruddha Deshmukh

Girish Joshi

Shyambhau Bun
Student, G H Raisoni College of Engineering and Management, Pune, Maharashtra, India
Assistant Professor, G H Raisoni College of Engineering and Management, Pune, Maharashtra, India
Associate Professor, G H Raisoni College of Engineering and Management, Pune, Maharashtra, India
Abstract
The formwork system of floor slab is an important element in construction of multi-storied RCC buildings which governs the duration and cost of construction. The formwork and shoring structure does not extend to the foundation after the first few slab levels. Generally the formwork and back propping of one or two levels is provided. The research articles give insight on various technical parameters (slab shore load distribution, age of concrete, spacing of shores etc) that affect the design of formwork system. The case studies of failure during construction throw light on causes of failure. The use of proper formwork system will speed up the construction process of overall building with lesser cost.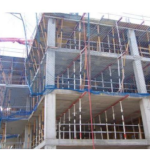 How to cite this article: Aniruddha Deshmukh, Girish Joshi, Shyambhau Bun Summerizing Structure and Function of Formwork in Multi Storied RCC Building ijcep 2022; 8:1-7
---
Full Text
Browse Figures
References
1. Fabian C. Hadipriono and Hana-Kwang King, (1986) "Analysis of Causes of Falsework Failures in Concrete Structures" ASCE.
2. L. Liu, Waifah Chen, Mark D. Bowman, (1986) "Shore-Slab Interaction in Concrete Buildings" ASCE.
3. Randy Border, (1987) "Determining shoring loads for post tensioned concrete construction" The Aberdeen Group.
4. Shapira (2001) "Contemporary trends in Formwork Standards – A case study" ASCE.
5. V. Rosowsky and Mark G. Stewart, (2001) "Probabilistic Construction Load Model for Multistory Reinforced Concrete Buildings" ASCE.
6. Lin Peng, (2002) "Stability Analysis and Design Recommendations for practical shoring systems during Construction" ASCE.
7. King, and Norbert J. Delatte, (2004) "Collapse of 2000 Commonwealth Avenue: Punching Shear Case Study" ASCE.
8. L. Kajewski, (2005) "Multilevel formwork load distribution with post tensioned slabs".
9. .Sujeetra and Dr. Leema Rose, (2014) "An analysis of formwork failures and Effectiveness of safety" IJLTEMAS
10. A. Abou Ibrahim, And Farook R. Hamzeh, (2015) "Role of Formwork Systems In High-Rise Construction" CSCE.
11. Chul Chun and Taehun Ha, (2016) "Safety and serveaciability of reinforced concrete Beam-Column Joints Supported by shores and reshores during construction" ASCE.
12. Zhang, A.M., James Reynolds, Kim J.R. Rasmussen, and Bruce R. Ellingwood, (2016) "Realiability Based load requirement for formwork shores during concrete placement" ASCE.
13. Jose M. Adam, Manuel Buitrago, Juan J. Moragues and Petro A. Calderon, (2017) "Limitations of Grundy and Kabaila's Simplified Method and its repercussion on the safety and serviceability of Successively Shored Building Structures" ASCE.
14. Zhaho, Long fei Wu and Yijing Zhang, (2017) "Calculation and analysis of the cause of the collapse accident to a bridge" AIP.
15. Onur Avci and Ashish Bhargava (2018) "Finite Element Analysis of Cantilever Slab Deflections with ANSYS SOLID65 3D Reinforced Concrete Element with Cracking and Crushing capabilities" ASCE
16. Prachi Sohani, Abdul Ghaffer, Vasant A. Matsagar, K.N. Jha, (2018) "Optimization of shoring/reshoring levels in high-rise building construction" SCIENDO
17. Ziyu Jin and John Gambatese, (2020) "Exploring the potential of Technological Innovations for Temporary structures: A case Study" ASCE.
18. Deepti C. Epaarachchi and Mark G. Stewart, (2004) "Human Error and Reliability of Multistory Reinforced Concrete Building Construction" ASCE.
19. Magdy El-Sheikh and Wai-Fah Chen, (1988) "Effect of Fast Construction Rate on Deflection of R.C. Buildings" ASCE
20. Xila Liu, Wai-Fah Chen, Mark D. Bowman. (1985) "Construction load analysis for Concrete Structures" ASCE.
---
Regular Issue
Open Access
Article
| | |
| --- | --- |
| Volume | 8 |
| Issue | 1 |
| Received | May 2, 2022 |
| Accepted | May 11, 2022 |
| Published | May 21, 2022 |