By
Amrisha Shandilya

Vidhi Srivastava

Shreya Soni

Riya Verma

Sandeep Kumar Mishra
Student, Department of Electronics & Communication Engineering, Ashoka Institute of Technology and Management, Lucknow, Uttar Pradesh, India
Student, Department of Electronics & Communication Engineering, Ashoka Institute of Technology and Management, Lucknow, Uttar Pradesh, India
Abstract
A smart city is the society's future goal for safer and greener accommodations. When implementing a smart city, smart basement network is an important feature to consider. Observing drainage systems is vital to maintaining the city clean and healthy. Even though manual monitoring is ineffective, drainage troubles are handled slowly and take longer to resolve. This system significantly reduces the risk for workmen who clean underground drainage while also benefiting the general public. To address all of these issues, the system employs a wireless sensor network comprised of sensor nodes. The proposed system is low cost, low maintenance, IoT based real time which alerts the managing station through a call when any manhole crosses its threshold values.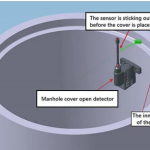 How to cite this article: Amrisha Shandilya, Vidhi Srivastava, Shreya Soni, Riya Verma, Sandeep Kumar Mishra Report on Monitoring and Detection of Manhole Using IoT ijaic 2022; 7:5-15
---
Full Text
Browse Figures
References
1. Ruheena M.A., Rukhayia Sheereen, Sheeba Kulsum, T. Komala. Manhole Detection and Monitoring System. International Journal of Engineering Research & Technology. 2021; 9 (12): 14–17.
2. Chandraprabha R, Ashwini CV, Dharani M, et al. Smart Real-time manhole monitoring System. International Research Journal of Engineering and Technology. July 2019; 6 (7): 934–938.
3. Wesam Moneer Rasheed, Raed Abdulla, Low Yee San. Manhole covers monitoring system over IOT. Journal of Applied Technology and Innovation. 2021; 5(3): 1–6.
4. IOT Design PRO. (28 Feb 2022). IoT Based Manhole Monitoring System. [Online]. Available from https://iotdesignpro.com/projects/iot-manhole-monitoring-system
5. Java T point. (2011). Arduino UNO. [Online] Available from https://www.javatpoint.com/arduino-uno
6. Seed Studio (2020) Arduino Relay Tutorial: Control High Voltage Devices with Relay Modules. [Online] Available form https://www.seeedstudio.com/blog/2020/01/03/arduino-tutorial control-high-voltage-devices-with-relay-modules/
7. Renke (June 15, 2021). Water level Sensor. [Online] Available from https://www.renkeer.com/ water-level-sensor-definition-applications-benefits-types/
8. Xiucai Guo, Bingbing Liu, Lili Wang. Design and Implementation of Intelligent Manhole Cover Monitoring System Based on NB-IoT. 2019 International Conference on Robots & Intelligent System (ICRIS). 15–16 June 2019; Haikou, China. US: IEEE Press; 2019.
---
Regular Issue
Open Access
Article
| | |
| --- | --- |
| Volume | 7 |
| Issue | 2 |
| Received | April 18, 2022 |
| Accepted | April 27, 2022 |
| Published | May 6, 2022 |