By
ABINAYA . P*

Selvendiran S.G

Surya Raj Kumar
Abstract
Value management plays an important role in the quality, cost, and functionality of any construction project. The article examines the various applications of value management by examining the methods and techniques in the construction industry. This article examines the various factors involved in the strategies to increase the value of the project and the factors affecting project success. The analysis of the factors was listed according to the priority matrix, and major factors are highlighted based on value for money, quality, and functionality. A questionnaire survey was conducted to know the views of the construction professionals working on methods of value management in the construction industry.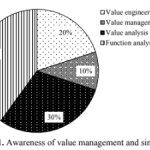 How to cite this article: ABINAYA . P*, Selvendiran S.G, Surya Raj Kumar Implementation of Value Management for the Project Success ijadp 2023; 01:42-59
---
Full Text
Browse Figures
References
Zhao R-J, Moh WH. Value management practices on major construction projects and green building. Front Eng Manag. 2016; 3 (2): 147–157.
Newcombe, R. From client to project stakeholders: a stakeholder mapping approach. Constr Manag Econ. 2003; 21 (8): 841–848.
Ahmed KAA, Pandey RK. Concept of value engineering in construction industry. Int J Sci Res. 2016; 5 (4): 1231–1237.
Austin SA, Thomson DS. Construction value management revisited: the designer's role. Glasgow, UK: Glasgow Caledonian University; 2001.
Albert PC, Chan PM, Ho B. Value management in construction, J Build Econ. 1996;
Department of Statistics. Central Bank Annual Report, Central Bank of Sri Lanka, Sri Lanka. Australia: AIQS; 2002.
Department of Census & Statistic. (2002). National Account of Sri Lanka, Ministry of Finance & Planning, Sri Lanka.
Institute of Civil Engineers. Creating value in engineering projects. London, England: Thomas Telford; 1996.
British Research Establishment. Value from construction: getting started in value management. Watford, Herts, England: BRE; 1997.
---
Regular Issue
Subscription
Original Research
| | |
| --- | --- |
| Volume | 01 |
| Issue | 02 |
| Received | March 27, 2023 |
| Accepted | April 26, 2023 |
| Published | May 2, 2023 |