By
Mohammad Monis*

Sushil Kumar Solanki
Student, Department of Building Engineering and Management, School of Planning and Architecture,, New Delhi, India
Associate Professor, Department of Building Engineering and Management, School of Planning and Architecture,, New Delhi, India
Abstract
Building refurbishments include enhancing, upgrading, renovating, retrofitting, and repairing existing structures. The construction sector considers it to be an important component. Building refurbishment projects are known for their high degree of complexity and uncertainty, which frequently incorporates elements like design changes and inadequate or unavailable information that may lead to various issues. Issues related to different stages of refurbishment projects were identified through literature and case studies. According to the review, building refurbishment projects are more unpredictable than new construction projects. The built environment sector regards Building Information Modelling (BIM) as a noteworthy technology. Benefits and obstacles to BIM use in new building have already been identified in several studies. In the Indian context, BIM is mostly used for new construction, but a handful of projects are using it for existing buildings. This seminar focuses on the effectiveness of Building Information Modelling in refurbishment projects, as well as determining the benefits and drawbacks of doing so using case studies. Personal interviews and in-depth talks with the contractors, architects, BIM experts, and engineers of three chosen refurbishments in Delhi were used to gather the information needed to meet the study's objectives. An apartment building of G+7 is taken for creating BIM model. 3D model is generated on Autodesk Revit 2021 and findings are validated as per refurbishment stages. This research looks at and analyses data about BIM-based refurbishment processes and discusses how to implement BIM as well as the benefits and drawbacks of BIM-based building refurbishment projects.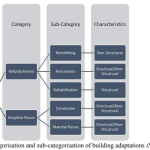 How to cite this article: Mohammad Monis*, Sushil Kumar Solanki To Propose an Effective Process for Refurbishment Projects: through BIM ijadp 2023; 01:41-58
---
Full Text
Browse Figures
References
1. Anibal Costa, J. M. (2014). Structural Rehabilitation of Old Buildings. London: Springer.
2. Conservation, I. O. (2019, August 03). Refurbishment. Retrieved from https://www.designingbuildings.co.uk/wiki/Refurbishment
3. Patil, S. &. (2020). Structural Audit, Reapair and Rehabilitation. International research journal of
engineering and technology.
4. Singh, V. .. (2013). Structural Repair and Rehabilitation of 3 No. (G+8) Multi-Storeyed residential Buildings, at ONGC colony at Chandkheda, Ahemdabad, Gujrat. Procedia
Engineering, 55-64.
5. R A F Oliveira, J. L. (2020). Some refurbishment particularities: An older building case study. IOP Conference Series Materials Science and Engineering.
6. Becerik-Gerber, R. G. (2011). Transitioning to Integrated Project Delivery: Potential barriers and lessons learned. Lean construction Journal .
7. Rahul Kumar Gupta, V. K. (2022). Optimization Of Project Progress Using 3d Laser Scanning Technique. International Journal Of Architecture And Infrastructure Planning.
8. Liang, X. G. (2015). Improving Management of Green Retrofits From a Stakeholder Perspective: A Case Study in China. International Journal of Environmental Research and Public Health.
9. Ulrika Uotila, A. S.-M. (2021). Investigating the barriers to laser scanning implementation in building refurbishment. Journal of Information Technology in Construction .
10. Directorate of Economic & Statistics, Delhi. (2014). Housing Conditions in Delhi: Based on NSS 69th Round Survey. New Delhi: Government of National Capital Territory of Delhi.
11. Sheida Shahi, M. E. (2020). A Definition Framework for Building Adaptation Projects. Elsevier.
12. SK Solanki, R. R. (2022). Cost Analysis of Functional Retrofitting Measures in Buildings. Journal of The Institution of Engineers (India), 725-732.
13. Aiswarya Sreekumar, D. P. (2022). Sustainable Retrofit for Adaptive Building Reuse–A Facility Management Approach for Highlighting and Cataloguing Deficiencies for Retrofit Decision Making. International Journal of Multidisciplinary Innovative Research, 21-37.
14. Kapoor, E. S. (2022). Cost benefit analysis for rehabilitation of buildings: case of Indian Medical Association, New Delhi. International Journal of Structural Engineering.
15. Sushil Kumar Solanki, V. P. (2022). Comparison between service life prediction methods for building rehabilitation: application on a case study. Journal of Building Pathology and Rehabilitation.
16. Amey Z. Sheth, A. P. (2010). BIM and refurbishment of existing healthcare facilities.
17. Ibrahim Babangida, F. O. (2012). Building Refurbishment: Holistic Evaluation of Barriers and Opportunities. Association of Researchers in Construction Management.
18. Arain, F. (2021). Potential Barriers in Management of Refurbishment Projects. Journal of Independent Studies and Research.
19. Anthony Okakpu, A. G. (2018). A proposed framework to investigate effective BIM adoption for refurbishment of building projects. Architectural Science Review, 1-13.
20. J. F. Hair, W. C. (2010). Multivariate Data Analysis. Pearson Prentice Hall.
21. B, H. (2009). BIM and Construction Management Proven Tools, Methods, and Workflows. Indiana: Wiley Publishing.
22. Ergen, D. I. (2015). BIM for building refurbishment and maintenance: current status and research
directions. Structural Survey.
23. Ju Hyung Kim, N. H. (2018). Economic Analysis of Design Errors in BIM-Based High-Rise Construction Projects: Case Study of Haeundae L Project. Journal of Construction Engineering and Management.
24. Hair, J. B. (2010). Multivariate Data Analysis. Prentice Hall, Upper Saddle River, New Jersey: Seventh Edition.
25. Sonali Dhopte, A. D. (2022). Exploring the journey of BIM in the Indian AECO industry (2008–2022) an excelize perspective. Springer.
26. Ola Bråten Lund, A. H. (2016). Sustainable Planning in Refurbishment Projects – An Early Phase Evaluation. Elsevier.
27. McGraw-Hill. (2012). Bedford: McGraw-Hill.
28. United, B. (2020, February 28). BIM Level of Development. Retrieved from www.united-bim.com: https://www.united-bim.com/bim-level-of-development-lod-100-200-300-350-400-500/
29. Waluyo, R. (2014). Model Interaksi Antara Culture, Knowledge Management dan Performance di Perusahaan Konstruksi. Universitas.
---
Regular Issue
Subscription
Case Study
| | |
| --- | --- |
| Volume | 01 |
| Issue | 01 |
| Received | December 29, 2022 |
| Accepted | March 11, 2023 |
| Published | March 25, 2023 |
Editor