[{"box":0,"content":"
n
n
n
n
By
[foreach 286]u00a0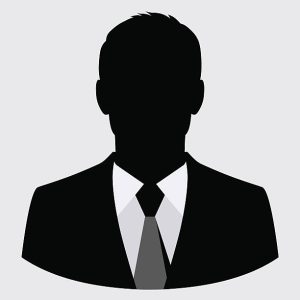 u00a0Shobhit Pathak, Dr. Govind Pandey,
[/foreach]
nJanuary 9, 2023 at 11:48 am
n
nAbstract
n
This study was conducted in 19 blocks and 4 surface water of Gorakhpur district to assess the arsenic content. The study was carried out in the month of February-March, 2021. The result was compared with IS: 10500:2012 and WHO. The increased arsenic content in the water possess serious health issues in humans. The acute health issues being pigmentation on skin and damage to red blood cells. Prolonged exposure leads to liver and kidney cancer. This main focus of this paper is to review the arsenic content and water quality along with the reasons of arsenic contamination in these blocks. It also suggests the prevention methods that are taken and could be taken and also discuss the areas and the gaps that requires further attention in arsenic contamination control in Gorakhpur district. The test was carried out using Spectrophotometer method i.e. Silver Diethyldithiocarbamate (SDDC) method which is a laboratory instrument. This instrument has arsenic detection range from 0.001 to 0.020 ppm. In this method the inorganic arsenic was reduced to arsine by zinc in acid solution in an arsine generator. From this assessment it was found that Gorakhpur district is contaminated by arsenic. Measure step are required to remove this pollution.
n
n
n
n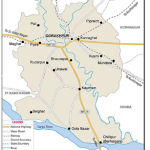 n
n
n
---
n[if 992 equals="Transformative"]
[/if 992][if 992 not_equal="Transformative"]
[/if 992] n
---
nn
n
References
n[if 1104 equals=""]n
1. Gawchha Sushil, Acharya Bishwanath, Dhaka Agni, et al. Assessment of Arsenic content in deep ground water of Kathmandu Valley. NJST. 2020; 19(1): 66-77.
2. BIS. IS:10500:2012. Indian standard specifications for drinking water. New Delhi: BIS, 2012.
3. Chakraborty Dipankar, Das Bhaskar, Mahmudur Rahman Mohammad, et al. Status of groundwater arsenic contamination in the status of West Bengal, India; A 20 year study report. Mol. Nutr. Food Res. 2009; 53(5): 542-551.
4. Kumar Sanjay, Pandey Govind, Sharma Ankit. Assessment of Arsenic in Groundwater in Gorakhpur District, Uttar Pradesh, India. International Journal of Engineering Research & Technology. 2014; 3(12): 766-770.
5. Hameed Kori Abdul, Ali Jakhrani Mushtaque, Ahmed Maheshar Sarfaraz, et al. Risk assessment of arsenic in groundwater of Larkana city. Geology, Ecology & Landscapes. 2018; 2(1): 8-14.
6. Islam M.M Nazrul (2006). GIS based spatial analysis of arsenic-contamination groundwater[online]. Available from https://faculty.kfupm.edu.sa/crp/bramadan/ crp514/Termpapers/Term061/2%20-%20Term061%20-%20Report%20-%20Nazrul.pdf.
7. Chatterjee Amit, Das Dipankar, Chowdhury T.R., et al. Arsenic in groundwater in six districts of West Bengal, India: the biggest arsenic calamity in the world: Part I. Arsenic species in drinking water and urine of the affected people. Analyst. 1995; 120(3): 643-650.
8. Liang Meisheng, Lai Yongkai. 2010 4th International Conference on Bioinformatics and Biomedical Engineering: Determination of the Arsenic Content in Surface Water by Silver Diethyldithiocarbamate Spectrphotometer; 2010 June 18-20; Chengdu, China: IEEE; 2010.
9. S. Clesceri Lenore, E. Greenberg Arnold , D. Eaton Andrew. Standard Methods for the Examination of water and wastewater. 20th ed. Washington D.C.: APHA; 1998.
10. Brunt R, Vasak L, Griffioen J. Arsenic in groundwater: Probability of occurrence of excessiveconcentration on global scale. Utrecht, Netherland: IGRAC; 2004.
11. https://gorakhpur.nic.in
12. https://en.m.wikipedia.org
nn[/if 1104] [if 1104 not_equal=""]n
[foreach 1102]n t
[if 1106 equals=""], [/if 1106][if 1106 not_equal=""], [/if 1106]

n[/foreach]
n[/if 1104]
n[if 1114 equals="Yes"]n
n[/if 1114]
n
n
[if 424 not_equal="Regular Issue"]
Regular Issue
[/if 424]
Open Access
Article
n
Editors Overview
jowppr maintains an Editorial Board of practicing researchers from around the world, to ensure manuscripts are handled by editors who are experts in the field of study.
n
"},{"box":4,"content":"
n"},{"box":1,"content":"
By [foreach 286]n

n

Shobhit Pathak, Dr. Govind Pandey

n

[/foreach]
n
[foreach 286] [if 1175 not_equal=""]n t
Student, Professor,M.Tech-Civil (Environmental), M.M.M University of Technology, Gorakhpur, Department of Civil Engineering, M.M.M University of Technology, Gorakhpur,Uttar Pradesh, Uttar Pradesh,India, India

n[/if 1175][/foreach]
n
n
n
Abstract
nThis study was conducted in 19 blocks and 4 surface water of Gorakhpur district to assess the arsenic content. The study was carried out in the month of February-March, 2021. The result was compared with IS: 10500:2012 and WHO. The increased arsenic content in the water possess serious health issues in humans. The acute health issues being pigmentation on skin and damage to red blood cells. Prolonged exposure leads to liver and kidney cancer. This main focus of this paper is to review the arsenic content and water quality along with the reasons of arsenic contamination in these blocks. It also suggests the prevention methods that are taken and could be taken and also discuss the areas and the gaps that requires further attention in arsenic contamination control in Gorakhpur district. The test was carried out using Spectrophotometer method i.e. Silver Diethyldithiocarbamate (SDDC) method which is a laboratory instrument. This instrument has arsenic detection range from 0.001 to 0.020 ppm. In this method the inorganic arsenic was reduced to arsine by zinc in acid solution in an arsine generator. From this assessment it was found that Gorakhpur district is contaminated by arsenic. Measure step are required to remove this pollution.n
n
n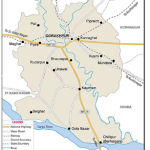 n
n
---
n[if 992 equals="Transformative"]n
nn[/if 992]n[if 992 not_equal="Transformative"]n
n
n
---
[/if 992]n[if 379 not_equal=""]
Browse Figures
n
[/if 379]n
n
References
n[if 1104 equals=""]
1. Gawchha Sushil, Acharya Bishwanath, Dhaka Agni, et al. Assessment of Arsenic content in deep ground water of Kathmandu Valley. NJST. 2020; 19(1): 66-77.
2. BIS. IS:10500:2012. Indian standard specifications for drinking water. New Delhi: BIS, 2012.
3. Chakraborty Dipankar, Das Bhaskar, Mahmudur Rahman Mohammad, et al. Status of groundwater arsenic contamination in the status of West Bengal, India; A 20 year study report. Mol. Nutr. Food Res. 2009; 53(5): 542-551.
4. Kumar Sanjay, Pandey Govind, Sharma Ankit. Assessment of Arsenic in Groundwater in Gorakhpur District, Uttar Pradesh, India. International Journal of Engineering Research & Technology. 2014; 3(12): 766-770.
5. Hameed Kori Abdul, Ali Jakhrani Mushtaque, Ahmed Maheshar Sarfaraz, et al. Risk assessment of arsenic in groundwater of Larkana city. Geology, Ecology & Landscapes. 2018; 2(1): 8-14.
6. Islam M.M Nazrul (2006). GIS based spatial analysis of arsenic-contamination groundwater[online]. Available from https://faculty.kfupm.edu.sa/crp/bramadan/ crp514/Termpapers/Term061/2%20-%20Term061%20-%20Report%20-%20Nazrul.pdf.
7. Chatterjee Amit, Das Dipankar, Chowdhury T.R., et al. Arsenic in groundwater in six districts of West Bengal, India: the biggest arsenic calamity in the world: Part I. Arsenic species in drinking water and urine of the affected people. Analyst. 1995; 120(3): 643-650.
8. Liang Meisheng, Lai Yongkai. 2010 4th International Conference on Bioinformatics and Biomedical Engineering: Determination of the Arsenic Content in Surface Water by Silver Diethyldithiocarbamate Spectrphotometer; 2010 June 18-20; Chengdu, China: IEEE; 2010.
9. S. Clesceri Lenore, E. Greenberg Arnold , D. Eaton Andrew. Standard Methods for the Examination of water and wastewater. 20th ed. Washington D.C.: APHA; 1998.
10. Brunt R, Vasak L, Griffioen J. Arsenic in groundwater: Probability of occurrence of excessiveconcentration on global scale. Utrecht, Netherland: IGRAC; 2004.
11. https://gorakhpur.nic.in
12. https://en.m.wikipedia.org
n[/if 1104][if 1104 not_equal=""]n
[foreach 1102]n t
[if 1106 equals=""], [/if 1106][if 1106 not_equal=""],[/if 1106]

n[/foreach]
n[/if 1104]
n
---
n[if 1114 equals="Yes"]n
n[/if 1114]"},{"box":2,"content":"
Regular Issue
Open Access
Article
n
n
n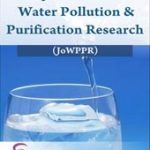 n
n
Journal of Water Pollution & Purification Research
n
[if 344 not_equal=""]ISSN: 2394-7306[/if 344]
n
n
n
n
n
n
| | |
| --- | --- |
| Volume | 8 |
| Issue | 1 |
| Received | May 12, 2021 |
| Accepted | May 21, 2021 |
| Published | May 31, 2021 |
n
n
n
n
Editor

n
n
---
n
Reviewer

n
n
---
n n
n"},{"box":6,"content":""}]