By
Kedrala Wabela

Tagesse Bekele

Mulgeta Abebo
Abstract
Irrigated agricultures becoming main concern and strongly recognized to ensure the food security. Deficit irrigation is main strategy to improve water and crop productivity. This study was conducted for two consecutive years (2010 E.C–2012 E.C) to determine the sensitive growth stage effect on tomato yield for water stress and improve water productivity in misrak silti Woreda, Silte Zone, Ethiopia. There experiment has six deficit irrigation levels of treatments plus farmer practice and were arranged in RCB design replicated three times. All agronomic practices were used as farmer's management ways. Irrigation water requirement of tomato was determined by using cropwat 8.0 model and manual renguage was installed to record daily rainfall of the experimental site. This study show that deficit irrigation different growth stages had significantly affected tomato yield at (p≤0.05). The highest yield (60.06 ton/ha) was obtained from T1 (100% ETc IDML) while minimum yield (45.55 ton/ha) was from T6 (50% ETc D). High irrigation water use efficiency (12.01 kg/m3 ) was recorded in T5 (75% mid stage). Therefore, It was recommended to demonstrate on farmers field T5 (75% of ETc at Mid stage) and T4 (75% of ETc at Development stage) as optional to save scarce irrigation water in the study area.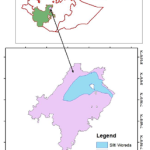 How to cite this article: Kedrala Wabela, Tagesse Bekele, Mulgeta Abebo Effects of Deficit Irrigation on Tomato (Galila 555) Yield and Water Productivity in Silte Zone, Rift Valley, Ethiopia ijpb 2022; 8:1-7
---
Full Text
Browse Figures
References
1. Oad FC, Soomro A, Oad NL, et al. Yield and Water Use Efficiency of Sunflower Crop under Moisture Depletions and Bed Shapes in Saline Soil. Online Journal of Biological Sciences. 2001;1:361-362.
2. FAO (Food and Agricultural Organization). Localized irrigation system planning, design operation and maintenance. Irrigation manual. 2002;4:68.
3. FAO (Food and Agricultural Organization). Water quality for agriculture, Irrigation and Drainage paper 29 Rev.1, California, USA. 1989; 1-107.
4. Soil Survey Staff. Soil Taxonomy: A Basic System of Soil Classification for Making and Interpreting Soil Surveys. Agriculture Handbook, 2nd Ed. U.S. Government Printing Office Washington, DC. 1999.
5. Doorenbos J, Kassam AH. Yield response to water. Irrigation and Drainage paper 33, FAO, Rome. 1986.
6. Ali MH, Hoque MR, Hassan AA, et al. Effects of deficit irrigation on yield, water productivity, and economic returns of wheat. Agricultural Water Management. 2007; 92(3):151-161.
7. Allen R, Pereira LA, Raes D, et al. Crop Evapotranspiration Guidelines for Computing Crop Water Requirement. FAO. 1998.
8. Raine SR, Bakker DM. Increased furrow irrigation efficiency through better design and management of cane fields. Proceedings of Australian Society of Sugercane Technologists. 1996;119-124.
9. Enchalew B, Gebre SL, Rabo M, et al. Effect of Deficit Irrigation on Water Productivity of Onion (Allium cepal.) under Drip Irrigation. Irrigation & Drainage Systems Engineering. 2016;5(3):172.
10. Kandiah A. Guide for measurement of irrigation water using Parshall flumes and siphons. Technical bulletin No. 1. Addis Ababa, Ethiopia. 1981;1-9.
---
Regular Issue
Open Access
Article
| | |
| --- | --- |
| Volume | 8 |
| Issue | 1 |
| Received | March 12, 2022 |
| Accepted | March 21, 2022 |
| Published | April 2, 2022 |